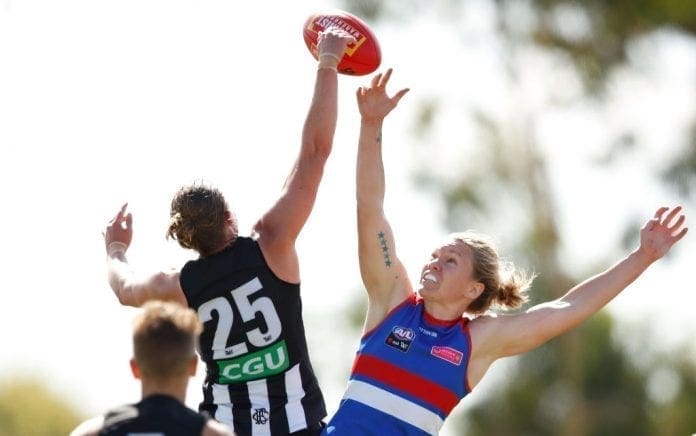 The season opener of the 2019 NAB AFL Women's season will be between expansion team Geelong and Collingwood at GMHBA Stadium in Geelong on Saturday the 2nd of February.
The season opener will be followed by a game between Adelaide and the reigning premiers, the Western Bulldogs, at Norwood Oval in Adelaide.
This is the first of the season's Saturday night double headers.
Last year's season opener was between the Blues and the Pies which saw a total of five goals kicked for the game.
This is a first of four rounds where no games will be played on the Friday night. Rounds one, four, five and six all do not feature a Friday night game as there will be three games on either the Saturday or Sunday.
Nicole Livingstone, head of AFL's women's football states that a low number of Friday night games will allow for longer breaks to all players as it is a part time competition.
"The Fridays do create a little bit of difficulty for AFLW. Our players are only part-time at the moment, so they are still juggling commitments. It makes it difficult for the five-day turnaround," Livingstone said.
With the new two conference system in place, this sees the five teams play each other once and play three games against an opposition in the other conference.
The top two teams from each conference will play in a preliminary final with the winners playing in the Grand Final.
The preliminary finals will be played on Saturday the 23rd of March and the Grand Final will be held the week later.
The team with the most points at the end of the home and away season will host the Grand Final.
North Melbourne will be playing their home games at North Hobart Oval, University of Tasmania Stadium (Launceston) and Chirnside Park (in Melbourne's west), while the other expansion club Geelong will be playing their home games at GHMBA Stadium.
Collingwood have swapped their location from Olympic Park to Victoria Park and Marvel Stadium will host a double header in round six.
With four Lions players swapping clubs and joined the Kangaroos, many fans wanted this match to happen. Unfortunately the only way this could happen is if the two teams meet in the finals this year.
Entry will be free for all matches including finals.
"In 2019 AFLW remains free. There will be no cost to enter. We want to grow our audiences, and we want to make sure at this early age of AFLW we're not putting up any roadblocks for families and people who want to watch it," Livingstone said.
"We've had varying views as to whether it's better for people to have a reserved seat. There are costs associated with ticketing as well. We want to make sure that firstly, there are no barriers and the uniqueness of AFLW is that we don't know what the venues are yet."
2019 AFLW FIXTURE
ROUND 1
Saturday February 2
Geelong v Collingwood, GMHBA Stadium, 6.40pm
Adelaide v Western Bulldogs, Norwood Oval, 8.10pm
Sunday February 3
Kangaroos v Carlton, North Hobart Oval, 1.05pm
Melbourne v Fremantle, Casey Fields, 3.05pm
Brisbane Lions v GWS Giants, Moreton Bay Central Sports Complex, 4.05pm
ROUND 2
Friday February 8
GWS Giants v Kangaroos, Drummoyne Oval, 7.15pm
Saturday February 9
Collingwood v Melbourne, Victoria Park, 4.45pm
Western Bulldogs v Geelong, VU Whitten Oval, 7.15pm
Sunday February 10
Carlton v Adelaide, Ikon Park, 4.05pm
Fremantle v Brisbane Lions, Fremantle Oval, 3.05pm
ROUND 3
Friday February 15
Kangaroos v Western Bulldogs, University of Tasmania Stadium, 7.15pm
Saturday February 16
GWS Giants v Carlton, Blacktown International Sportspark, 4.45pm
Fremantle v Collingwood, Fremantle Oval, 4.15pm
Sunday February 17
Adelaide v Geelong, Norwood Oval, 2.05pm
Brisbane Lions v Melbourne, Hickey Park, 3/35pm
ROUND 4
Saturday February 23
Geelong v Carlton, GMHBA Stadium, 4.45pm
Western Bulldogs v Brisbane Lions, VU Whitten Oval, 7.15pm
Adelaide v Fremantle, TIO Stadium, 8.05pm
Sunday February 24
Collingwood v GWS Giants, Morewell Recreation Reserve, 2.05pm
Melbourne v Kangaroos, Casey Fields, 4.05pm
ROUND 5
Saturday March 2
Brisbane Lions v Geelong, Moreton Bay Central Sports Complex, 3.45pm
Carlton v Collingwood, Ikon Park, 7.15pm
Sunday March 3
GWS Giants v Melbourne, Blacktown International Sportspark, 2.05pm
Kangaroos v Adelaide, Avalon Airport Oval, 4.05pm
Fremantle v Western Bulldogs, Fremantle Oval, 3.05pm
ROUND 6
Saturday March 9
Geelong v Fremantle, GMHBA Stadium, 2.35pm
Collingwood v Kangaroos, Marvel Stadium, 4.45pm
Western Bulldogs v Melbourne, Marvel Stadium, 7.15pm
Sunday March 10
Adelaide v GWS Giants, Unley Oval, 1.35pm
Carlton v Brisbane Lions, Ikon Park, 4.05pm
ROUND 7
Friday March 15
GWS Giants v Geelong, UNSW Canberra Oval, 7.15pm
Saturday March 16
Melbourne v Adelaide, Casey Fields, 4.45pm
Fremantle v Kangaroos, Fremantle Oval, 4.15pm
Sunday March 17
Collingwood v Brisbane Lions, Victoria Park, 2.05pm
Western Bulldogs v Carlton, VU Whitten Oval, 4.05pm