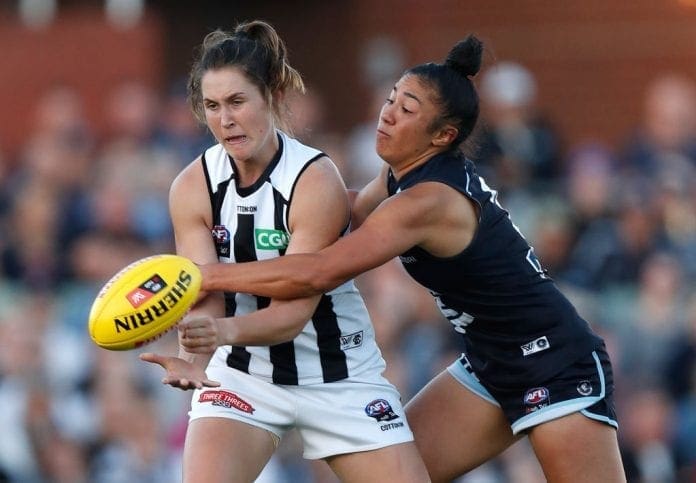 Still on the table for the AFL Women's competition is the opportunity for a longer season in 2019, following outrage from players refusing to entertain a fixture that would have less games than teams.
Nicole Livingstone, AFL head of women's football, said in a meeting with the AFLW Competition Committee on Tuesday that the fixturing process was one of many options debated.
"We had a discussion about the fixturing process. Clearly this has had quite a bit of attention in the last little while," Livingstone said in regard to reports last Friday of match cuts to only six matches per team.
"I'd like to make it really clear that no decisions have or had been made about the 2019 fixture and beyond," she said.
Debated at the meeting was a premise proposed by players, a full nine-round ­regular season as well as two weeks of finals for the expanded 10-team competition.
The committee according to Livingstone, had considered factors inclusive of an ideal season-start, the optimum number of matches and the possibility of playing more finals.
Livingstone said the committee "talked about a variety of options, thinking about the best window that we have".
"I think the time window is something we really need to make sure we're giving our AFLW players and the competition the best chance to receive the attention that it deserves, the attendance, the eyes on the television, making sure we can find a nice little window that's complementary to us," Livingstone said.
A February-March window is considered by the AFL to be the ideal time, given an earlier start may potentially hamper promotion and limit media exposure.
"An important part of that process was to talk to the AFLW Competition Committee and then following that, we will go back to the table to the same committee, and then we'll go to the (AFL) Commission," Livingstone said.
"That was always the timing process, in parallel [with] working with the broadcasters as to what a schedule might look like. It's important that we can be a bit inventive and flexible when it comes to our broadcast."
The AFL plan to release the AFLW fixture in late October, earlier than last year's November release.