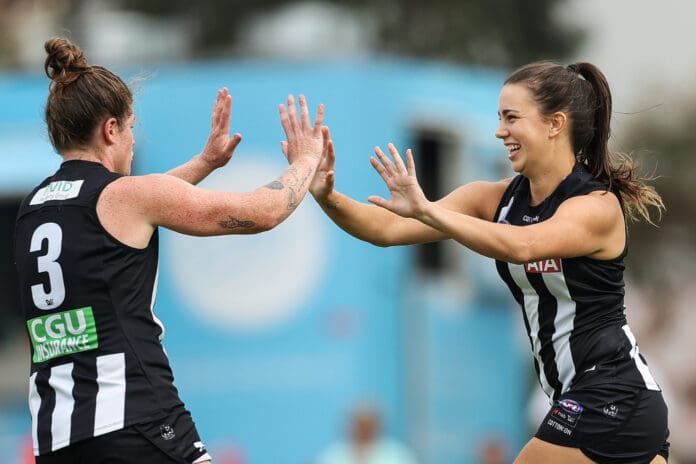 The AFLW's All-Australian squad of 40 was released on Wednesday night, with Collingwood having the most nominees with six players represented.
The Magpies have been the form side of the competition for most of the year, winning their first six games of the season before dropping two of their last three to finish 3rd on percentage.
Congratulations to our 6️⃣ Magpies who have been named in this year's @aflwomens All-Australian Squad! ✨

What an outstanding achievement 👏🏼

— Collingwood AFLW (@CollingwoodAFLW) March 31, 2021
It's widely tipped that a majority of the six Magpies nominated - Brianna Davey, Brittany Bonnici, Jaimee Lambert, Stacey Livingstone, Ruby Schleicher and Chloe Molloy will be named in the final 21.
Fellow finalists Adelaide, Brisbane, North Melbourne and Melbourne all have four players nominated in the squad, with Fremantle the odd finalist out with three players nominated.
Richmond's much-improved season has seen them rewarded with four nominees, including first-year sensation Ellie McKenzie, who was taken as the No.1 pick in last year's AFLW Draft.
McKenzie is one of a handful of first-timers in the squad this year, which features AA debutants such as teammate Harriet Cordner, Melbourne's Tyla Hanks, Brisbane's Cathy Svarc, Fremantle's Janelle Cuthbertson, Gold Coast's Lauren Ahrens and West Coast's Mikayla Bowen.
All 14 AFLW clubs have at least one representative in the All-Australian squad this year, with the final 21-player side to be announced at the W Awards on April 20.
The Full 2021 AFL Women's All-Australian Squad
Adelaide
Sarah Allan
Anne Hatchard
Ebony Marinoff
Erin Phillips
Brisbane 
Kate Lutkins
Sophie Conway
Catherine Svarc
Dakota Davidson
Carlton
Breann Moody
Kerryn Harrington
Darcy Vescio
Madison Prespakis
Collingwood
Stacey Livingstone
Chloe Molloy
Brittany Bonnici
Brianna Davey
Jaimee Lambert
Ruby Schleicher
Fremantle
Gemma Houghton
Kiara Bowers
Janelle Cuthbertson
Geelong
Meghan McDonald
GWS 
Alyce Parker
Gold Coast
Lauren Ahrens
Melbourne
Kate Hore
Karen Paxman
Tyla Hanks
Lauren Pearce
North Melbourne 
Emma King
Emma Kearney
Jasmine Garner
Ashleigh Riddell
Richmond
Harriet Cordner
Katie Brennan
Monique Conti
Ellie McKenzie
St Kilda
Georgia Patrikios
West Coast
Mikayla Bowen
Western Bulldogs
Isabel Huntington
Ellie Blackburn