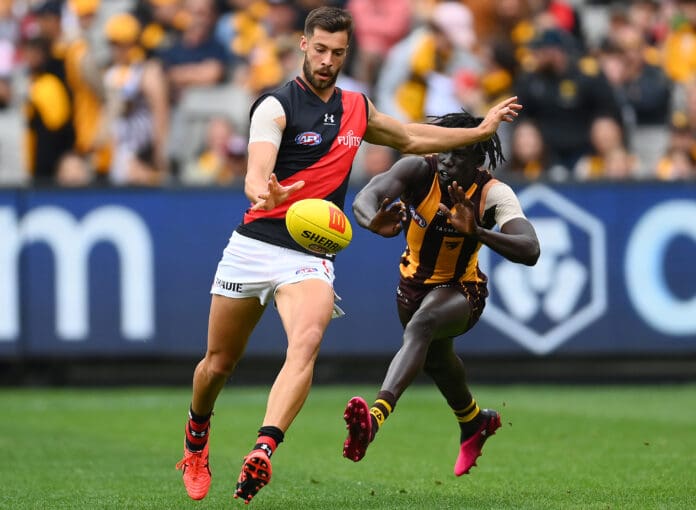 Essendon's Kyle Langford has emerged as the AFL's best kick after the opening four rounds of the 2023 season, while Brisbane star Hugh McCluggage has landed at the opposite end of the kicking efficiency list.
Under Champion Data's ratings for kicking efficiency, Langford ranks 17% above the AFL's average, just ahead of Port Adelaide recruit Jason Horne-Francis (+16%) and Cats superstar Jeremy Cameron (+15%).
Sydney co-captain Callum Mills (+13) and Geelong veteran Zach Tuohy (+13) round out the top five of the ratings.
McCluggage is rated at 19% below the league average from his opening four matches to start the season, while Fremantle winger James Aish (-16%) and Melbourne gun Clayton Oliver (-15%) are also among the worst kicks in the competition across the first month.
Joining McCluggage among the bottom five is teammate and first-year onballer Will Ashcroft, who sits at 15% under the AFL average.
In assessing a player's kick, Champion Data takes into account the level of difficulty of the kick and if the kick hits its intended target. Each kick is also compared to the AFL average, resulting in positive or negative percentages.
Best kicks in 2023, per Champion Data (via SEN):
+17% (from the AFL average) Kyle Langford (Essendon)
+16% Jason Horne-Francis (Port Adelaide)
+15% Jeremy Cameron (Geelong)
+13% Callum Mills (Sydney)
+13% Zach Tuohy (Geelong)
Worst kicks in 2023: 
-19% (from the AFL average) Hugh McCluggage (Brisbane)
-16% James Aish (Fremantle)
-15% Clayton Oliver (Melbourne)
-15% Will Ashcroft (Brisbane)