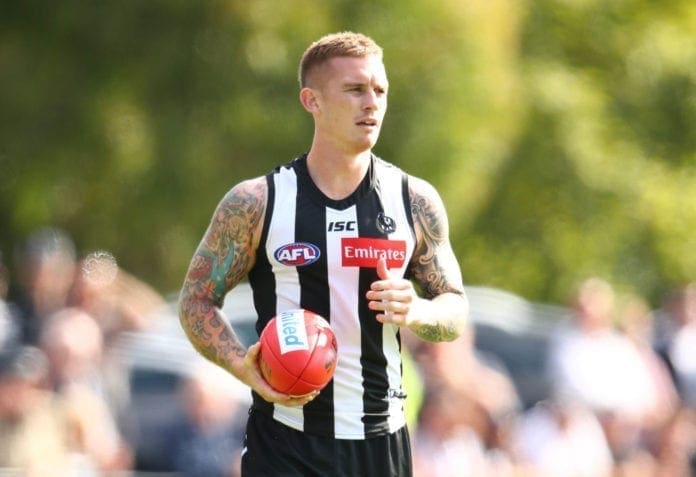 The AFL has been unable to clarify Dayne Beams' comments that his contract settlement with Collingwood was paid outside the salary cap.
Earlier in the week, Beams told SEN's Dwayne's World that his contract was paid out outside of the salary cap and did not impact on the Magpies' salary cap issues that forced them to trade out Adam Treloar, Jaidyn Stephenson and Tom Phillips.
"Anything that was negotiated with me and my contract was outside the cap, so I actually had nothing to do with anything that went on there," Beams told SEN's Dwayne's World.
"The only thing that they probably lost with my scenario was a couple of early draft picks, which was unfortunate.
"In terms of the squeeze, I think it was much broader than just me in isolation. Unfortunately, the club got itself in the position they were in and a few people had to fall out."
AFL boss Gillon McLaughlan was unable to clarify Beams' comments but revealed all payments go in the salary cap unless for certain exemptions.
"There may be exemptions or specific reasons or things that sit outside the cap. There are some exemptions. Like, injury allowances are part of … there is a cap, then there's an overflow for injury allowances and injury payments, so maybe something happened there," McLaughlan told 3AW and reported by Fox Sports' Ben Cotton. 
"I don't know, but generally all payments go in the cap."
"Ears pricked across the competition when Dayne Beams said that (his Collingwood contract was settled outside the salary cap).

"All parties were refusing to comment today, which is intriguing.

"I think we deserve some answers here.

"It needs to be cleared up."

- Mick Warner.

— 3AW Football (@3AWisfootball) June 11, 2021
AFL operations boss Steve Hocking was also unable to clarify the comments when asked on SEN's Crunch Time. 
"I can't comment on individual cases. I'll also acknowledge that it doesn't sit in my area," Hocking told SEN's Crunch Time and reported by Alex Zaia. 
"What I will acknowledge is that all of the Collingwood player contracts and every player contract across the competition has to be approved by the AFL.
"It doesn't sit in my particular area. Andrew Dillon [AFL general counsel] and his team look after this. They work closely with the clubs, and they work closely with the clubs."
Beam's comments could require an investigation which would only add to Collingwood's tumultuous season on-and-off-the-field.
On-field, the Magpies sit 16th on the ladder with three wins and their performances resulted in the departure of coach Nathan Buckley.
Off-field, the club is still dealing with the fallout of long-time president Eddie McGuire's departure and the imminent board election.