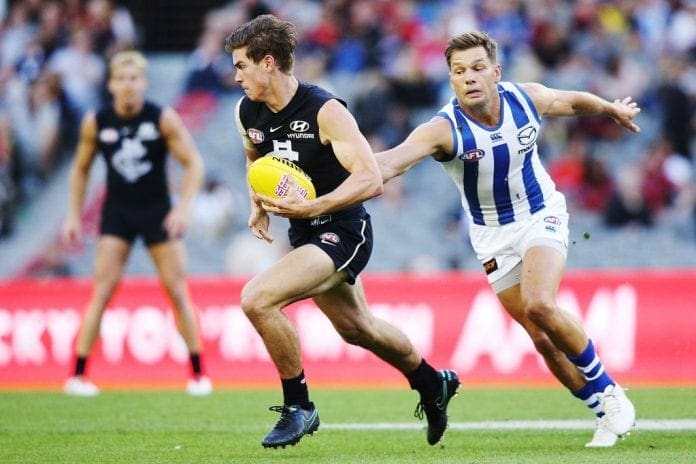 Blues youngsters Paddy Dow and Lochie O'Brien have been linked to Essendon trade talks with Adam Saad.
AFL journalist Damien Barrett revealed that the pair have both come up discussions, however, he could not confirm the context around the conversations.
Speaking on AFL Trade Radio, Barrett they are "more realistic" players to be included in a trade to acquire the speedster.
"The names Lochie O'Brien and Paddy Dow are now part of these (Saad) conversations," Barrett said.
"I can't tell you whether Carlton's thrown them up, I can't tell you whether Essendon has asked about them, all I know is they've been talked about.
"They're more realistic names, as good talents as they are, they're more realistic names to be part of this deal, I would've thought."
It comes after initial reports stated that the Bombers were interested in Charlie Curnow, Harry McKay or Sam Walsh.
After being swiftly shut down, Essendon then asked for Pick 7 and Tom De Koning, a request which was again baulked at.
Both Dow and O'Brien struggled in 2020, playing just three games and one game respectively.
And while the Bombers are reportedly eying Carlton's Pick 7 in any swap, former list boss Stephen Silvagni believes their first pick bundled with Dow or O'Brien is overs for Saad.
"I couldn't imagine Carlton doing a deal where here's Pick 7 and a player," Silvagni said on Trade Radio.
"7 and O'Brien would be a fair win for Essendon.
"From what I'm reading, I think Essendon are hell-bent on Pick 7. But it might be a situation where Carlton might be trying to shift money out of their cap, as well."
The AFL trade period runs from November 4-12.