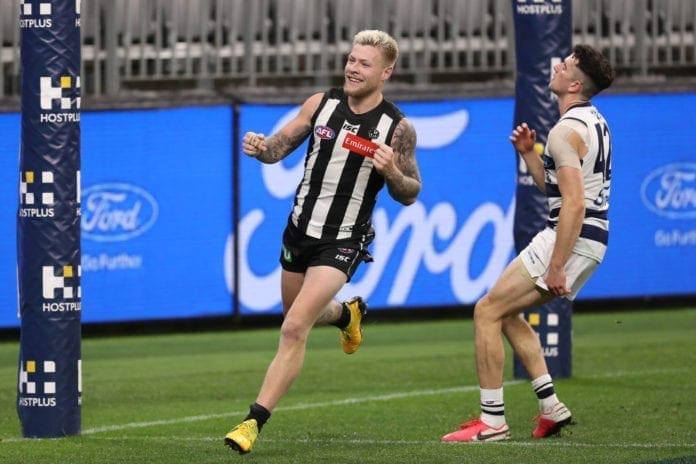 Geelong is reportedly set to enter the free agency market for controversial Magpie Jordan De Goey.
Currently on leave from the AIA Centre after becoming embroiled in yet another off-field incident, the talented hybrid threat was also levelled with a suspended $25,000 fine by the club after seeing a rich contract extension taken off the table.
As reported by SEN's Chief Sports Reporter, Sam Edmund, the Cats are considering crafting an offer of their own for the tattooed 26-year-old in an effort to see him enter a culture that has acted as salvation for the previously wayward.
While the pair's sins are of differing sorts, former Tiger and Crow Tyson Stengle has found a new lease on life after shifting to Kardinia Park home following his own issues away from the boundary line.
Despite pulling what is said to have been a trigger-based contract worth within the vicinity of $800,000 per season, Collingwood remains in the running to retain the Oakleigh Chargers product.
Given their inability to influence contests for long enough, St Kilda is also said to be interested in securing De Goey's services so as to add mongrel to their relatively placid mix.
Though the name at the centre of recent controversy is yet to signal publically where his future lies, Geelong head coach Chris Scott stated earlier in the week that he believed the culture cultivated underneath him was strong enough to house De Goey.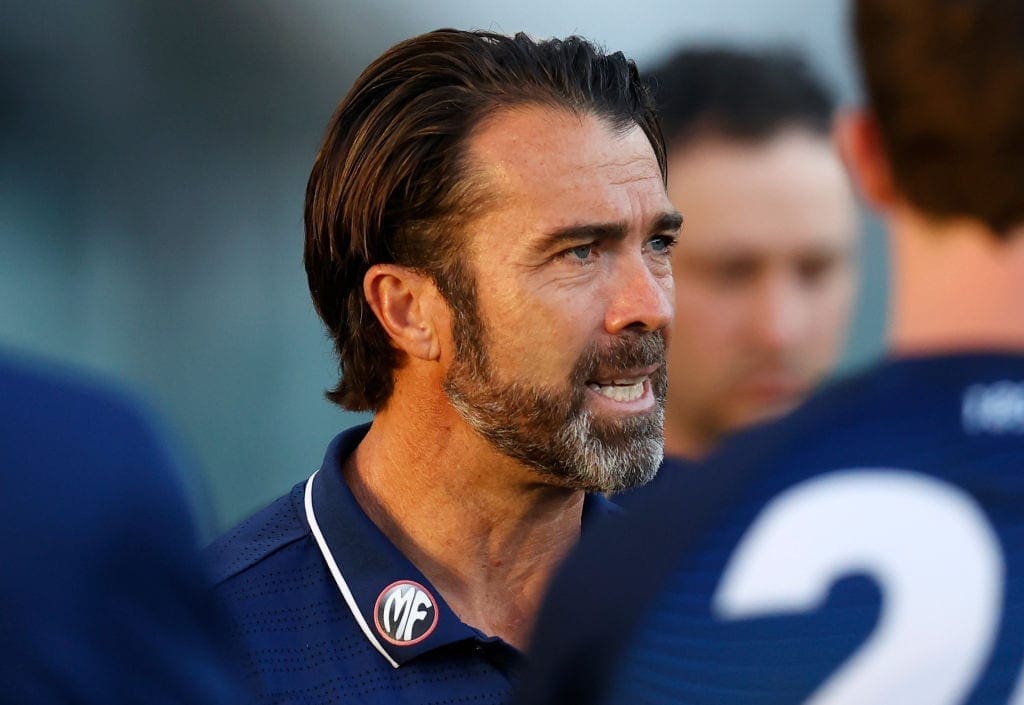 "I don't know Jordan at all, but what I do know is that over the years at Geelong we've had some success at being really clear that we want players to be themselves and have their personalities shine through – within a framework," Scott told Fox Footy's AFL 360.
"A good culture in an elite sporting involvement doesn't involve a 100 per cent of players being 'straighty 180s'. I reckon you need a few who push the boundaries.
"That's what they tend to be those high-performers, those uber-competitive players. Some of them are a little bit edgy and they do present a management challenge, but I think you want that as opposed to shying away from it.
"I certainly would favour supporting those types of people as opposed to protecting the brand first and foremost."
It is not yet known whether Scott's playing list has been consulted on the potential to land the free agent, or whether extenuating meetings will be required given their own public placidity.
Recent reports from 7News have also linked the Pivot City side with fellow free agent, Angus Brayshaw.
De Goey has made 130 appearances in black and white after joining Collingwood with the 5th selection of the 2014 National Draft.
The Victorian won Collingwood's goalkicking award in 2018 after slotting 48 majors during a season that saw the Pies fall at the final hurdle.