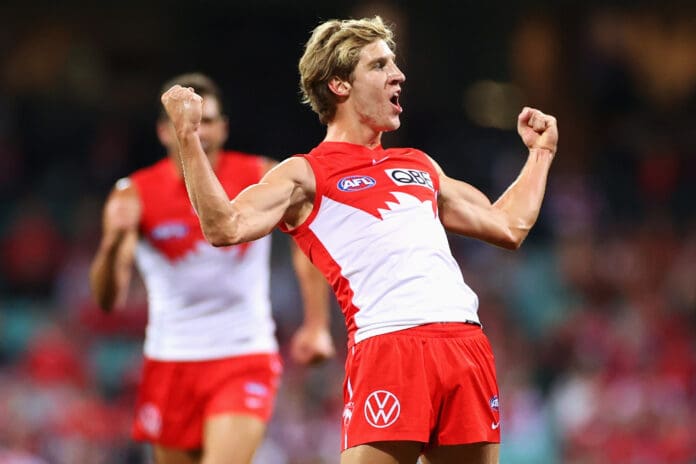 Sydney could be forced to let go of some top-end young talent due to a possible salary cap squeeze.
Sam Edmund is reporting that clubs could be set to target the former 5th pick in the National Draft. Dylan Stephens has been named as a possible make-weight to help alleviate possible salary cap pressure.
Edmund also mentioned George Hewett, Sam Reid and Jordan Dawson as players who may be forced out at the end of the season.
Speaking on SEN's Whateley, Edmund said there were clubs monitoring the situation at Sydney and see Stephens and "very gettable".
"There's plenty happening in the salary cap space at Sydney as well, the squeeze is well and truly on when it comes to the players they can hang onto," Edmund said.
"We have spoken a little bit in the past about Luke Parker who remains unsigned as a restricted free agent, we fully expect him to stay."
Edmund mentioned that there were a number of players out of contract who could attract interest including Hewett who has been linked with a move to Carlton and both clubs in South Australia.
"It's the other players like George Hewett, Sam Reid, Jordan Dawson and even Dylan Stephens is a curious case, the number five pick in the 2019 National Draft as a midfielder," Edmund said.
"Rival clubs have been asked if they're interested in Dylan, who is very gettable at the moment because the Swans have the issue like everyone else with the shrinking TPP (Total Player Payments), but also the blowout when it comes to these high draft picks when they go into their third year."
There have been no specific clubs linked with Stephens as of yet.