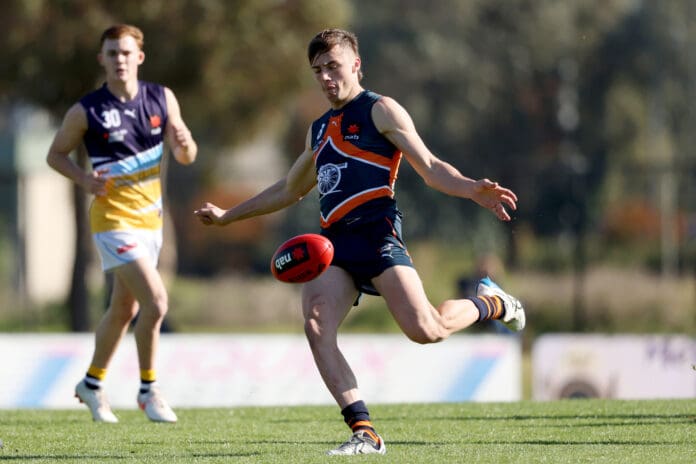 A fresh list of 66 players have been invited to join NAB AFL State Combines in Melbourne, Adelaide and Perth.
Following the conclusion of the National Combine in Melbourne, the state combines will feature a new selection of players who have received two or more nominations from interested clubs.
Unlike the 68 National Combine players who will travel from all over Australia, the Adelaide and Perth State Combines are to host young footballers from their respective state leagues.
The Melbourne State Combine is the exception, and will also host hopeful draftees from Queensland, NSW, Tasmania, Northern Territory and ACT, along with Victorian standouts.
AFL Talent Ambassador Kevin Sheehan is happy to offer the chance for more state league players to showcase their talent to a national audience once again.
"The NAB AFL State Draft Combines provide another opportunity for players from across Australia to showcase their AFL potential in front of AFL clubs ahead of the 2022 NAB AFL Draft," Sheehan stated.  "Many players who have attended NAB AFL State Combines in previous years are now on AFL lists and forging great careers. "It is fantastic to again have all states and territories represented at this year's state Combines and again demonstrates that we truly are a national game."
Several Father-Son prospects headline the newly released 66-player list, including Jayden Davey, whose twin brother Alwyn Davey Jnr made the National Combine.
Son of North Melbourne great Cooper Harvey will also attend the State Combine in Melbourne, having spent much of 2022 injured after a strong showing last year.
Paul Pascu will have the eyes of several AFL Clubs. Captaining the Calder Cannons in the NAB Boys League, Pascu has averaged 20 disposals and was tipped to be drafted early this season.
The NAB AFL State Combines will be held in Melbourne - 9th Oct, Adelaide - 15th Oct, and Perth - 16th Oct.
NAB AFL State Combine List 
| | | | |
| --- | --- | --- | --- |
| NAME | SURNAME | STATE | |
| Jakob | Anderson | VM | |
| Yuyu | Ashwin | VM | |
| Charlie | Barnett | VC | Bendigo Pioneers |
| Josh | Bennetts | VM | Eastern Ranges |
| Shaun | Bennier | SA | North Adelaide |
| Kane | Bevan | WA | West Perth |
| Kaelan | Bradtke | NSW/ACT | |
| Jackson | Broadbent | WA | Peel Thunder |
| Taj | Campbell-Farrell | VC | |
| Jack | Cleaver | WA | East Fremantle |
| Ted | Clohesy | VC | Geelong Falcons |
| Jayden | Davey | VM/ NT | |
| Josh | Draper | WA | Peel Thunder |
| Darcy | Edmends | VM | Northern Knights |
| Will | Edwards | NSW/ACT | |
| Will | Elliott | VM | |
| Finn | Emile-Brennan | VC | |
| Tom | Emmett | SA | Sturt |
| Harry | Flynn | VM | Eastern Ranges |
| Felix | Fogaty | VC | GWV Rebels |
| Harvey | Gallagher | VC | Bendigo Pioneers |
| Darcy | Gilbert | VM | |
| Cooper | Harvey | VM | Northern Knights |
| Jamie | Hope | VM | |
| Griff | Julian | WA | West Perth |
| Michael | Kiraly | VC | Bendigo Pioneers |
| Oscar | Kregar | SA | West Adelaide |
| Jerome | Lawrence | VM | |
| Brandon | Leary | TAS | Tasmania Devils |
| Brinn | Little | QLD | |
| Archie | Lovelock | SA | Glenelg |
| Baynen | Lowe | SA | Norwood |
| Bailey | Macdonald | VM | |
| Kyle | Marshall | SA | South Adelaide |
| Bailey | Maxwell | WA | East Perth |
| Connor | McDonald | WA | Perth |
| Toby | McQuilkin | WA | South Fremantle |
| Darcy | Minchella | SA | West Adelaide |
| Rhett | Montgomerie | SA | Central District |
| Oscar | Murdoch | VC | Geelong Falcons |
| Hugo | Nosiara | VC | |
| Hudson | O'Keeffe | VM | |
| Cameron | Owen | TAS | Tasmania Devils |
| Paul | Pascu | VM | Calder Cannons |
| Matthew | Payne | VM | Western Jets |
| Rye | Penny | VM | Calder Cannons |
| Jovan | Petric | VM | Western Jets |
| Baxter | Philip | WA | Perth |
| Osca | Riccardi | VC | Geelong Falcons |
| Christopher | Rousakis | VM | |
| Kobe | Ryan | SA | West Adelaide |
| Jasper | Scaife | WA | West Perth |
| Lachlan | Scannell | SA | Glenelg |
| Jonti | Schuback | VC | Gippsland Power |
| Nathan | Scollo | VM | |
| Kaleb | Smith | WA | East Fremantle |
| Oscar | Steene | SA | West Adelaide |
| Frank | Szekely | SA | North Adelaide |
| Beau | Tedcastle | NT/VC | GWV Rebels |
| Ziggy | Toledo | VC | |
| Brodie | Tuck | SA | Central District |
| Clay | Tucker | VM | Eastern Ranges |
| Callum | Verrell | VM | Eastern Ranges |
| Jake | Walker | SA | Glenelg |
| Conrad | Williams | WA | Claremont |
| Kai | Windsor | VM | Eastern Ranges |