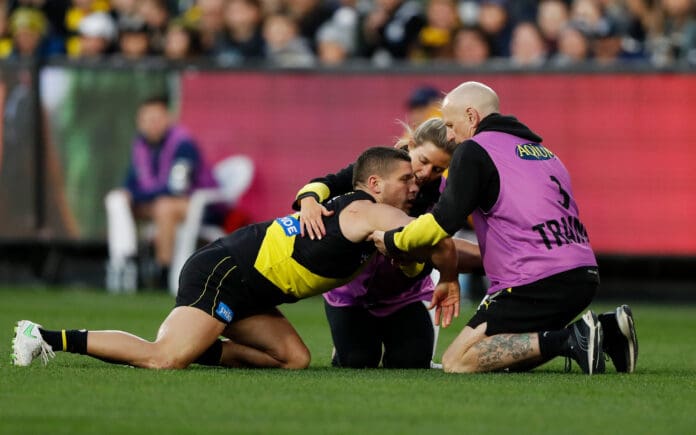 Geelong backman Tom Stewart's head-high hit on Richmond star Dion Prestia was ugly. Very ugly.
It was nasty, crude, off the ball and, most importantly, knocked Prestia out cold on his feet before he even hit the ground.
Stewart has since been slapped with a four-game suspension, ruling him out of crucial games against Melbourne, Carlton and Port Adelaide (away), as well as North Melbourne.
But the triple All-Australian's punishment shouldn't have stopped there.
MORE: The latest Geelong AFL news
Obviously, you can't bring in rules on the run (although, the AFL has been known to do that from time to time), but the Stewart case is a rare type of instance where a send-off rule should be applied to in the future.
A sending-off in the AFL wouldn't happen very often, and there could very well be seasons where it doesn't occur at all, such is the scarcity of such serious events.
But if it's a clear-cut situation where an umpire reports a player, and the affected opponent is taken from the field as a direct result of the culpable player's actions, then that should be the criteria that leads to that player spending as much time on the bench as his victim – whether it be five, 10, 20 or 100 minutes.
In this particular case, Stewart would have remained sidelined for the remainder of the game - like Prestia did.
The good thing about this system, too, is that the matchday report from the umpires would regain importance and relevance.
For years, punters and commentators alike have queried the need for officiating umpires to still take down numbers in their books when each game has about 57 different cameras in use covering every single blade of grass from every conceivable angle.
But under this proposed system, a matchday report would become incredibly important in determining how much more game time the offender would enjoy. It would be completely dependent on his victim's recovery time.
The Cats gained too much of an advantage during the game on the weekend when they should have been punished. And the Tigers were punished too severely when they were innocent victims.
Richmond's most in-form midfielder was taken out of the game in the first quarter, while Geelong's best defender was able to remain an active participant and play a crucial role in sealing one of the most epic wins of the home-and-away season to date.
RELATED: The latest Richmond AFL news
The Tigers enjoyed a grand total of four disposals from 16 per cent of game time from Prestia, while Stewart went on to register a game-high 29 touches, 17 intercepts and 737 metres gained, as well as 13 contested possessions, to be best on ground.
Some of those intercept possessions from Stewart, particularly in those frantic final few minutes, were absolutely critical in clinching the three-point win.
In a game of inches, Stewart's hit on Prestia was match-defining.
And through no fault of their own, the Tigers suffered the double whammy of Prestia being unavailable for their next clash against West Coast at the MCG as he remains in concussion protocols.
The old-timers will argue that taking out the star player from an opposition side was a time-honoured tactic way back when, but we have come a long way since those days as we now find ourselves in an era where the protection of the head is enshrined in the game, and the issue of concussion is taken more seriously than ever before.
There are also valid counterarguments to the send-off proposal suggesting that to the letter of the law, you can't know for certain if a player is guilty or innocent of a reportable offence until he goes through the match review and/or tribunal process.
And of course, there's always been an element of good luck and/or bad luck in footy.
But other sports like the rugby codes and soccer have been sending off players from time immemorial, and red cards are even used at local level in footy.
Why not try and eradicate as much of the bad luck element as possible if you're able to?
Clearly, it can be done. However, unlike rival footy codes, sending-offs shouldn't be regular occurrences in the AFL – they would only be reserved for the worst of the worst.
Think Darren Milburn on Stephen Silvagni, Tony Lockett on Peter Caven, Barry Hall on Brent Staker and Andrew Gaff on Andrew Brayshaw.
WATCH: The latest AFL videos from Zero Hanger
Those type of incidents are as rare as hen's teeth, but when they do pop up on the odd occasion, even if it's every couple of years, umpires should be equipped with appropriate powers to employ immediate, swift justice in a bid to level the playing field and ensure the affected team isn't punished more than it needs to be.
Hot on the heels of the tightening up of the umpire dissent interpretation this year, the concerns of adding more rules to an already complicated sport for umpires to adjudicate on are understandable.
Ideally, we wouldn't want to make the umpires' jobs harder (they're already copping enough sharp criticism this year), and with every new rule, there's always the prospect of mistakes being made, even with the aid of TV umpires.
But we wouldn't want a grand final to be decided by an act of thuggery. Surely we're past that point.
Coincidentally, the 2020 grand final between these two great modern rivals, Richmond and Geelong, also had the potential to be swayed in the Cats' favour after Patrick Dangerfield's brutal elbow to Nick Vlastuin's head which concussed the Tigers defender in the first quarter. Eerie parallels indeed with what occurred on the weekend.
Although incredibly, Dangerfield was not reported or suspended for the incident, you'd like to think in future grand finals, such hits would not go unpunished by the umpires, especially if they have the ability to remove the culprit from the remainder of the match.