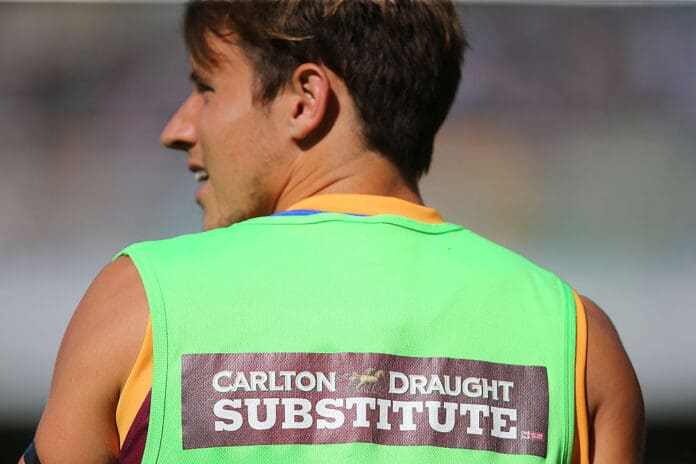 The AFL has implemented medical substitutes for the 2021 season.
It means clubs will name a 23rd player for each game that can only be used if doctors have assessed an injured or concussed player as 'medically unfit' to continue in the match.
Sub decisions have to be made by club doctors to avoid exploitation of the rule - with only players deemed ineligible to play in the next 12 days allowed to be subbed out of games.
As a former sub for the love of god, please no

— Nick Winmar (@Nick_Winmar17) March 16, 2021
As for selection, clubs will name their normal 22-man sides with four emergencies the night before games, with one of the emergencies to be named the medical sub an hour before the bounce.
The idea stemmed from the AFL wanting to protect players with head-injuries going forward, this off-season introducing a mandatory 12-day lay-off for any player who suffers a concussion.
The AFL were originally discussing concussion subs, with coaches wanting to add a 23rd player to the team sheet to replace a player if they head knocks mid-game.
It's hoped the addition of a sub will allow teams to sub out any player suffering concussive symptoms with more ease as they can now be replaced.
The AFL believes strict "medical governance" will prevent medical sub from being manipulated by coaches. The club doc will rule an injured player out on game day, but his eligibility for next week must be ticked off by AFL chief medical officer.

— Sam Edmund (@Sammy__Edmund) March 17, 2021
I repeat. 140 players from 2011-15 made their AFL debut as the sub. One of footy's best traditions running out for the first time will so often revert to sitting in the Kermit vest on the bench hoping for an injury to get on.

— Jon Ralph (@RalphyHeraldSun) March 17, 2021
"The health and safety of each player in the game remains the priority and the introduction of a medical substitute ensures that player safety remains paramount in our game," AFL football boss Steve Hocking said in a statement on AFL.com.au.
"Over recent years we have continued to take action to strengthen match-day protocols and amend the Laws of the Game to improve safety.
"We continue to listen and learn and where we can reasonably make our game safer at any stage of the season, we will."
According to Seven News' Tom Browne, there will be no sub vests, such as the fluro green ones used from 2011-2015, but instead players will wear their club tracksuit.
Medical subs will only apply at AFL level, while clubs found to be breaking the new rule could be sanctioned for "an be sanctioned "for conduct unbecoming, or prejudicial to the interests or reputation of the AFL, or to bring the game of football into disrepute".
Clubs have reportedly grown frustrated by the delay of the decision just a day out from Round 1.