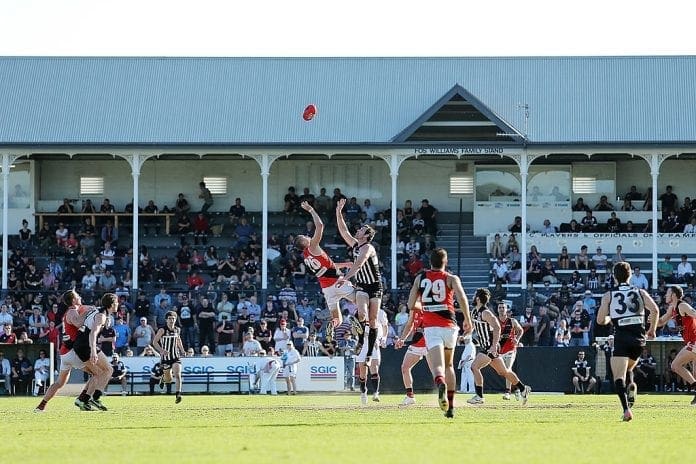 Adelaide and Port Adelaide players have claimed that SANFL umpires treat AFL-contracted players unfairly. 
Several players have voiced their frustration with the league's umpiring, believing supporters' behaviour has had an undue impact on the officiating of matches.
Adelaide defender Josh Worrall, who will line up in Adelaide's reserves preliminary final this weekend, said the league needed to take action against abusive supporters.
"The abuse I have copped from the sideline this season has been unacceptable," Worrell said.
"It is time the league took a stand on these fans who come to the footy and do the wrong thing because umpires feel the pressure and it has an impact on them."
.@adelaide_fc defender Josh Worrell has added some extra spice to the prelim final by making the extraordinary claim that SANFL umpires treat AFL-listed players unfairly. 7NEWS Adelaide at 6pm | https://t.co/8ftPfGh39Y #7NEWS pic.twitter.com/DZvUxEQejK

— 7NEWS Adelaide (@7NewsAdelaide) September 7, 2022
In 2014, the size of the league increased from 9 clubs to 10, after the South Australian Football Commission issued the Adelaide Crows a licence to field a reserves team in the SANFL.
There exists a divide between fan bases and many remain resentful at the introduction of AFL clubs fielding teams in the reserve grade SANFL competition - it meant existing SANFL clubs lost access to AFL-listed players.
Port Adelaide ruckman Sam Hayes said he had certainly copped unfair treatment.
"The umpire goes to the game, he has to focus on his job but then he has got those guys yelling from the sideline," Hayes said.
"A lot of stuff can get thrown at them so they have got to deal with a lot of things.
"I think it certainly affects them for sure."
Players believe the sideline abuse has resulted in unfavourable umpiring and disproportionately swayed free kick counts.
In Adelaide's first six seasons in the SANFL, it experienced a -498 free kick differential, while fellow AFL club Port Adelaide registered a -307 differential.
In Adelaide's Qualifying Final two weeks ago, AFL listed Billy Frampton was fined $750 for 'flipping the bird' to a spectator as a result of the abuse.
Many players in the Crows' reserves side are under 20 years old and yet to debut for the AFL side.
The Crows face Norwood in the preliminary final this Sunday afternoon.