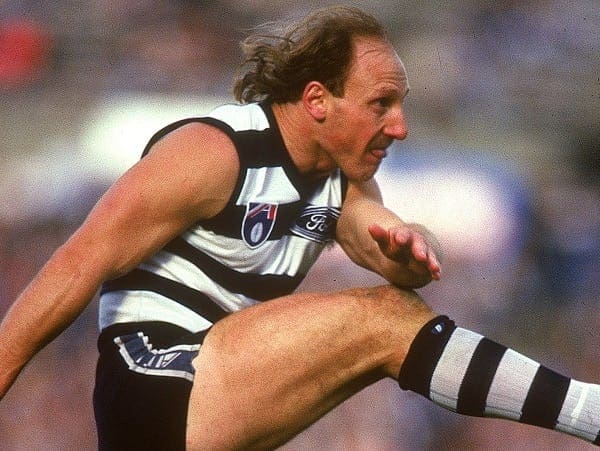 AFL great Gary Ablett Sr has spoken on the "significant structural and functional brain damage" he sustained across his decorated career, with the former Geelong forward battling new symptoms that have risen from the past year alone.
Ablett, who played 248 games across a 16-year career between the 1980s and mid-90s, endured headaches 13 years ago and subsequently suffered from anxiety, fatigue and depression.
Seeking scans to understand the full extent of his health battle after learning of the issues fellow retired players have faced from concussions sustained in their playing days, Ablett was still unable to identify if Chronic Traumatic Encephalopathy (CTE) was a factor.
The 61-year-old sought further scans at the Swinburne Neuroimaging Facility last year, technology that is also used by US military.
Ablett, who has begun seeing a psychiatrist, opened up on his battle in an interview with The Herald Sun, 
"I began getting headaches and pressure in the top of my skull around 2010, initially a few days a week," Ablett told the publication.
"It then led to depression, anxiety and extreme fatigue. Under the advice of doctors I then had numerous scans to try and find the cause of headaches and skull pressure.
"Those type of scans couldn't pick up CTE so in a way it's relieving to at least have identified the problem.
"From 2015 onwards, and almost every day, there were signs that things had changed, then about 12 months ago I started getting symptoms that alarmed me to the point where I contacted Peter Jess (Ablett's former manager), whom I'm aware has been a concussion advocate for a number of past players.
"I told him of my concerns and Peter helped organise an MEG scan that American Military use. It showed I have significant structural and functional brain damage.
Ablett confirmed to News Corp that he suffered as many as 10 concussions across his career, which ended in 1996.
Seeking financial assistance from the AFL Players' Association, Ablett's search for answers led to a dead end as his request allegedly fell on deaf ears.
Ablett said he hopes to raise further awareness and help other ex-AFL players identify the full extent of their own health battles.
"After providing (the AFLPA) with all the information four months ago they just started avoiding me and not getting back to me which I find extremely disappointing and disrespectful," Ablett revealed.
"I feel I made a significant contribution to the game over 16 years of VFL and AFL football so it seems I'm not the only one with memory problems. And while I certainly don't want to bring the game into disrepute or damage the image of the game, I'm really wanting to reveal these issues more for awareness and other players who may be experiencing the same problems.
"I acknowledge the AFL have done a tremendous job in cleaning up the game and minimising head contact and knocks as much as possible however back when I played head knocks and injuries were far more common.
"Obviously I was a very physical player and while I only got totally knocked out 8-10 times, I experienced being semi-concussed, such as ears ringing and out of it for a few minutes many dozens of times, but because you weren't knocked completely out you wouldn't even bother mentioning it."
Ablett's comments come the same week a class action was lodged against the AFL to the Supreme Court of Victoria, with a host of ex-AFL players involved in the legal action.
A second concussion-related lawsuit is expected to be lodged as early as this week.
AFL CEO Gillon McLachlan addressed the rising concern and recent class action, stating the league takes its duty of care "seriously".
"I haven't seen the case, but I read the blurb today and what I read in that is not the AFL I know, both at community level and elite level," McLachlan told AFL 360 on Tuesday.
"If there's an issue there, we will be answerable to that. What I'd say is that we take our duty of care seriously, the doctors take their duties of care seriously, there are good people who've taken this seriously for a long period of time."
Separate egal action against the league has also been made by former Western Bulldogs AFL player Liam Picken and ex-Collingwood AFLW player Emma Grant in recent weeks.