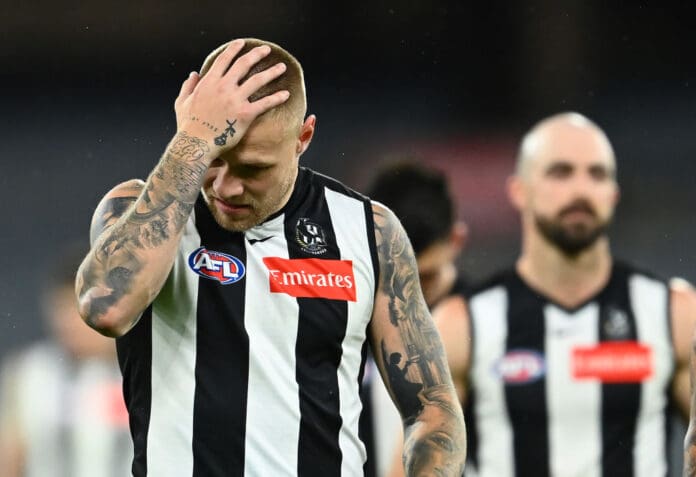 Former Hawthorn premiership star Dermott Brereton believes Collingwood's Jordan De Goey will finish his career elsewhere.
De Goey returned to training last Friday after being on a club imposed suspension. De Goey was charged with harassment in the second degree after an incident in a New York club last year.
Now heading into the final year of his contract, De Goey may well spend the year fielding offers from rival clubs as he prepares for free agency.
Brereton believes that De Goey has burnt all his chances at Collingwood through a variety of off-field incidents and that the Pies may look to let him exercise his rights as a free agent.
"No, I don't think he will (be a Collingwood player for life), at some stage I do (see him leaving)," Brereton said on SEN Drive.
"There'll be something happen, it'll be of a minor nature, it'll be a parking fine or something.
"We'll say, 'Woah, he keeps getting in trouble', not to suggest what he's been through is similar to a parking fine, but it'll create tension."
Brereton said he sees De Goey as a Collingwood player but that patience would be wearing thin at the Holden Centre as they await the emergence of the superstar player they have hoped for so long De Goey would become.
"Someone will say, 'Okay, I've had enough of this', it'll be Collingwood, he will say, 'I've not felt the support' … the ball will go back over the net and he'll end up somewhere else.
RELATED: Is De Goey running out of options as a free agent?
"I hope it doesn't happen, he's a good Collingwood player … when you think of him he's a Collingwood player.
"But it does seem he attracts a type of trouble that at some stage you could see the unison breaking."