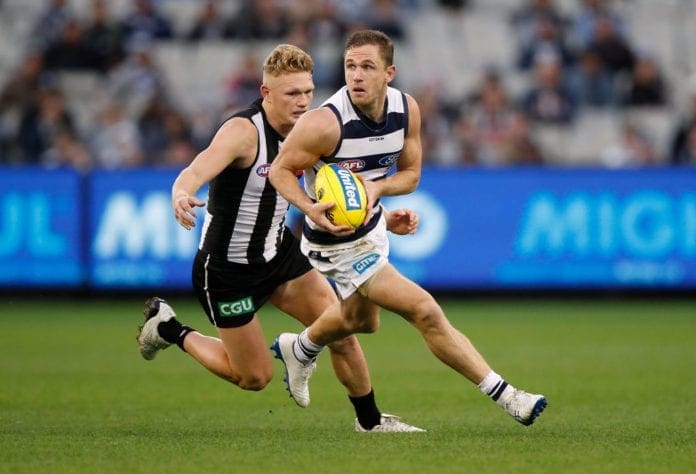 After an enthralling opening week of finals football, the pathway to premiership glory has narrowed after an unfancied duo advanced and a pair of favourites were farewelled.
Irrespective of whether your team has defied the odds advancing on a wing and a prayer or they are cashing in their double chance chip, there are a fresh batch of quandaries facing the quartet of coaches competing this weekend.
Of all the dilemmas that will have the men in the hot seat tossing and turning, these four are likely to slay the most sleep.
Whether the odds on favourite or the dark horse, these are the queries that face the Semi-Finalists.
Will the reinjection of Tom Lynch solve Richmond's offensive woes?

Had Richmond found a way to convert any of their second quarter forays forward last Friday, they would currently be enjoying a week off.
In their Qualifying Final, the Tigers managed to work the ball inside their forward fifty on 49 occasions, the vast majority of which came within the second term. However, the Brisbane defense, led by the return of vice-captain Harris Andrews, were not only able to repel these advances, they managed to weave them into a string of crucial goals.
In his post-match press conference, Damian Hardwick noted that it was his team's inability to either mark the ball inside fifty or win ground balls that cost them any chance of early bird ticket to the prelims.
With an arranged date against the pugnacious Saints this Friday, Richmond will be desperate to avoid the ignominy of a straight sets exit.
The key ingredient to any future success this month comes in the form of reintroducing their prized forward fifty pillar – Tom Lynch.
Tom Lynch trains under the watchful eye of a Coach Hardwick as he aims to prove his fitness ahead of their do-or-die clash against the Saints on Friday night #AFLFinals pic.twitter.com/w4UR26rG8W

— Michael Willson (@MichaelCWillson) October 5, 2020
As mentioned prior, the Punt Roaders sent the ball inside 50 on 49 occasions against Brisbane. This total sits above their season average of 46.8. Of this near half tonne of entries, only five resulted in marks within the arc. Exactly half of their season average of 10 per game.
Now it may be drawing a longbow to suggest that Lynch's presence would have swung the match entirely in Richmond's favour, however, raw numbers suggest this theory holds some water.
In season 2020, Lynch currently sits sixth for contested marks inside fifty, with a gross of 34 at an average of 2.1 a game. The Tiger in the number nineteen guernsey also averages upwards of a goal and a half a game from these opportunities.
The former Suns' reinjection into an unsettled forward line should go a long way to rectifying last week's wastefulness and to defeating the depleted Saints.

What do the Saints lose without a second ruckman?
The tap work pairing of Paddy Ryder and Rowan Marshall have this season drawn every manner of reaction.
Initially, the collaboration was derided, until after a few wins, a smattering of critics were silenced. After the pair began tandemly dominating at centre bounces and in front of goals, their partnership became appropriately lauded.
In the 14 games the two have played together this season, they have combined for an average of 32.1 hit outs and 1.5 goals a game.
In the four games that Ryder has missed (rounds four, five, six & 11), Marshall's hit out numbers may have drastically inflated (25 up from 11.2), but his output in front of goal has dipped (0.5 down from 0.7).
Now this may seem like an insignificant decline, however the Saints have managed just a 50% win/loss record this season with only one ruck on the ground, as opposed to 61% when the pair are available.
Due to the hamstrung Ryder's seasons coming to a premature end, this individual imbalance in Marshall's game must be rectified against Richmond.
You're a true Saint, Paddy ♥️ pic.twitter.com/EPiIvA8dGG

— St Kilda FC (@stkildafc) October 6, 2020
With the Tigers also forced into playing a solo ruckman, Marshall will be hoping for a repeat of his 25 hit out, 15 disposal and two goal game against Toby Nankervis and the Tigers earlier this year.
The former rookie draftee will also have his fingers crossed that the Saints' alternative avenues to goal will continue to reap rewards.
If ever there was an occasion for the 24-year-old Portland product to stake his claim as the club's number one big man, then Friday night's Semi-Final is it.

Has Collingwood's forward line actually turned a corner?

In a season where there have been a multitude of obstacles placed in front of teams scoring, none have struggled quite like Collingwood.
Across the club's 17 regular season games, the Magpies average a paltry 56.7 points per game. It must be stated that this offensive drought came via the collective downturn in form of the entirety of their forward line.
Now if you predicted the Pies to beat West Coast last weekend, you're either one eyed, a liar or you own a time machine. As someone who has repetitively derided the club's offensive ability this season, I know I definitely tipped the Eagles.
In posting a full-time score of 12.4.76, the Woodsmen increased their average total score by upwards of 34% - a staggering rise on the back of a collective output of eight goals from Jordan De Goey, Mason Cox and Brody Mihocek.
Brody Mihocek stood up when it mattered most for the Magpies 🙌

His heroics had us all on the edge of our seats, giving us That @Toyota_Aus Finals Feeling.#FootyOHWHATAFEELING pic.twitter.com/WCXuGiDDON

— AFL (@AFL) October 6, 2020
Now I've been forced to consume a large portion of humble pie following Saturday, but I am certain that Nathan Buckley and myself are still pondering the same thing - was this performance representative of a real change or was it just an outlier?
It is worth noting that their Semi Final opponents Geelong have averaged 71 points for and a measly 53 against this season.
So there is the magic number Pies fans. Kick twelve goals and you are likely to find yourself in your third Preliminary Final in three years. Fail to and it is likely curtains.

Just how important is Joel Selwood to Geelong's chances?

Highlighting the value of Joel Selwood is never going to raise any eyebrows. Still, with the Geelong skipper a chance to miss his team's Semi Final, it is worth querying just how important he actually is.
Joel Selwood has had surgery to repair his injured finger.

— Geelong Cats (@GeelongCats) October 2, 2020
Selwood's Qualifying final numbers read exactly how you would expect – 16 disposals, three tackles, six clearances and a goal that could have kick-started the woefully inaccurate Cats.
Despite proving incapable of dragging his team across the line last Thursday, this is out of ordinary for the hardnosed midfielder. In a career that has spanned 307 games over 14 seasons, Selwood holds a win/loss record of 73.13%, having tasted defeat on only 82 occasions.
With a record like this, it is clear that Selwood doesn't just represent the Mog's metaphorical backbone, but also a handful of their vital organs as well.
Although it is unlikely that Selwood will miss Saturday's clash with Collingwood (even after invasive surgery on his hand), some experts have urged him to err on the side of caution.
As quoted by the Herald Sun on Tuesday, sports medicine expert Dr. Peter Larkins claimed that the Cats may have hindered rather than helped their captain's short-term recovery.
Larkins suggested that surgery such as Selwood's usual takes anywhere from three weeks to properly recover.
"Given that they made this decision (to have surgery), they didn't think (strapping it up) was a possible way to go, so they have really rolled the dice," he said.
"If it is just a severe dislocation without any worries about a fracture, you are having to do a reconstruction of the joint and they take weeks before they settle down.
"The long finger is really important for making a fist and gripping like tackling somebody or handling the ball, so it will be an extraordinary performance for him to play."
Should hell freeze over and the apparently pain immune Selwood misses selection, there may no longer be a tomorrow for a collection of Geelong champions, such is the importance of their leader.