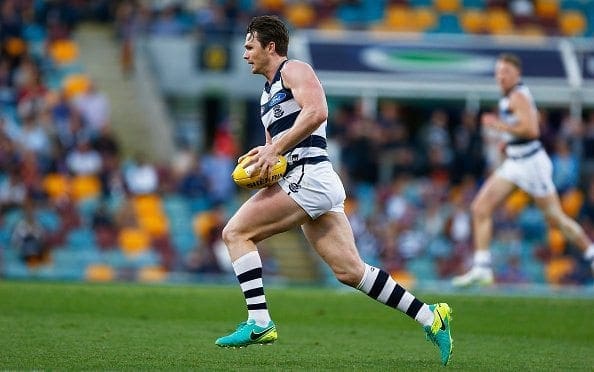 Following the completion of another week of finals football, the field in the month long marathon has now narrowed to just four.
Aptly, the quartet of teams that will contest this weekends pair of Preliminary Finals are comprised of this topsy turvy season's top four.
The finish line may be in sight for this quartet, but there are still a pair of final hurdles that need hopping.
Of all the queries that will have head coaches scouring film, stats and injury reports before team selection, these four remain the most likely to induce greying.
These are the penultimate hurdles facing the four Preliminary Finalists.
Port Adelaide: Is the Power's backline big enough?
Trent McKenzie may have held Tom Hawkins goalless in the first week of the finals, however, this is only half of the tale.
The Power fullback managed to avoid blotting his copybook in the Qualifying final, all despite a myriad of chances being afforded to the Geelong goalkicker.
Hawkins finished the night with 0.5 and his side sitting 16 points behind on the scoreboard. Leaving McKenzie, a full seven centimetres and 15 kilograms smaller than his opponent, to mark himself with the sign of the cross and exhale loudly.
TRENT McKENZIE | You want the big jobs in footy. Tom (Hawkins) won the Coleman, so it was going to be a big job. But it was a team job overall. The more we could hold him wide the better, but fortunately he didn't have his kicking boots on.

— Kymbo and the Rooch (@KymboRoochSA) October 8, 2020
Now the defender may have escaped incarceration a fortnight ago, but with the prospect of having to blanket the red hot Tom Lynch, does Ken Hinkley's last line lack too much size?
Should Hinkley give McKenzie first crack at Lynch, the defender will again find himself behind on both the scales' and tape measure's count - standing eight centimetres shorter than his former Gold Coast teammate and weighing in 11 kilograms lighter.
The unheralded defender may have escaped a possible bath against Hawkins, but with Lynch having registered at least one major in his last nine outings, this potential matchup could get ugly fast.
As it stands, there is nobody on Port's list that resembles Lynch physically, but then again, the same can be said for the rest of the competition. The only Power player with measurements even remotely similar to the Tiger's 2019 leading goalkicker is Tom Clurey.
The 26-year-old Victorian tips the scales at 95 kilograms and stops the tape at 193 centimetres – still shy of Lynch, but at least affording himself a fighter's chance.
TRENT McKENZIE | I'll probably play the deeper role with Jonas and Clurey sitting a bit higher up. But we'll definitely rotate.

— Kymbo and the Rooch (@KymboRoochSA) October 8, 2020
If this wasn't enough of a headache for Hinkley, he must also cover the 193cm and 93kg Jack Riewoldt.
Richmond: Have the Tigers learnt their lesson?
Since the completion of the 2016 season that saw Richmond finish on the thirteenth rung of the ladder, the Tigers have turned their fortunes around.
Over the course of these four years, Richmond's record sits at a remarkable 69 wins, one draw and only 23 losses – five this season, six last year, five in 2018 and seven in 2017.
In a testament to both the maturity of the playing list and the preparedness of the coaching staff, across this quartet of years, Richmond is yet to be beaten by any team twice in single season.
History suggests @Richmond_FC have a good chance of beating the Power on Friday night.

Apart from that there's very little to seperate the two sides according to @cleary_mitch and @kanecornes on the latest episode of The Round So Far: https://t.co/SzjKbYb4XM pic.twitter.com/6xTsyHuDAb

— AFL (@AFL) October 11, 2020
So far in 2020, the Tigers have dropped games to Hawthorn, St. Kilda, Greater Western Sydney, Port Adelaide and Brisbane. With the first three no longer in the race, the next pair of weeks will provide us with an answer whether Richmond are still doing their homework.
With a Preliminary Final date booked for this Friday night, the second last obstacle in their search of a third flag in four years comes clad in black and teal.
Back in Round 11, the 6-1-3 Tigers were halted by the Power in Adelaide, going down by 21 points.
What exactly have Damien Hardwick and his troops learnt since that Saturday night in early August? Were there a myriad of lessons to understand or were they simply just infantry light on the night?
Should this wildly impressive trend of never being fooled twice continue and Brisbane get up over Geelong, that will provide this ruthless Richmond team with three consecutive weeks of in season redemption shots.
If their record proves nothing else, it shows that these shots are prone to finding the centre of the target.
Brisbane: Just how big is the Lion's home ground advantage?
It should come as no surprise that teams invariably have a better record when playing at home rather than away.
On field quality and nous in the coaches box are seen as the stereotypical twin pillars to success, however, the feature of familiarity can never be underestimated.
The ability for players to sleep in their own beds, ride the familiar streets to the local ground and do battle in front of a throng of supportive voices can only help rather than hinder performance.
Can't wait to see this again 😍 pic.twitter.com/GSGdFbiigH

— Brisbane Lions (@brisbanelions) October 13, 2020
Last season, the Brisbane Lions finished second on the ladder with a winning percentage of 76.9 at the Gabba, losing only three of their thirteen home games.
In 2020 that number has risen to 100% with the Lions going 10 from 10 at the Vulture Street venue.
Now you can't beat a perfect record, in fact under normal circumstances we wouldn't even be questioning it, but in a season where most teams have played 'home' games in the Queensland capital, just how much of an advantage still remains?
Across the previous five seasons prior to this, Brisbane's qualifying final opponents, the Cats, have visited the Gabba on three occasions for two wins and a one points loss.
This season, the Cats have marched out onto the well-trodden surface four times for four resounding victories.
For those of you that are sluggish with arithmetical equations, that translates to a winning record of 85.7%. Plus, had Lincoln McCarthy grassed his grab from last season, this proud percentage would most likely instead be perfect.
Lincoln McCarthy stood tall when it mattered!

The Lions forward is the @Gatorade Game Changer! 👊#AFLLionsCats pic.twitter.com/gdxJ2fLQCL

— AFL (@AFL) August 17, 2019
Sure, the Lions will have the hometown crowd at their backs on Saturday night after a night with their heads on their own pillows, but even in a COVID-less season where the playing fields aren't quarantine bubbles, they can't hop the fence and physically help their heroes out.
Geelong: Where will Danger start?
Following a performance close to even his lofty peak, Patrick Dangerfield has left Chris Scott with a welcoming problem – where exactly will the bearded coach play his star?
With a career average of over 24 disposals, 5.4 clearances and 13.5 contested possessions a week for thirteen seasons, the Moggs Creek Mog's magnet has previously been arc welded to the middle of Scott's whiteboard.
On occasion, he has been sent forward to ignite a lethargic offensive group or to create confusion between defenders. These forays forward have almost always yielded results, with last Saturday's Semi-Final no exception.
Patrick Dangerfield was at his best against the Magpies 💯

The superstar Cat's powerful four-goal performance, gave us That @Toyota_Aus Finals Feeling.#FootyOHWHATAFEELING pic.twitter.com/L2SOurxdbj

— AFL (@AFL) October 13, 2020
Dangerfield's statistics paint a picture of a player who spent close to the entirety of the game in the forward fifty.
The 2016 Brownlow medallist's stat line read as following – 19 disposals, two marks inside 50 (both contested), three clearances, four goals straight and only 11% of the game spent on the pine.
Patrick Dangerfield played 86% game time as a forward last night. DPP in 2021? 🤔 #SuperCoach #AFLFantasy #AFLFinals

— Fantasy Freako (@FantasyFreako) October 10, 2020
'Danger' proved not just the catalyst for the Cats ten goal cull of Collingwood, but also the perfect foil for Tom Hawkins, whose performance the week prior left a lot to be desired.
Comprised of names like Neale, Berry, Lyons, Zorko and McCluggage, the Brisbane midfield is relatively 'slouchless'.
With this opposition quintet in mind, Scott may choose to send Dangerfield to the centre rather than the goal square. However, should Hawkins again be sent to the boundary by Harris Andrews and begin spraying his set shots, expect the Cats coach to break the emergency glass and send his superstar forward.