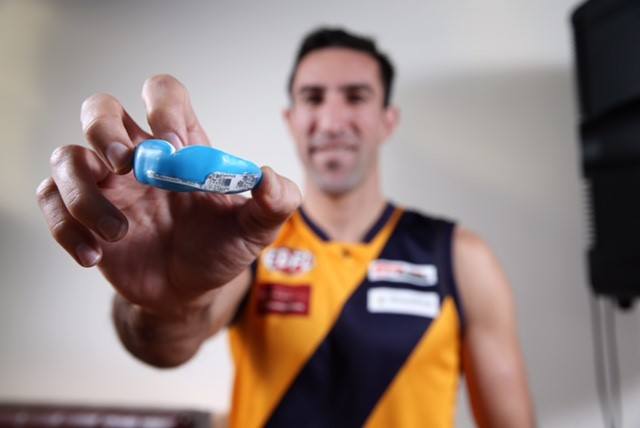 The AFL is aiming to have every player in the league wearing a revolutionary mouthguard that collects data via a sensor and is able to monitor the impacts of head trauma and concussion.
Close to 400 players currently use the HitIQ mouthguard, with the league looking to have the high-tech piece used league-wide by the end of the year and for AFLW players equipped with it for next season.
The AFL begun trialing the piece two years ago to better source data surrounding head knocks in a movement to aid the safety of players.
Revolutionary new technology will soon roll out across every level of the AFL, in an effort to better protect players from concussion. #9News pic.twitter.com/OG1AygHBvL

— 9News Melbourne (@9NewsMelb) April 6, 2021
The league has ramped up it's stance surrounding concussion following the deaths of Danny Frawley and Shane Tuck, introducing a minimum 12-day rehabilitation period for players that sustain head knocks in 2021.
Speaking to The Herald Sun, HitIQ co-founder and managing director Mike Vegar said the data available will help better understand the impacts of head knocks in football.
"We're able to identity and monitor every single head ­impact that the players experience," Vegar said.
"What we're delivering to the AFL is a prodigious asset, which is a big database of head impacts, which ultimately will further inform a better standard of care for the athletes.
"There are going to be so many insights that come out of this data set — and ultimately it's going to be a great outcome for the athlete."
The custom-made mouth-piece is priced up to $500, with the AFL hoping to have costs cut in order to introduce the technology to all levels of Australian Rules Football.
Thanks to Saints tragic @ed_carmine for putting this together at @zerohanger!

"With St Kilda set to honour Danny Frawley this weekend, the time has come for silent suffering to end."#SpudsGame #Time2Talk #AFLSaintsDees #AFL#TogetherWeRise #Unpluggeredhttps://t.co/iQ9fjzHx12

— Unpluggered Podcast 🔴⚪⚫ (@unpluggered) March 26, 2021
Essendon, Carlton, St Kilda and the Western Bulldogs were the first clubs to trial the mouthguard in 2019, with as many as eight clubs using the HitIQ technology last season.
"Through recent club visits, we have encouraged all players to participate in 2021," AFLPA executive James Gallagher told The Herald Sun. 
"This project is an opportunity to learn more about the connection between head ­impacts in football and concussion, using objective data.
"Importantly, the use of these mouthguards will generate data associated with all head knocks, not just those that result in a diagnosed ­concussion.
"We are also pleased that AFLW players will have access to the mouthguards from next season."