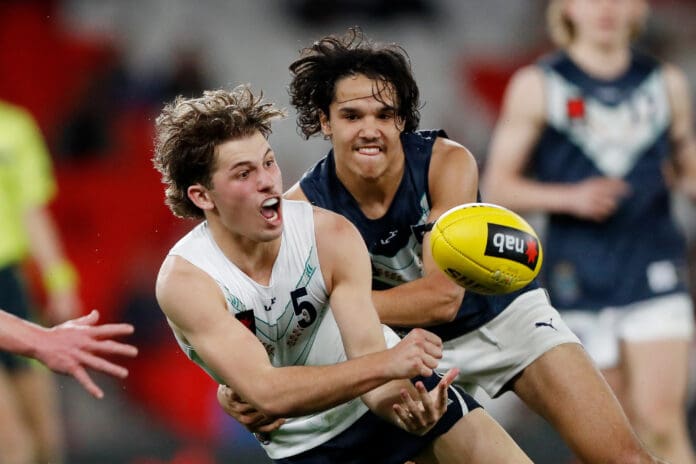 Time to get excited Essendon faithful, as Alwyn and Jayden, twin sons of 100-gamer Alwyn Davey are set to follow in their father's footsteps.
There is hype for Alwyn Davey Jr in particular, given Jayden sat the year out injured.
The 18-year-old enjoyed an exciting year for both Vic Metro and the Oakleigh Chargers, with his best games likely to stand out for recruiters.
He played every game for Metro, with his best against Western Australia where he notched up 19 disposals, five inside 50s and two goals.
For the Chargers, Davey averaged 16 disposals in six games with just the three goals, but his traits and score assists really stood out.
It seems likely Davey will start his career as a small forward but some of his best games came with midfield time, where his smarts, speed and craft helped create the play, especially with clean hands at ground level.
In the midfield, he uses his agility and balance to get out of congestion, that combined with his ability to navigate and make superb decisions.
His offence clearly stands out, and is one thing people will look for, given the role his father played for the Bombers, but his defensive attributes also deliver, providing great pressure.
With all those strengths, his production, consistency and endurance are the main points of contention, not matching the output of others in his draft class. He does spend more time forward than the other midfielders however.
That time forward could be used more effectively however, with his scoreboard output not that high.
State: Victoria Metro
State League Club: Oakleigh Chargers
Community Club: Ashburton JFC
Date of Birth: 26/02/2004
Height: 180cm
Weight: 74kg
Strengths
Speed
Agility
Decision making
Balance
Pressure
Weaknesses
Endurance
Production
Draft Range
Late First to early second round. 15-25
Potential Landing Spots
Essendon (matched bid)
AFL Comparisons
Expert Comments
"What he's capable of is getting through the midfield, which is an added string to his bow. He's not just a small forward with the nimbleness of his father, but he's capable of being the modern-day guy that can play both roles." - Kevin Sheehan
"He has exceptional awareness and that ability to, as we call it, just sidestep it, and when there's no space, he finds space. I suppose it's one of the traits of a very good Indigenous player. They're light on their feet, and able to just slip through with their speed and find that space to deliver the ball." - Jason Davenport