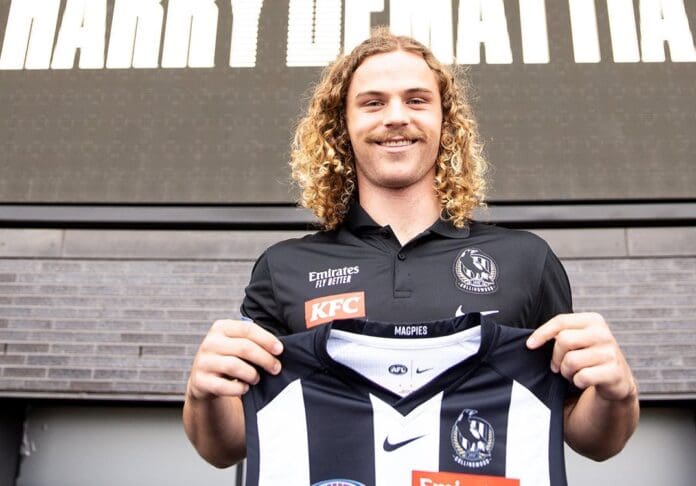 Collingwood's recruitment strategy has become clear-cut ahead of its premiership defence: If you can't run, you can't play.
The Magpies swooped on two dashing teenagers with their pair of National Draft selections, taking Harry DeMattia on the opening night of the count before returning to the order with the acquisition of Hawthorn NGA talent Tew Jiath.
DeMattia, who was taken with Pick 25 on Monday night, is a versatile talent who can play out of defence or through midfield, with his run-and-carry game and overall leadership qualities among the traits that separate him from the rest of his draft class.
Jiath, the younger brother of Hawks backman Changkuoth Jiath, enjoyed a strong Talent League campaign with Gippsland this year to emerge as a promising defensive flanker who will be afforded the time to develop under Craig McRae.
The Magpies moved for the exciting young pair in a plan to add further run and speed to their system, with recruitment manager Derek Hine explaining the club's thinking behind their two selections.
"Harry was a player that we feel that really plays a way that we do, as does TJ," Hine said on Tuesday.
"If players can't run in our system, they can't play. The two boys that we brought in certainly can do that. Both boys have impeccable character, display leadership traits and all those sorts of things which was a consideration as well.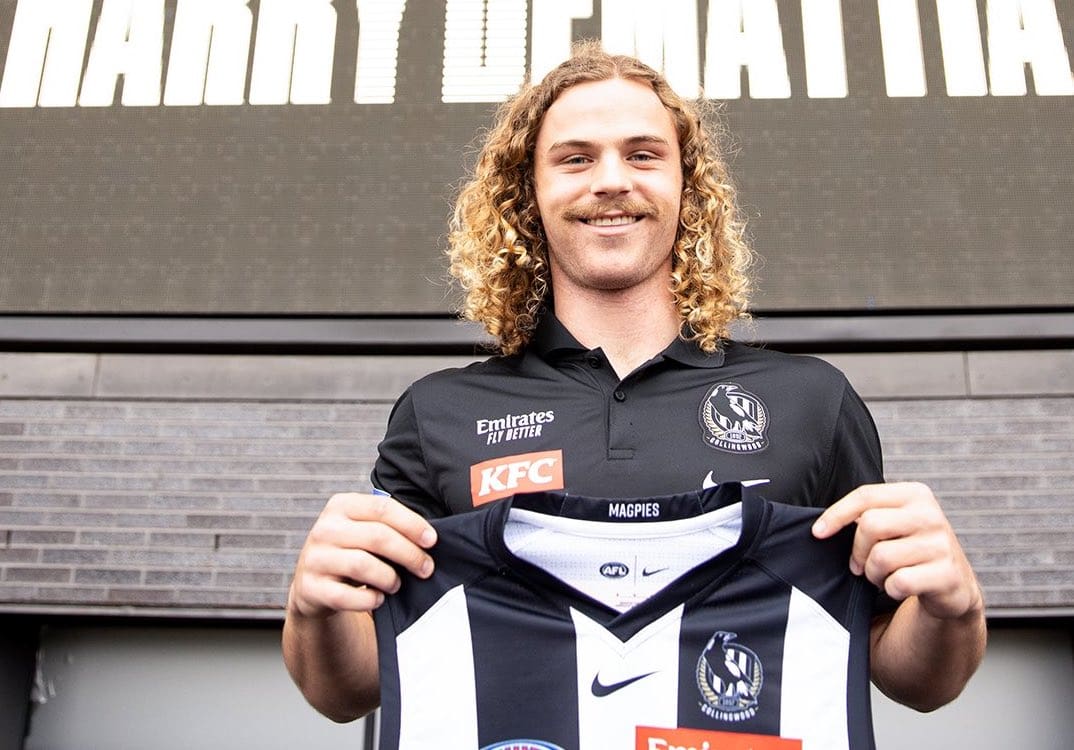 "Both boys are really keen to get to work and Harry was in this morning and brought the family."
DeMattia decided on football over cricket after spending time with the junior Australian cricket squad as a teenager, with the Dandenong Stingrays prospect going on to be among Vic Country's best performers at the National Championships this year.
Much like club great Scott Pendlebury's decision to choose Aussie Rules over basketball as a junior, DeMattia's dual-sport skills have played a part in his promising leadership qualities.
"I think the cricket really lends to (his leadership and confidence)," Hine said of the 185cm utility.
"It's not too dissimilar to when Scott Pendlebury came out of an elite basketball program and stretched straight into our program. [Harry] showed those same sorts of traits.
"I'm not saying Harry is Scott Pendlebury, but he's got those leadership traits. He really does present well in public, he presents well in front of the group and coming in today he had the coaches eating out of his hands."
Both DeMattia and Jiath are expected to join McRae's defensive unit this pre-season as they push for debuts early into next season.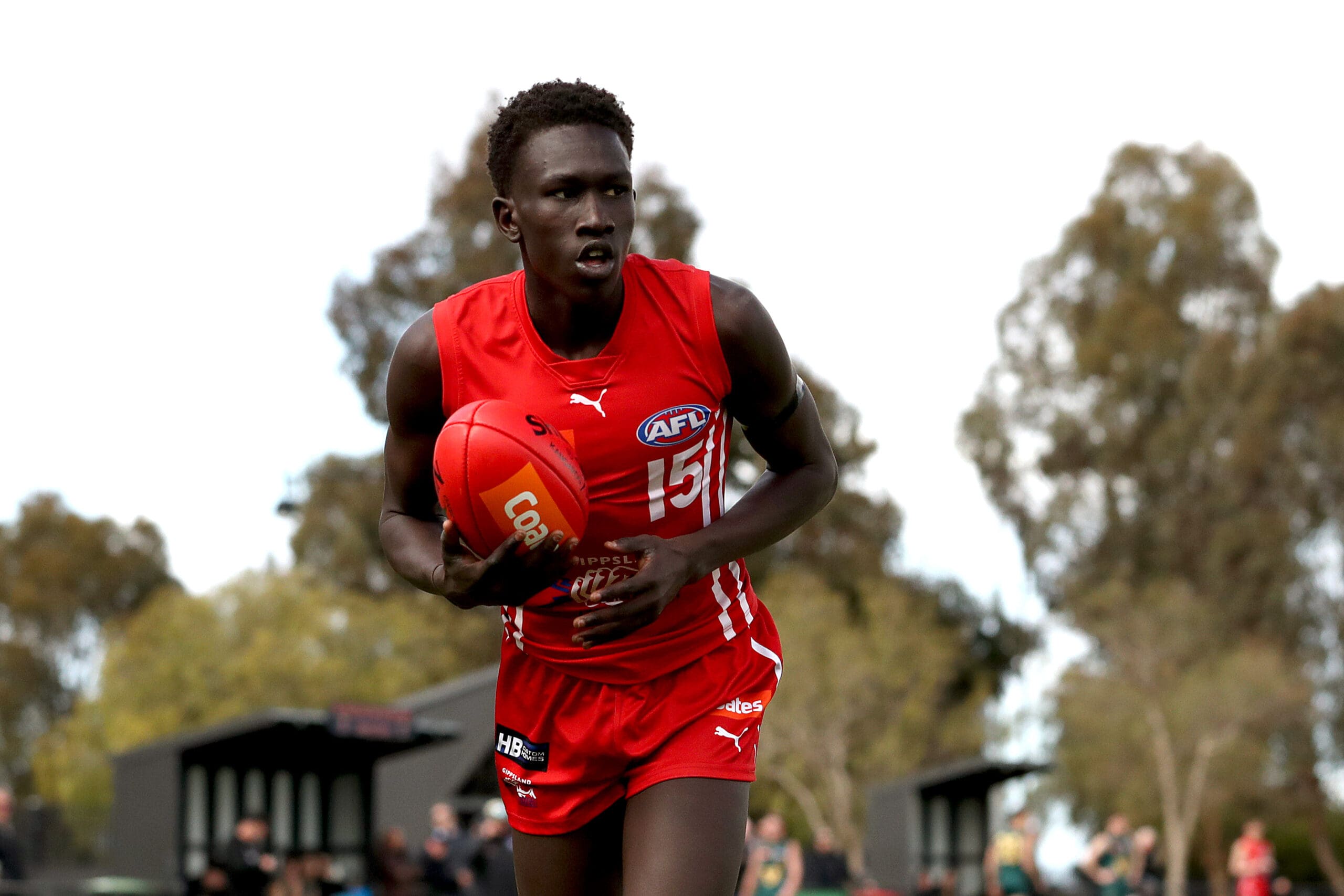 The Magpies' double coup is set to allow the likes of Pendlebury and Nick Daicos to spend more time through midfield, with Hine noting the likes of Jakob Ryan and Harvey Harrison will also be called on to provide some run.
"He'll probably start at half-back, and then there's no doubt that we'll find him in the midfield at some point in time," Hine said of DeMattia.
"That's the plan at the moment, so we can release Nick a little bit more into the midfield as you would have seen in the second half of this year, and Scott a little bit more as well. It just gives us a little bit more flexibility through that area, and that was the thinking with TJ as well.
"Within the list itself, we've got Jakob and Harvey and these younger boys that are sort of stepping through, so those two boys just add to that mix."
Hine went on to note that Jiath might require further time honing his craft before being utilised at senior level, but did suggest he is "a little bit more advanced than his brother at the same age."
The Magpies decided to pass on their final selection at the draft and aren't expected to be involved in Wednesday's Rookie Draft.
The club is planning to carry multiple list spots through the pre-season for the Supplemental Selection Period, and will reserve at least one spot for next year's Mid-Season Draft.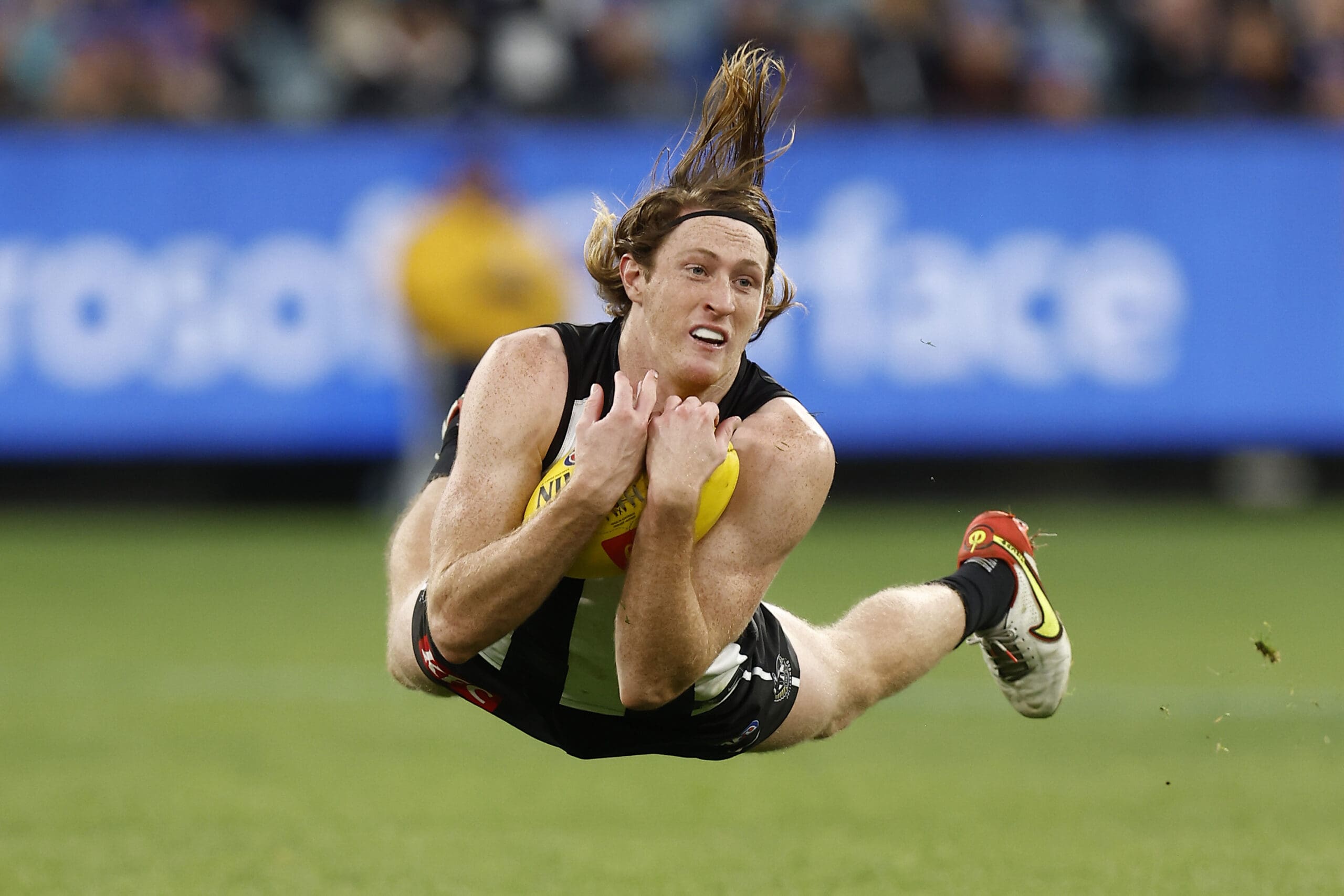 In promising news for premiership defender Nathan Murphy, the backman is expected to be playing early next year, with Hine providing an update on the 23-year-old.
"He's fine, that's my understanding," Hine said.
"That was certainly in the forefront of our decision-making going forward, but he's fine."
The Magpies are set to open their 2024 campaign against GWS at GIANTS Stadium in early March as part of the 'Opening Round' fixture.