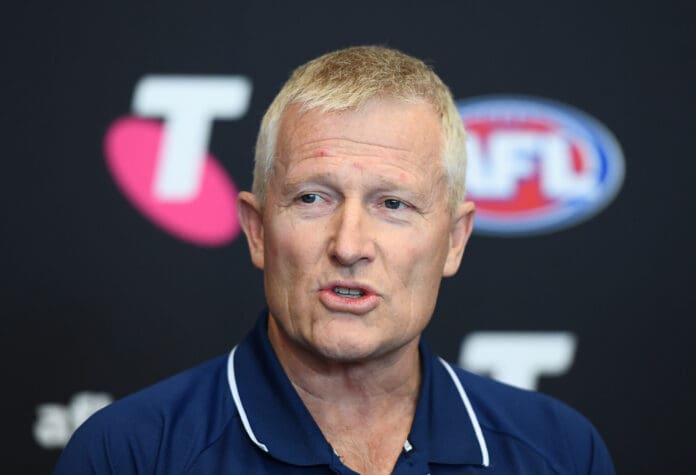 In addition to a host of rival clubs, Geelong has been thought to be pondering the idea of moving out of its current No.8 slot.
The opening night of the 2023 National Draft is scheduled to commence on Monday at 7:00 PM (AEDT) at Marvel Stadium, as clubs around the league continue to weigh the prospect of swapping selections to snag their desired draftee(s).
The Cats, who presently boast six choices across Monday and Tuesday nights, are slated to enter proceedings at the eighth slot, where they are considered in the mix for the likes of Victorian forward Nate Caddy, tall Allies defender Connor O'Sullivan, and hybrid Murray Bushranger Darcy Wilson.
However, after a likely top-three bid on Gold Coast Academy star Jed Walter - and a potential top-ten bid on fellow Palm Beach Currumbin product Ethan Read - Geelong's top choice could slide to as late as No.10.
Irrespective of where the pick ultimately falls, though, while Geelong was previously thought to be open to moving elsewhere in the first-round order, Cats recruiting boss Stephen Wells all but shut that possibility down ahead of night one.
"It is highly likely that we will keep pick eight," Wells said on Sunday via Gettable.
"Whatever offers come our way I am sure Andrew (Mackie) and our team will consider, but at this stage, we are planning around picking at pick eight.
"We've considered what might be options, even things that haven't been talked about with other clubs yet.
"We're trying to do some planning for what might happen on the night, but it is going to depend on which players come through to us.
"We've done a lot of work on what we think is a really talented and well-credentialed group of players for our pick eight, but if there are offers that come in, Andrew (Mackie) will be thinking about them."
Geelong's second choice currently comes at No. 25; early in the second-round order, providing the Kardinia Park stalwart the opportunity to potentially pounce on a first-round talent that may have unexpectedly slipped to the second stanza.
"We think there is going to be good players right through the draft and certainly in the 20s and 30s there is going to be," Wells continued.
SEE ALSO: 2023 DRAFT ORDER
"I think we've got a bit of a luxury where that pick is going to be the third pick on the second night, so we will be able to go away after Monday night's draft and do a bit more discussion on what we might pick on Tuesday night."
While a potential Cats pick exchange has been floated recently, the majority of draft trade speculation has centred on the West Coast Eagles, GWS Giants, and the ambiguity surrounding Dan Curtin's landing spot.
West Coast is a near-certainty to select Harley Reid atop Monday's board, though it has also been said to be interested in re-entering the first-round order later on to nab Curtin; a Claremont product who may prefer to remain in his home state.
RELATED: EAGLES REPORTEDLY PLANNING MEGA TRADE FOR VERSATILE STAR
However, the Eagles aren't the only ones courting Curtin, with the likes of North Melbourne, Hawthorn, Melbourne, the Giants, and the Adelaide Crows also having been linked to selecting the versatile key defender.
If he somehow slipped to Geelong's choice, he'd surely be an option for Chris Scott's Cats, too.
Where the West Aussie lands shapes as one of the most intriguing storylines to follow come the start of the count on Monday evening.