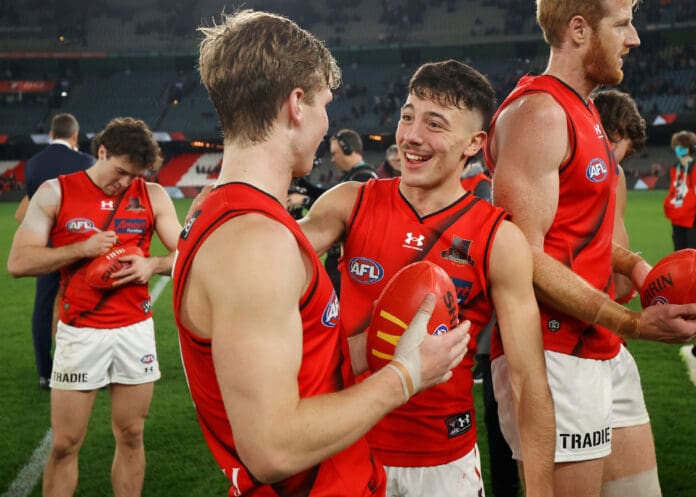 The AFL has confirmed the 2023 AFL Mid-Season Draft will take place on Wednesday, May 31 between Rounds 11 and 12 of the home and away season.
The MSD order will be the reserve standings of the AFL ladder at the conclusion of Round 11, with the 18th-placed club to open the count should they have an available list spot.
Six clubs currently have available list spots, with Geelong, Essendon, Hawthorn, Richmond, Fremantle and the Western Bulldogs all holding one vacancy.
AFL clubs are able to open rookie list spots by moving a player who has sustained a year-long injury to their inactive list. Clubs can also replace players who have retired with a Mid-Season Draft selection.
Clubs will have until Tuesday, May 30 to open list spots.
The league has confirmed eligibility for players wishing to nominate for the MSD, with two key pieces of criteria laid out:
Player must have nominated for the most recent National Draft.

A player who nominated for the most recent National Draft but was not selected during the draft, and who committed for a further year as a 19-year-old Northern or NGA Academy Player is available to all clubs should they nominate for the MSRD.

Player who has previously been on the list of an AFL club (and are therefore not required to have nominated for the most recent National Draft). This refers to the following situations:

Delisted player. A player delisted by a club cannot be reselected in the MSRD by the same club in the period immediately following their delisting unless they nominated for the most recent draft.
A retired player and/or a player who has delisted himself and has not been on an AFL list for one year or more.
The AFL has also confirmed adjustments to state league participation for players who are recruited out of state league competitions for the Mid-Season Draft.
Players that are drafted to AFL teams from state league clubs are subject to the following:
They will not be permitted to play against their original club unless otherwise agreed by all parties.
The player has the right to return to their original club to participate in finals if their service is no longer required at their AFL club.
The 2023 AFL Mid-Season Draft will take place remotely from the league's AFL Review Centre.