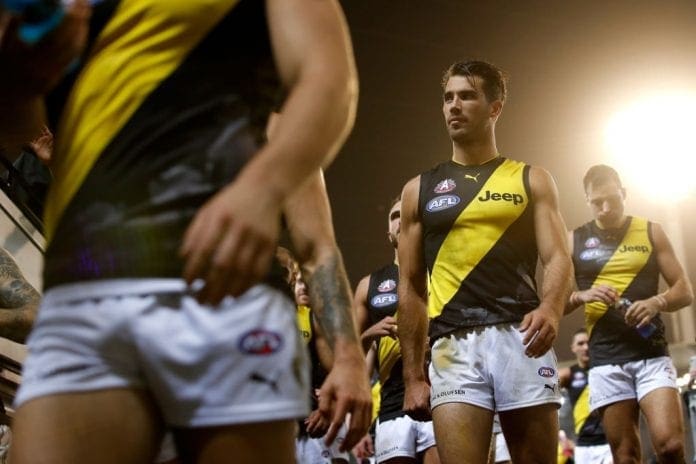 The Western Bulldogs are the latest club to inquire into the future of premiership Tiger Alex Rance, according to SEN's Sam Edmund.
Rance, a five-time All Australian, shocked the league by retiring at the end of 2019 after rupturing his ACL in the opening game of the season.
The 31-year-old is expected to play two games for Swan Valley in Western Australia this month, but several AFL teams have reportedly floated the idea of his return to the top league since his sudden retirement.
Gerard Healy posed the question and AFL clubs continue to ask him, but Alex Rance remains categoric on his AFL retirement, reports @Sammy__Edmund | https://t.co/lXnR8Imv39 | #AFL pic.twitter.com/qrop1Dqkye

— SEN 1116 (@1116sen) May 3, 2021
Rance retired to focus on family and religion outside of footy and has so far ruled out any return to an AFL club. Speaking on Triple R last year, Rance spoke about how a return to footy would ruin his life balance.
"I love the game and I love what I have contributed and I am not going to completely rule out the fact that I could come back," he said.
"It's a constant thing – this is bad analogy but I am going to use it anyway – it's like being an alcoholic and constantly working at Dan Murphy's.
"I know that if I go back to playing for Richmond I am going to love it so much and it is going to consume my life and my balance is going to go out again so I am happy where I am at"
If Rance were to come out of retirement, he would join the likes former Carlton defender Kade Simpson in considering nominating for the mid-season draft.
Simpson, who ended his 342 games with Carlton at the conclusion of last season, told the Dyl and Friends podcast that he is keeping fit ahead of the draft in case a team did "come knocking".
"I still wish I was playing, like 100 per cent," Simpson said.
Kade Simpson on whether he's ready to go in 2021 🌟 Listen to the full ep here - https://t.co/v69eiByFlt pic.twitter.com/Vdog55TO7D

— Dylan Buckley (@dylan_buckley) April 11, 2021
"Even now, for some stupid reason, I still run and flog myself. In the back of my head I'm like, just imagine if someone … now with the mid-season draft and all that sort of stuff … I'm pretty fit still"
The 2021 mid-season draft will take place on Wednesday, June 2. The previous draft, in 2019, saw 13 players selected, including Richmond's Marlion Pickett, who went on to make his debut in the Tiger's 2019 Grand Final win.