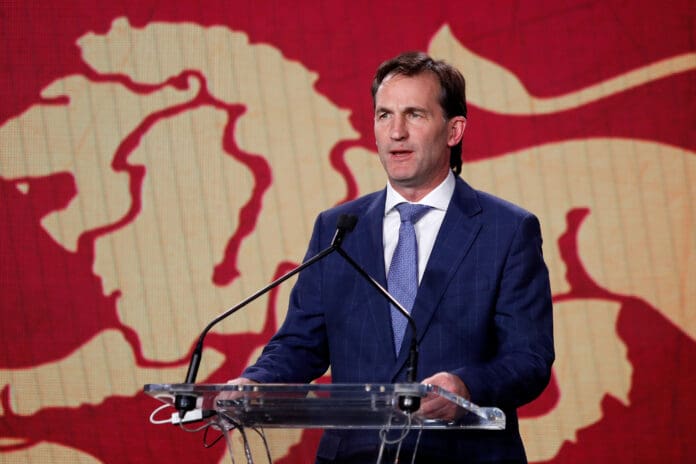 The long-awaited announcement of Gillon McLachlan's successor as AFL chief executive officer has finally come, with the league confirming Andrew Dillon as its new boss.
Dillon takes over from McLachlan as the latter's reign comes to an end after 10 years, having first taken on the role in 2014 from Andrew Demetriou.
McLachlan had originally confirmed his departure in April last year, however has been required to remain at AFL House due to a number of matters still needing to be resolved, as well as a drawn-out race to find his successor.
The winning candidate has now been revealed, with Dillon set to move into the top job after serving as the league's General Manager of Football Operations, Legal Integrity and General Counsel.
Dillon has been with the AFL since 2000 and managed to edge out the likes of AFL CFO Travis Auld, Richmond CEO Brendon Gale and Bulldogs President Kylie Watson-Wheeler for the role.
Dillon will officially begin his tenure with the AFL from Monday, October 2 this year at the conclusion of the men's season, with all clubs notified by the league of the announcement on Monday morning.
McLachlan will remain in his role until October, with Dillon the CEO-elect.
"I am honoured and truly humbled to lead the greatest game in the world into its next phase," Mr Dillon said in a league statement.
"Football has been a defining part of my life and it is a privilege to be able to lead the industry in ensuring our game remains relevant, accessible and welcoming to all Australians.
"It is important that we continue to strengthen every part of our game, from the 18 AFL clubs, who all now have both AFL and AFLW programs, right through to the grassroots and I am looking forward to working with our AFL team, our clubs, our players and the wider industry to ensure our game expands its reach.
"Every touch point in footy should be a positive and memorable one, from attending a match, to a parent signing their child up for Auskick for the first time, a player being drafted, or a community umpire debuting on a Saturday afternoon.  Our game connects with so many, and I am driven to ensure we continue to make all these moments unforgettable.
"It is really important that we are a game for everyone, a game that is accessible, affordable and safe and a game where everyone feels welcome.
"Our AFL and community Clubs are the lifeblood of our game, and I will be club and community focused and committed to ensuring the game will be at the core of the AFL's decision making.
"I believe in the power of football to connect people regardless of our background, gender or beliefs and want us to work to have footy in every home across the country.
"We play our elite competitions in every state and territory of Australia and we want to make sure that our game is the number one sport of choice for girls and boys and men and women all over Australia.
"The elite game across both men's and women's will be more entertaining, more spectacular and more popular than ever and will be played by the best and most diverse athletes – our mission is to be unrivalled in comparison to other sports and to develop a growing global interest."
The AFL has confirmed that its General Manger of Competition Management Laura Kane will take on the interim role of General Manager of Football Operations, while the General Manager of Legal and Regulatory, Stephen Meade, has been appointed as the AFL's General Counsel.
Dillon will be tasked with finding a permanent successor for now-previous roles.