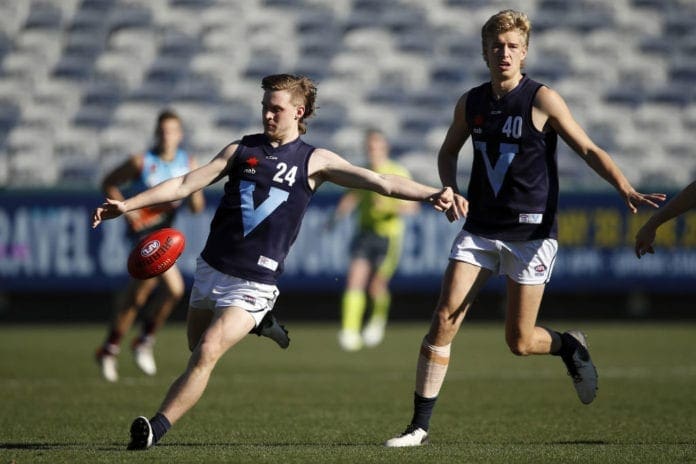 79 players have received invites to the AFL Draft Combine, which is to be held from October 1-4.
Among those players are likely top two selections, Matt Rowell and Noah Anderson, who are two of the 23 players from the Vic Metro region.
There is plenty of excitement surrounding these two players with some scouts saying that Rowell, the consensus number one, is a better player at this stage in his development than Sam Walsh, last year's number one pick, was at the same point.
In addition to the 23 Metro players, 21 Vic Country players have been invited, with top-five candidate Hayden Young among them.
The combine gives prospective draftees a chance to show off their physical and technical capabilities through a series of drills. Perform well and your draft stock can rise quickly.
The full list of invited players is below. Expect to see a lot of these names on AFL lists before the end of the year.
2019 NAB AFL Draft Combine list 
NSW/ACT – 2 Players
Liam Delahunty (GWS Academy)
Tom Green (GWS Academy)
NORTHERN TERRITORY – 1 Player
Malcolm Rosas (NT Thunder)
QUEENSLAND – 3 Players
Connor Budarick (Gold Coast Academy)
Noah Cumberland (Brisbane Lions Academy)
Will Martyn (Brisbane Lions Academy)
SOUTH AUSTRALIA – 12 Players 
Will Day (West Adelaide)
Karl Finlay (North Adelaide)
Will Gould (Glenelg)
Dyson Hilder (North Adelaide)
Jackson Mead (Woodville-West Torrens)
Josh Morris (Woodville-West Torrens)
Callum Park (Glenelg)
Kysaiah Pickett (Woodville-West Torrens)
Harry Schoenberg (Woodville-West Torrens)
Josh Shute (Sturt)
Dylan Stephens (Norwood)
Cameron Taheny (Norwood)
TASMANIA – 1 Player
Mitch O'Neill (Tasmania Devils)
VIC COUNTRY – 21 Players
Lachlan Ash (Murray Bushrangers)
Riley Baldi (Gippsland Power)
Ned Cahill (Dandenong Stingrays)
Darcy Chirgwin (Sandringham Dragons)
Jesse Clark (Geelong Falcons)
Charlie Comben (Gippsland Power)
Sam De Koning (Dandenong Stingrays)
Thomson Dow (Bendigo Pioneers)
Sam Flanders (Gippsland Power)
Brodie Kemp (Bendigo Pioneers)
Flynn Perez (Bendigo Pioneers)
Fraser Phillips (Gippsland Power)
Jay Rantall (GWV Rebels)
Brady Rowles (Bendigo Pioneers)
Caleb Serong (Gippsland Power)
Brock Smith (Gippsland Power)
Cooper Stephens (Geelong Falcons)
Isaac Wareham (GWV Rebels)
Cody Weightman (Dandenong Stingrays)
Lachlan Williams (Dandenong Stingrays)
Hayden Young (Dandenong Stingrays)
VIC METRO – 23 Players
Noah Anderson (Oakleigh Chargers)
Jack Bell (Sandringham Dragons)
Miles Bergman (Sandringham Dragons)
Trent Bianco (Oakleigh Chargers)
Nick Bryan (Oakleigh Chargers)
Louis Butler (Sandringham Dragons)
Ryan Byrnes (Sandringham Dragons)
Darcy Cassar (Western Jets)
Josh Honey (Western Jets)
Emerson Jeka (Western Jets)
Harrison Jones (Calder Cannons)
Oscar Lewis (Sandringham Dragons)
Finn Maginness (Sandringham Dragons)
Jack Mahony (Sandringham Dragons)
Fischer McAsey (Sandringham Dragons)
Daniel Mott (Calder Cannons)
Sam Philp (Northern Knights)
Hugo Ralphsmith (Sandringham Dragons)
Matt Rowell (Oakleigh Chargers)
Cooper Sharman (Oakleigh Chargers)
Ryan Sturgess (Northern Knights)
Dylan Williams (Oakleigh Chargers)
Josh Worrell (Sandringham Dragons)
WESTERN AUSTRALIA – 16 Players
Riley Garcia (Swan Districts)
Mitch Georgiades (Subiaco)
Liam Henry (Claremont)
Jai Jackson (East Fremantle)
Luke Jackson (East Fremantle)
Callum Jamieson (Claremont)
Ben Johnson (West Perth)
Ronin O'Connor (Claremont)
Jake Pasini (Swan Districts)
Jaxon Prior (West Perth)
Trent Rivers (East Fremantle)
Deven Robertson (Perth)
Trey Ruscoe (East Fremantle)
Jeremy Sharp (East Fremantle)
Elijah Taylor (Perth)
Chad Warner (East Fremantle)