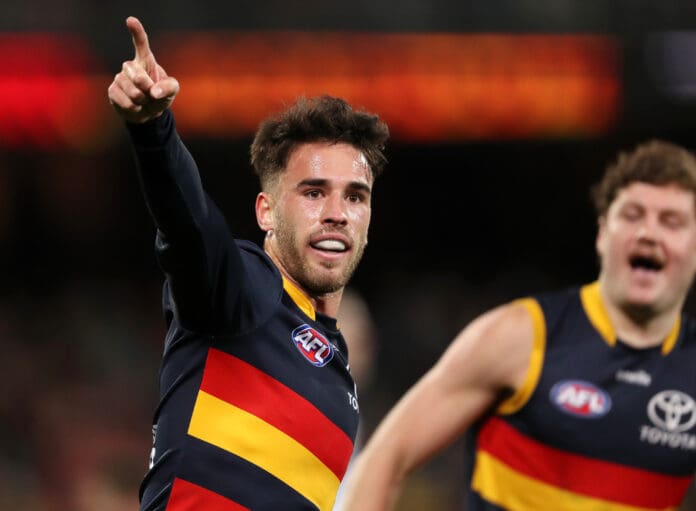 A trio of Crows have signed two-year extensions to remain with Adelaide for the coming years, with Lachie Murphy, Mark Keane and Billy Dowling each signing multi-year deals.
Both Murphy and Keane were yet to confirm their futures for beyond this year midway through the season, but have now inked deals that will take them to the end of 2025.
Dowling, who joined the Crows through last year's National Draft as the 43rd overall selection, has added two years to his rookie deal to now be locked in until the end of 2026.
Murphy has played 94 games for the Crows since his debut in 2018 and is enjoying a breakout campaign under coach Matthew Nicks in a serviceable role through the attacking third of the field.
"Murph brings a really important dynamic to our forward line and his role is highly valued by the team," Adelaide list boss Justin Reid said in a club release.
"His willingness to tackle and smother and put his body on the line to help keep the ball inside 50m is a feature of his game, as is his ability to create space and scoring shots for his teammates and take his own opportunities when they present.
"He is a great example of hard work and perseverance and that has been rewarded with some great form this year so we are looking forward to that continuing."
Keane made his Crows debut in Saturday's Showdown win against Port Adelaide and was a standout performer in defence. The match came over two years from Keane's last appearance in the AFL, with the Irishman having featured in five matches for Collingwood across 2020-2021.
Reid was pleased with the impact both Keane and Dowling have had on the club in less than a year.
"We have been really impressed with both guys in their first season at the Club," Reid said.
"For Mark to relocate from Ireland and work hard on his game is testament to his commitment, and Billy's development in his first season of League footy is very encouraging for the future."
The trio of re-signings come days after the club confirmed veteran sharpshooter Taylor Walker had recommitted to the club for 2024, which will be the former captain's 16th season for the Crows.