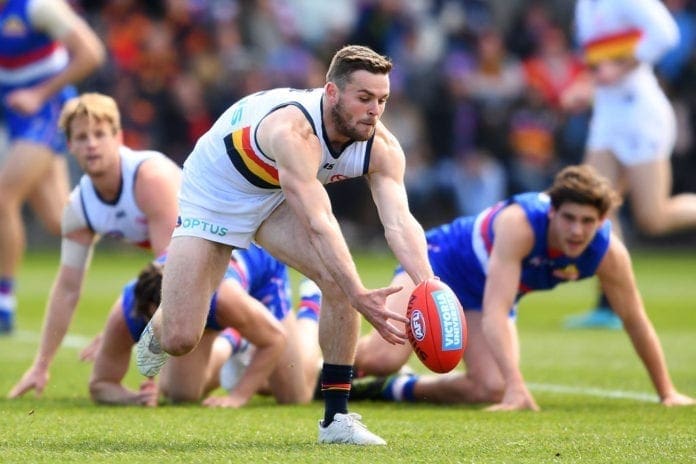 Adelaide midfielder Brad Crouch has spoken out about the "massive error in judgment" that saw the Crows gun found in possession of cocaine last month, with six clubs reportedly still interested in the star midfielder.
Crouch and teammate Tyson Stengle have been hit with two-week and four-week suspensions respectively for the incident, with the former stating he would be happy to remain at West Lakes in 2021.
The pair were caught by police in possession of drugs on September 28, with Crouch revealing it felt like he was living a "nightmare".
"The end of the season is obviously a dangerous period for all players in the AFL and the first week or so where you have a chance to go out and have drink together," Crouch told FIVEaa.
"It was a massive error in judgment and you're very cloudy because I had a massive night and you're not thinking at that stage when you're heavily intoxicated about what could happen in the future.
"The timing was absolutely terrible, I'm still not sure how much of an affect it's going to have on that (contract) stuff.
"(But) you also think about the impact it has not just on my footy stuff but long-term, it's always going to be there but I just want to make sure it doesn't define me as a person at all."
Despite the scandal, a number of AFL clubs remain keen on Crouch's services.
His manager Garry Winter revealed the Adelaide star was still assessing his options for the off-season and his future.
"There is significant interest from a number of clubs and there are open lines of communication with them. We continue to talk to clubs so they all remain in the mix," Winter told the Herald Sun.
It is believed that Port Adelaide, Richmond, St Kilda and Geelong are interested in signing the midfielder, with the Crows and another interstate club in the race for the 26-year-old.
Crouch is prepared to cop a pay-cut if it means he finds a new home that will best use his capabilities, also stating he takes full responsibility for his recent scandal.
"Across society there is obviously issues with illicit substances but from my experiences a lot of the time bad stuff happens with the alcohol, you have an error in judgment and things don't generally happen that are good after (midnight) let alone 4 or 5 in the morning," he said on FIVEaa.
"It's definitely not an issue at the footy club from my experience, a lot of members would be very disappointed in what's happened and I totally understand that, I've taken responsibility for what I've done and so has Tyson.
"I felt like I let down everyone, it was a really tough couple of days and through the first few days I got a lot of support from people, which has been really uplifting because I'm struggling with it.
"I guess it has sort of inspired me to put it behind me and make it a point in my life where instead of going the way it was last week, going the opposite way and making it a real positive thing."
Crouch said as a senior member of the club, he should have taken greater responsibility when with 21-year-old Stengle.
"I definitely do, I take a fair bit of responsibility for what happened because I was a senior guy there," Crouch said.
"I feel bad for Tyson because he had an incident earlier in the season as well, so I've tried to make sure I've spoken to him a lot over the last couple of weeks and help him out as much as I can and put a lot of support around him."
While a move away from the Crows looks likely, Crouch might not be leaving Adelaide, with a reported three-year deal from cross-town rivals Port Adelaide believed to be placed on the table.
"At the end of the day I've still got my brother here and best mates and a footy club I've loved my whole life and a place in Adelaide that I love very much," he said.
"I'd love to be here, and that's where it is at the moment."
"He (Winter) sat down with the footy club (Crows) last week but hasn't presented anything to them at the moment.
"I'd love to know what's happening before the trade week starts, you want that little bit of certainty, and in my mind I want something to happen reasonably soon.
"But at the same time it's so tough in these situations because with respect to teams in finals some players might be leaving that haven't told the club until after the grand final.
"And if they lose a midfielder all of a sudden they need one."