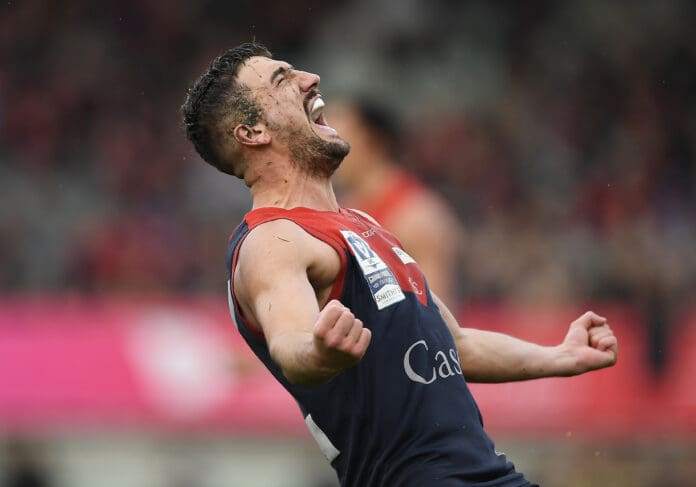 The 2023 VFL fixture has been released, with Carlton and Geelong to open the new season at Ikon Park on Friday, March 24.
The 22-round, 21-team campaign will see 10 games held over three days for Round 1, with the opening weekend to take place across three separate states.
Collingwood and Coburg will go head-to-head on Saturday, March 25, while reigning premiers Casey will host Footscray to begin their premiership defence later that same day.
The VFL has confirmed Sir Doug Nicholls Round will take place across Rounds 9 and 10, aligning with the AFL's own fortnight of celebrating and recognising Indigenous players and culture.
The VFL finals series will take a new shape, introducing a Wildcard Round to begin the post-season.
That weekend would see two matches held between seventh and 10th on the ladder, and eighth and ninth on the ladder, with the highest-ranked winner joining the top six clubs in the finals.
The VFL finals are set to commence on the weekend of September 2-3, with the grand final scheduled for Sunday, September 24.
Round One
Friday, March 24 Venue Time (Local)
Carlton vs. Geelong Cats IKON Park 7:05 PM
Saturday, March 25 Venue Time (Local)
Collingwood vs. Coburg Victoria Park 11:05 AM
Brisbane Lions vs. Werribee Brighton Homes Arena 11:05 AM
Gold Coast SUNS vs. Williamstown Austworld Centre Oval 12:05 PM Southport Sharks vs. Sandringham Fankhauser Reserve 1:05 PM
Casey Demons vs. Footscray Bulldogs Casey Fields 2:05 PM
North Melbourne vs. Port Melbourne Arden Street Oval 3:05 PM
Sunday, March 26 Venue Time (Local)
Sydney Swans vs. Box Hill Hawks Tramway Oval 10:05 AM
Richmond vs. Northern Bullants Swinburne Centre 12:00 PM
Essendon vs. GWS GIANTS NEC Hangar 2:05 PM
Round Two
Thursday, 30 March Venue Time (Local)
Footscray Bulldogs vs. Brisbane Lions Marvel Stadium 3:45 PM
Friday, 31 March Venue Time (Local)
Frankston vs. Williamstown Kinetic Stadium 7:05 PM
Saturday, 1 April Venue Time (Local)
North Melbourne vs. Southport Sharks Arden Street Oval 11:05 AM
GWS GIANTS vs. Carlton GIANTS Stadium 12:55 PM
Coburg vs. Richmond Piranha Park 2:05 PM
Port Melbourne vs. Collingwood ETU Stadium 7:05 PM
Sunday, 2 April Venue Time (Local)
Gold Coast SUNS vs. Geelong Cats Metricon Stadium 10:25 AM
Casey Demons vs. Sydney Swans Casey Fields 11:05 AM
Sandringham vs. Essendon Trevor Barker Beach Oval 12:00 PM
Round Three
Thursday, 6 April Venue Time (Local)
Brisbane Lions vs. Collingwood Brighton Homes Arena 1:05 PM
Friday, 7 April Venue Time (Local)
North Melbourne vs. Carlton Arden Street Oval 12:30 PM
Williamstown vs. Port Melbourne DSV Stadium 2:05 PM
Saturday, 8 April Venue Time (Local)
Coburg vs. GWS GIANTS Piranha Park 11:45 AM
Southport Sharks vs. Werribee Fankhauser Reserve 12:05 PM
Richmond vs. Footscray Bulldogs Swinburne Centre 1:05 PM
Sunday, 9 April Venue Time (Local)
Sandringham vs. Gold Coast SUNS RSEA Park 11:05 AM
Northern Bullants vs. Essendon Preston City Oval 1:05 PM
Casey Demons vs. Frankston Casey Fields 2:05 PM
Monday, 10 April Venue Time (Local)
Geelong Cats vs. Box Hill Hawks MCG 11:45 AM
Round Four
Friday, 14 April Venue Time (Local)
Carlton vs. Richmond IKON Park 7:05 PM
Saturday, 15 April Venue Time (Local)
Brisbane Lions vs. Southport Sharks Brighton Homes Arena 12:05 PM
Sydney Swans vs. North Melbourne Tramway Oval 12:35 PM
Werribee vs. Geelong Cats Avalon Airport Oval 1:05 PM
Port Melbourne vs. Northern Bullants ETU Stadium 2:05 PM
Williamstown vs. Coburg DSV Stadium 3:05 PM
Sunday, 16 April Venue Time (Local)
Box Hill Hawks vs. Collingwood Box Hill City Oval 12:00 PM
Sandringham vs. Frankston Trevor Barker Beach Oval 1:45 PM
Essendon vs. Casey Demons NEC Hangar 2:05 PM
Round Five
Saturday, 22 April Venue Time (Local)
GWS GIANTS vs. Brisbane Lions Blacktown International Sportspark 11:05 AM
Footscray Bulldogs vs. Southport Sharks ETU Stadium 12:05 PM
Box Hill Hawks vs. Coburg Box Hill City Oval 1:05 PM
Sunday, 23 April Venue Time (Local)
Carlton vs. Sandringham IKON Park 11:05 AM
Collingwood vs. Essendon AIA Centre 12:00 PM
Northern Bullants vs. Sydney Swans Preston City Oval 12:05 PM
Gold Coast SUNS vs. North Melbourne Metricon Stadium 12:55 PM
Casey Demons vs. Richmond Casey Fields 1:35 PM
Werribee vs. Williamstown Avalon Airport Oval 2:05 PM
Monday, 24 April Venue Time (Local)
Frankston vs. Port Melbourne Kinetic Stadium 6:35 PM
Round Six
Saturday, 29 April Venue Time (Local)
Footscray Bulldogs vs. Carlton ETU Stadium 11:05 AM
Southport Sharks vs. Northern Bullants Fankhauser Reserve 12:05 PM
Sunday, 30 April Venue Time (Local)
Richmond vs. Gold Coast SUNS Swinburne Centre 11:05 AM
Coburg vs. Geelong Cats Piranha Park 12:00 PM
Port Melbourne vs. GWS GIANTS ETU Stadium 1:05 PM
Box Hill Hawks vs. Casey Demons Wonthaggi Recreation Reserve 2:05 PM
Round Seven
Saturday, 6 May Venue Time (Local)
Carlton vs. Brisbane Lions IKON Park 11:05 AM
Gold Coast SUNS vs. Casey Demons Metricon Stadium 12:05 PM
Frankston vs. Sydney Swans Kinetic Stadium 12:05 PM
GWS GIANTS vs. Footscray Bulldogs Blacktown International Sportspark 12:35 PM
Northern Bullants vs. Box Hill Hawks Preston City Oval 2:05 PM
Sunday, 7 May Venue Time (Local)
Geelong Cats vs. Southport Sharks GMHBA Stadium 12:00 PM
Williamstown vs. Collingwood DSV Stadium 12:00 PM
North Melbourne vs. Sandringham Arden Street Oval 1:05 PM
Essendon vs. Werribee NEC Hangar 2:05 PM
Round Eight
Saturday, 13 May Venue Time (Local)
Sydney Swans vs. Williamstown Tramway Oval 10:35 AM
Richmond vs. Geelong Cats Swinburne Centre 11:05 AM
Southport Sharks vs. Gold Coast SUNS Fankhauser Reserve 12:05 PM
North Melbourne vs. Frankston Arden Street Oval 1:05 PM
Coburg vs. Northern Bullants Piranha Park 2:05 PM
Sunday, 14 May Venue Time (Local)
Collingwood vs. GWS GIANTS AIA Centre 11:05 AM
Brisbane Lions vs. Essendon Brighton Homes Arena 12.05pm
Sandringham vs. Port Melbourne Trevor Barker Beach Oval 2:05 PM
Footscray Bulldogs vs. Werribee Avalon Airport Oval 2:05 PM
Round Nine - Sir Doug Nicholls Round
Saturday, 20 May Venue Time (Local)
Box Hill Hawks vs. Southport Sharks Box Hill City Oval 12:05 PM
Werribee vs. Gold Coast SUNS Avalon Airport Oval 12:05 PM
Casey Demons vs. North Melbourne Casey Fields 1:05 PM
Northern Bullants vs. Frankston Preston City Oval 2:05 PM
Essendon vs. Richmond MCG 2.55pm
Port Melbourne vs. Sydney Swans ETU Stadium 7:05 PM
Sunday, 21 May Venue Time (Local)
Brisbane Lions vs. Coburg Brighton Homes Arena 11:05 AM
Williamstown vs. Carlton DSV Stadium 12:00 PM
GWS GIANTS vs. Sandringham GIANTS Stadium 1:05 PM
Round Ten - Sir Doug Nicholls Round
Friday, 26 May Venue Time (Local)
Sydney Swans vs. Carlton Tramway Oval 3:05 PM
Saturday, 27 May Venue Time (Local)
Gold Coast SUNS vs. Footscray Bulldogs Austworld Centre Oval 12:05 PM
Werribee vs. Casey Demons Avalon Airport Oval 2:05 PM
Sandringham vs. Coburg RSEA Park 5:10 PM
Frankston vs. Brisbane Lions Kinetic Stadium 7:05 PM
Sunday, 28 May Venue Time (Local)
Collingwood vs. North Melbourne AIA Centre 11:05 AM
Geelong Cats vs. Port Melbourne GMHBA Stadium 12:00 PM
Essendon vs. Box Hill Hawks NEC Hangar 1:05 PM
Round Eleven
Saturday, 3 June Venue Time (Local)
Southport Sharks vs. Casey Demons Fankhauser Reserve 12.05pm
Port Melbourne vs. Gold Coast SUNS ETU Stadium 1:05 PM
Coburg vs. Werribee Piranha Park 1.05pm
Carlton vs. Frankston IKON Park 2.05pm
Box Hill Hawks vs. Williamstown Box Hill City Oval 2.05pm
Footscray Bulldogs vs. Geelong Cats Avalon Airport Oval 2.35 PM
Sunday, 4 June Venue Time (Local)
GWS GIANTS vs. Richmond GIANTS Stadium 9.30 AM
Essendon vs. North Melbourne NEC Hangar 1:35 PM
Northern Bullants vs. Collingwood Preston City Oval 2:05 PM
Round Twelve
Friday, 9 June Venue Time (Local)
Sydney Swans vs. Sandringham Tramway Oval 1.05pm
Saturday, 10 June Venue Time (Local)
Box Hill Hawks vs. Brisbane Lions Box Hill City Oval 12:05 PM
Southport Sharks vs. Port Melbourne Fankhauser Reserve 1:05 PM
Frankston vs. Footscray Bulldogs Kinetic Stadium 1:05 PM
Williamstown vs. Northern Bullants DSV Stadium 2:05 PM
Sunday, 11 June Venue Time (Local)
North Melbourne vs. GWS GIANTS Arden Street Oval 12:05 PM
Richmond vs. Werribee Swinburne Centre 1:05 PM
Casey Demons vs. Collingwood Casey Fields 1:05 PM
Carlton vs. Essendon IKON Park 2:05 PM
Round Thirteen
Friday, 16 June Venue Time (Local)
Geelong Cats vs. Frankston GMHBA Stadium 7:35 PM
Saturday, 17 June Venue Time (Local)
Brisbane Lions vs. Sydney Swans Brighton Homes Arena 11:05 AM
GWS GIANTS vs. Southport Sharks GIANTS Stadium 12:05 PM
Richmond vs. Sandringham Swinburne Centre 1:05 PM
Werribee vs. Carlton Avalon Airport Oval 2:05 PM
Williamstown vs. Footscray Bulldogs DSV Stadium 2:05 PM
Sunday, 18 June Venue Time (Local)
Northern Bullants vs. Gold Coast SUNS Preston City Oval 12:05 PM
Coburg vs. North Melbourne Piranha Park 1:05 PM
Round Fourteen
Friday, 23 June Venue Time (Local)
Geelong Cats vs. Casey Demons GMHBA Stadium 7:05 PM
Saturday, 24 June Venue Time (Local)
Sandringham vs. Brisbane Lions RSEA Park 11:05 AM
Southport Sharks vs. Coburg Fankhauser Reserve 12:05 PM
Collingwood vs. Sydney Swans AIA Centre 1.05pm
Sunday, 25 June Venue Time (Local)
Gold Coast SUNS vs. Box Hill Hawks Metricon Stadium 1:05 PM
Port Melbourne vs. Essendon ETU Stadium 2:05 PM
Round Fifteen
Weekend 1/2 July Venue Time (Local)
Brisbane Lions vs. Richmond TBC TBC
Box Hill Hawks vs. Port Melbourne TBC TBC
Casey Demons vs. GWS GIANTS TBC TBC
Carlton vs. Northern Bullants TBC TBC
Essendon vs. Gold Coast SUNS TBC TBC
Footscray Bulldogs vs. Coburg TBC TBC
Frankston vs. Collingwood TBC TBC
North Melbourne vs. Williamstown TBC TBC
Sydney Swans vs. Geelong Cats TBC TBC
Werribee vs. Sandringham TBC TBC
Round Sixteen
Weekend 8/9 July Venue Time (Local)
Coburg vs. Carlton TBC TBC
Footscray Bulldogs vs. Collingwood TBC TBC
Geelong Cats vs. North Melbourne TBC TBC
Gold Coast SUNS vs. Frankston TBC TBC
GWS GIANTS vs. Box Hill Hawks TBC TBC
Northern Bullants vs. Brisbane Lions TBC TBC
Port Melbourne vs. Werribee TBC TBC
Richmond vs. Sydney Swans TBC TBC
Sandringham vs. Casey Demons TBC TBC
Williamstown vs. Southport Sharks TBC TBC
Round Seventeen
Weekend 15/16 July Venue Time (Local)
Frankston vs. GWS GIANTS TBC TBC
Geelong Cats vs. Essendon TBC TBC
North Melbourne vs. Box Hill Hawks TBC TBC
Southport Sharks vs. Richmond TBC TBC
Essendon Sydney Swans vs. Footscray Bulldogs TBC TBC
Werribee vs. Northern Bullants TBC TBC
Round Eighteen - TAC Road Safety Round
Weekend 22/23 July Venue Time (Local)
Brisbane Lions vs. Geelong Cats TBC TBC
Carlton vs. Port Melbourne TBC TBC
Coburg vs. Casey Demons TBC TBC
Collingwood vs. Sandringham TBC TBC
GWS GIANTS vs. Gold Coast SUNS TBC TBC
Northern Bullants vs. Footscray Bulldogs TBC TBC
Richmond vs. Box Hill Hawks TBC TBC
Werribee vs. Frankston TBC TBC
Williamstown vs. Essendon TBC TBC
Round Nineteen
Weekend 29/30 July Venue Time (Local)
Box Hill Hawks vs. Sandringham TBC TBC
Casey Demons vs. Williamstown TBC TBC
Collingwood vs. Carlton TBC TBC
Essendon vs. Sydney Swans TBC TBC
Frankston vs. Southport Sharks TBC TBC
Geelong Cats vs. Northern Bullants TBC TBC
Gold Coast SUNS vs. Brisbane Lions TBC TBC
North Melbourne vs. Werribee TBC TBC
Port Melbourne vs. Coburg TBC TBC
Round Twenty
Weekend 5/6 August Venue Time (Local)
Footscray Bulldogs vs. North Melbourne TBC TBC
GWS GIANTS vs. Sydney Swans TBC TBC
Sandringham vs. Northern Bullants TBC TBC
Southport Sharks vs. Essendon TBC TBC
Werribee vs. Collingwood TBC TBC
Williamstown vs. Richmond TBC TBC
Round Twenty-One
Weekend 12/13 August Venue Time (Local)
Brisbane Lions vs. Williamstown TBC TBC
Box Hill Hawks vs. Footscray Bulldogs TBC TBC
Carlton vs. Casey Demons TBC TBC
Coburg vs. Frankston TBC TBC
Collingwood vs. Geelong Cats TBC TBC
Northern Bullants vs. GWS GIANTS TBC TBC
Port Melbourne vs. Richmond TBC TBC
Sydney Swans vs. Gold Coast SUNS TBC TBC
Round Twenty-Two
Weekend 19/20 August Venue Time (Local)
Casey Demons vs. Brisbane Lions TBC TBC
Collingwood vs. Southport Sharks TBC TBC
Essendon vs. Coburg TBC TBC
Footscray Bulldogs vs. Port Melbourne TBC TBC
Frankston vs. Box Hill Hawks TBC TBC
Geelong Cats vs. GWS GIANTS TBC TBC
Gold Coast SUNS vs. Carlton TBC TBC
Richmond vs. North Melbourne TBC TBC
Sandringham vs. Williamstown TBC TBC
Sydney Swans vs. Werribee TBC TBC