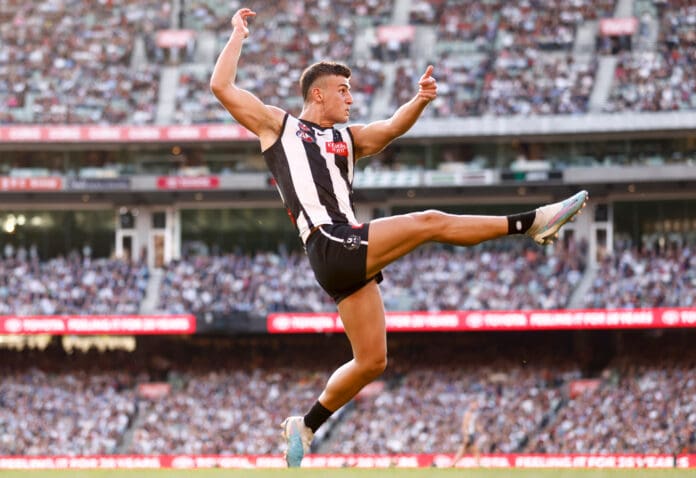 With six rounds of football officially in the books for the 2023 AFL season, plenty of players have made their mark on the competition already.
Young Pie Nick Daicos has emerged as a Brownlow favourite in just his second season and looks to be topping Collingwood's best and fairest count, while plenty of others have had standout seasons for their clubs.
After a month and a bit of footy, we've taken a look at where each club's best and fairest count stands, naming the favourites for the award so far, with part one of the series covering Adelaide-Fremantle.
6. Adelaide Crows

An explosive start to the season for the Adelaide Crows has produced many standout performers, none better than newfound leader Jordan Dawson.
Dawson has been a force to be reckoned with on the field this season, consistently racking up impressive performances at a rate of 25.2 disposals, 5 marks and 4.5 tackles per game. He ranks second in the AFL for Total Metres Gained, launching countless Adelaide attacks in game.
Some of his games as captain this season have been sensational. He was instrumental in the Crows' 3-point win over Hawthorn on the weekend, with 24 disposals, 5 marks, 5 tackles, and a goal, before directing the final minutes of play in defence. He was even better in launching Gather Round, with 32 disposals, 4 marks, and 9 tackles in a dominant 56-point win over Carlton.
His impact hasn't gone unnoticed by fans and experts alike. He has been praised for his leadership on the field and ability to read the game. His ability to impact both offensively and defensively has set the tone for the rest of the group who are shining so far this year.
Given their strong start to the season however, it's worth acknowledging the many contenders currently in the fight for the Crows' best & fairest.
One such player is 20-year-old Josh Rachele, who has had a blistering start to his sophomore season. With some standout performances already under his belt, including a 21-disposal, 6-mark, and 7-tackle effort in the round 6 win over Hawthorn, Rachele has proven he will be a star of the comp if he is not already.
Izak Rankine is another player impacting tremendously in this dynamic forward line. The Gold Coast recruit has stunned the public so far this season, crucially affecting important games with performances including a 4-goal, un-offical best on ground effort in the round 3 Showdown win over Port Adelaide. His ability to impact the scoreboard makes him a valuable asset to the Adelaide Crows especially as the season progresses.
Rory Laird also cannot be overlooked. He has been a consistent performer for the Adelaide Crows for several seasons now, and his 2023 campaign has been no exception. With some impressive statistics and a knack for getting involved in scoring plays, Laird could well be one of many All-Australian contenders at the Crows.