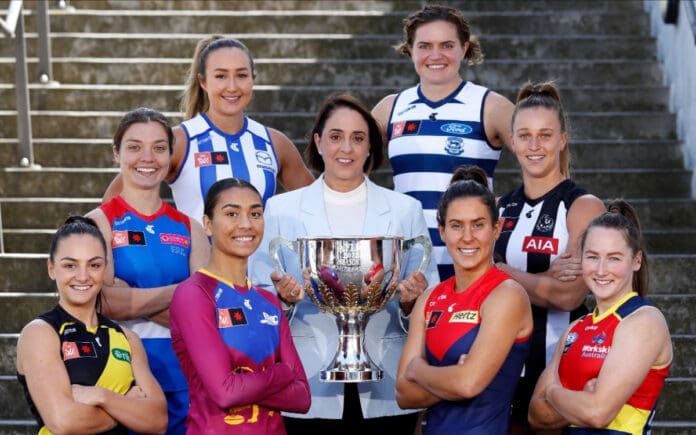 The 2023 AFL fixture has been released, with the AFL confirming a 10-round season for this year's competition, which will commence Friday, September 1.
The home and away season will run until the first weekend of November before a four-week finals series that same month.
Melbourne and Collingwood will open the new season at Princes Park to kick off the opening round, which falls in the pre-finals bye week for the AFL's men's competition.
Round 1 will also see a Showdown take place at Norwood Oval, while the Sydney Derby and Western Derby will also take place.
For the first time since 2019, Melbourne and Geelong will go head-to-head, with that fixture to take place on the Thursday during the AFL's Grand Final week celebrations. Four matches will be held on the public holiday that Friday, while a game between Collingwood and Essendon at Olympic Park will take place Saturday morning.
Indigenous Round will be held across Rounds 7 and 8, while Pride Round will follow in Round 10.
Details for Round 10 will be confirmed at a later date to ensure clubs likely to play finals are given a longer break prior to the post-season series.
ROUND 1
Friday, September 1
Melbourne v Collingwood at IKON Park, 7:20pm AEST (Seven)
Saturday, September 2
Carlton v Gold Coast at IKON Park, 1:05pm AEST (Foxtel)
Adelaide v Port Adelaide at Norwood Oval, 2:35pm ACST (Foxtel)
Geelong v Western Bulldogs at GMHBA Stadium, 5:05pm AEST (Foxtel)
Hawthorn v Essendon at Kinetic Stadium, 7:15pm AEST (Seven)
Sunday, September 3
North Melbourne v St Kilda at Blundstone Arena, 1:05pm AEST (Seven)
Sydney v Greater Western Sydney at North Sydney Oval, 3:05pm AEST (Foxtel)
Brisbane v Richmond at Brighton Homes Arena, 3:05pm AEST (Seven)
Fremantle v West Coast at Fremantle Oval, 3:05pm AWST (Foxtel)
Round 2
Friday, September 8
Richmond v Adelaide at IKON Park, 5:05pm AEST (Foxtel)
Saturday, September 9
Gold Coast v West Coast at Heritage Bank Stadium, 11:05am AEST (Foxtel)
Port Adelaide v Brisbane at Alberton Oval, 12:35pm ACST (Foxtel)
Sydney v Geelong at North Sydney Oval, 1:05pm AEST (Seven)
Sunday, September 10
Western Bulldogs v Hawthorn at Mars Stadium, 1:05pm AEST (Foxtel)
Collingwood v Fremantle at Victoria Park, 1:05pm AEST (Seven)
North Melbourne Tasmanian Kangaroos v Carlton at Arden Street, 3:05pm AEST (Foxtel)
Essendon v St Kilda at Windy Hill, 3:05pm AEST (Seven)
Greater Western Sydney v Melbourne at Manuka Oval, 5:05pm AEST (Foxtel)
ROUND 3
Friday, September 15
Geelong v North Melbourne Tasmanian Kangaroos at GMHBA Stadium, 5:05pm AEST (Foxtel)
Saturday, September 16
Greater Western Sydney v Richmond at Blacktown International Sports Park, 1:05pm (Foxtel)
Adelaide v Essendon at Unley Oval, 2:35pm ACST (Foxtel)
Melbourne v Western Bulldogs at Casey Fields, 3:05pm AEST (Seven)
Fremantle v Hawthorn at Fremantle Oval, 3:05pm AWST (Foxtel)
Sunday, September 17
St Kilda v Port Adelaide at RSEA Park, 1:05pm AEST (Seven)
Collingwood v Gold Coast at Victoria Park, 3:05pm AEST (Foxtel)
West Coast v Carlton at Mineral Resources Park, 1:05pm AWST (Seven)
Brisbane v Sydney at Brighton Homes Arena, 5:05pm AEST (Foxtel)
ROUND 4
Friday, September 22
Hawthorn v Melbourne at Kinetic Stadium, 5:05pm AEST (Foxtel)
Saturday, September 23
Greater Western Sydney v Adelaide at Manuka Oval, 11:05am AEST (Foxtel)
Carlton v Richmond at IKON Park, 1:05pm AEST (Foxtel)
Port Adelaide v Geelong at Alberton Oval, 12:35pm ACST (Seven)
Sunday, September 24
Sydney v West Coast at Henson Park, 1:05pm AEST (Foxtel)
North Melbourne Tasmanian Kangaroos v Brisbane at UTAS Stadium, 1:05pm AEST (Seven)
Essendon v Fremantle at Windy Hill, 3:05pm AEST (Foxtel)
St Kilda v Collingwood at RSEA Park, 3:05pm AEST (Seven)
Gold Coast v Western Bulldogs at Heritage Bank Stadium, 5:05pm AEST (Foxtel)
ROUND 5
Thursday, September 28
Geelong v Melbourne at GMHBA Stadium, 6:15pm AEST (Foxtel)
Friday, September 29
Richmond v Fremantle at IKON Park, 1:05pm AEST (Foxtel)
Carlton v Sydney at IKON Park, 4:05pm AEST (Foxtel)
Western Bulldogs v St Kilda at Whitten Oval, 7:15pm AEST (Seven)
West Coast v Port Adelaide at Mineral Resources Park, 7:15pm AWST (Foxtel)
Saturday, September 30
Collingwood v Essendon at AIA Centre, 11:05am AEST (Seven)
Sunday, October 1
North Melbourne Tasmanian Kangaroos v Greater Western Sydney at Arden Street, 1:05pm AEDT (Seven)
Hawthorn v Brisbane at Kinetic Stadium, 3:05pm AEDT (Seven)
Adelaide v Gold Coast at Unley Oval, 4:35pm ACDT (Foxtel)
ROUND 6
Friday, October 6
Western Bulldogs v Carlton at Whitten Oval, 7:15pm AEDT (Seven)
Saturday, October 7
Greater Western Sydney v West Coast at Blacktown International Sports Park, 1:05pm AEDT (Foxtel)
Melbourne v Adelaide at Casey Fields, 3:05pm AEDT (Foxtel)
St Kilda v Hawthorn at RSEA Park, 3:05pm AEDT (Foxtel)
Port Adelaide v Sydney at Alberton Oval, 4:35pm ACDT (Foxtel)
Brisbane v Collingwood at Brighton Homes Arena, 6:15pm AEST (Seven)
Sunday, October 8
Essendon v Geelong at Reid Oval (Warrnambool), 1:05pm AEDT (Seven)
Richmond v Gold Coast at IKON Park, 3:05pm AEDT (Seven)
Fremantle v North Melbourne Tasmanian Kangaroos at Fremantle Oval, 2:05pm AWST (Foxtel)
ROUND 7
Friday, October 13
Adelaide v Western Bulldogs at Norwood Oval, 6:45pm ACDT (Seven)
Saturday, October 14
St Kilda v Greater Western Sydney at RSEA Park, 1:05pm AEDT (Foxtel)
Geelong v Fremantle at GMHBA Stadium, 3:05pm AEDT (Foxtel)
Sydney v Hawthorn at Henson Park, 3:05pm AEDT (Foxtel)
Gold Coast v Brisbane at Heritage Bank Stadium, 4:05pm AEST (Foxtel)
Richmond v Essendon at IKON Park, 7:20pm AEDT (Seven)
Sunday, October 15
North Melbourne Tasmanian Kangaroos v Port Adelaide at Arden Street, 1:05pm AEDT (Seven)
Carlton v Collingwood at IKON Park, 3:05pm AEDT (Seven)
West Coast v Melbourne at Mineral Resources Park, 2:05pm AEDT (Foxtel)
ROUND 8
Friday, October 20
Hawthorn v Richmond at Cazaly's Stadium (Cairns), 6:45pm AEST (Seven)
Saturday, October 21
Western Bulldogs v Sydney at Whitten Oval, 1:05pm AEDT (Foxtel)
Brisbane v Adelaide at Brighton Homes Arena, 2:05pm AEST (Foxtel)
Greater Western Sydney v Carlton at Henson Park, 3:05pm AEDT (Foxtel)
Port Adelaide v Gold Coast at Alberton Oval, 4:35pm ACDT (Foxtel)
Melbourne v North Melbourne Tasmanian Kangaroos at IKON Park, 7:15pm AEDT (Seven)
Sunday, October 22
Collingwood v Geelong at Victoria Park, 1:05pm AEDT (Seven)
Fremantle v St Kilda at Fremantle Oval, 12:05pm AWST (Seven)
Essendon v West Coast at Windy Hill, 5:05pm AEDT (Foxtel)
ROUND 9
Friday, October 27
Gold Coast v Greater Western Sydney at Heritage Bank Stadium, 6:45pm AEST (Foxtel)
Saturday, October 28
Melbourne v Fremantle at Casey Fields, 1:05pm AEDT (Foxtel)
St Kilda v Brisbane at RSEA Park, 3:05pm AEDT (Foxtel)
Essendon v Carlton at Windy Hill, 3:05pm AEDT (Foxtel)
West Coast v Western Bulldogs at Mineral Resources Park, 2:05pm AWST (Foxtel)
Richmond v Geelong at IKON Park, 7:15pm AEDT (Seven)
Sunday, October 29
Sydney v Collingwood at Henson Park, 1:05pm AEDT (Seven)
Adelaide v North Melbourne Tasmanian Kangaroos at Unley Oval, 2:35pm ACDT (Seven)
Hawthorn v Port Adelaide at Kinetic Stadium, 5:05pm AEDT (Foxtel)
ROUND 10
Friday, November 3 - Sunday, November 5
Brisbane v Melbourne at Brighton Homes Arena, date and time TBC
Carlton v St Kilda at Ikon Park, date and time TBC
Collingwood v Richmond, Victoria Park, date and time TBC
Fremantle v Sydney at Fremantle Oval, date and time TBC
Geelong v Hawthorn at GMHBA Stadium, date and time TBC
Gold Coast v Essendon at Great Barrier Reef Arena (Mackay), date and time TBC
Port Adelaide v Greater Western Sydney at Alberton Oval, date and time TBC
Western Bulldogs v North Melbourne Tasmanian Kangaroos at Whitten Oval, date and time TBC
West Coast v Adelaide at Mineral Resources Park, date and time TBC