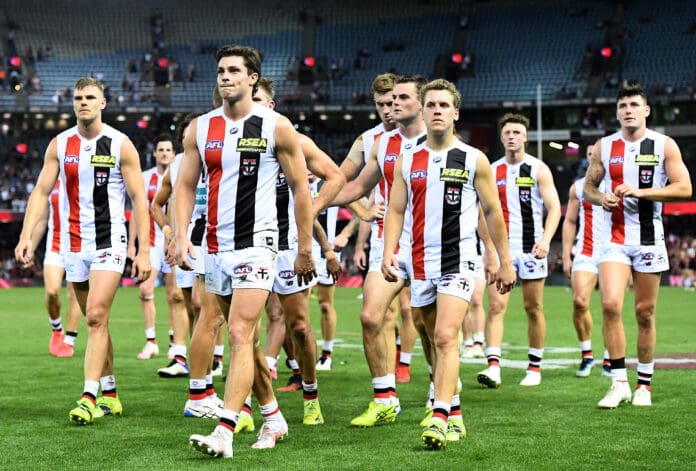 The Saints were as inconsistent as ever in 2021, which proved to be a frustrating season for the playing group and their supporters.
Season finish: 10th (91.5%)
Record: 10 wins and 12 losses
2021 Season snapshot
After a 10-win season in a condensed 17-game campaign last year giving the Saints their first finals berth since 2011, there were high expectations at Moorabin heading into 2021.
Unfortunately for the Saints they just could never get a run going throughout the year, which saw a great win followed by an even greater loss.
The Saints had big wins early on in the season against GWS, West Coast and Hawthorn, but these wins were overshadowed by thumpings to Essendon by 75 points, Richmond by 86 points and the Western Bulldogs by 111 points.
Their fade-outs were hard to ignore and is something they'll need to fix heading into 2022 if they want to contend for finals again.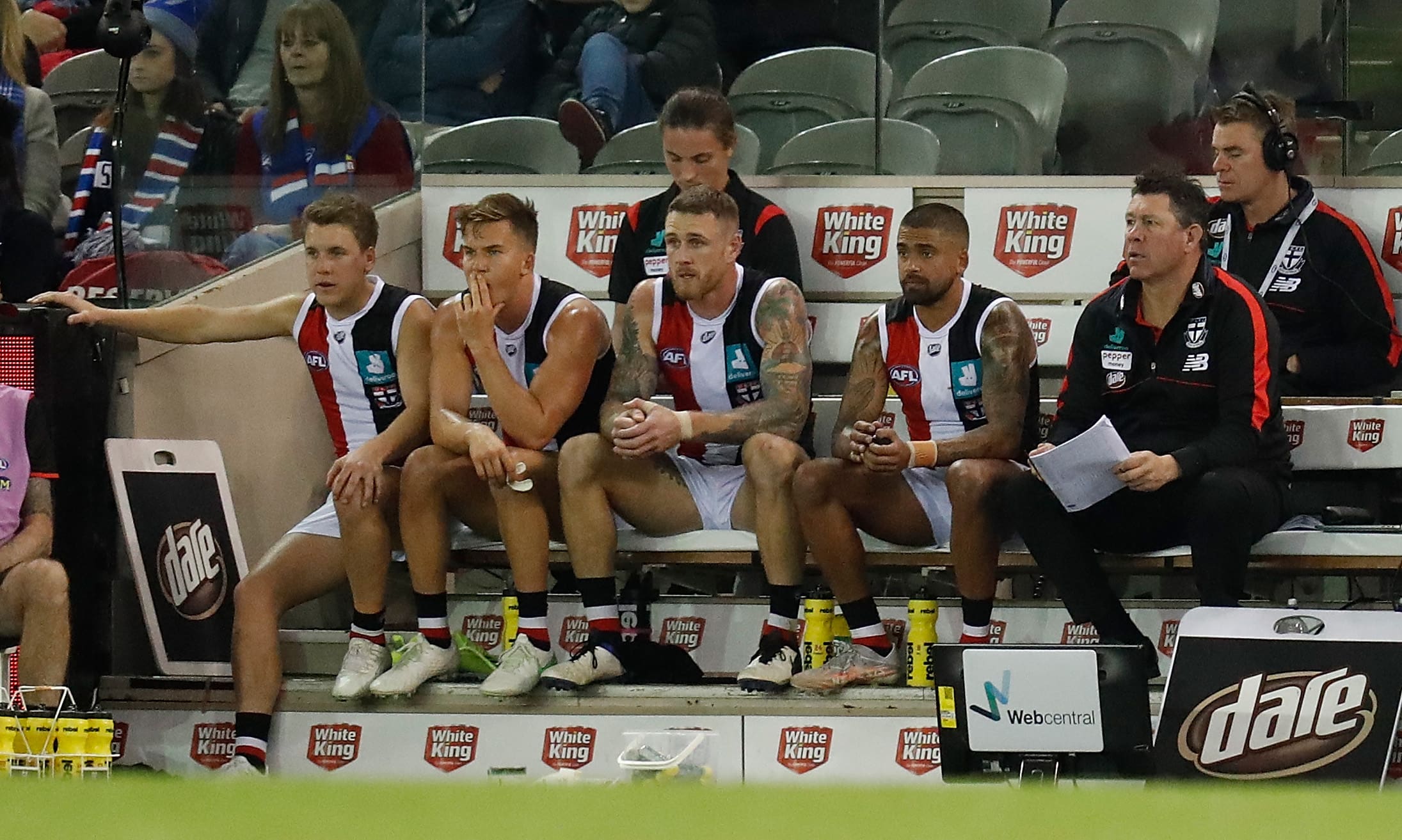 Skipper Jack Steele was a shining light as he had another impressive season and continues to develop into one of the star players of the competition.
Young and upcoming players in Max King and Cooper Sharman showed positive signs and glimpses into the future of the club moving forward.
After a definite decline in quality for the Saints from the previous season, they still have quality players to build around heading into next season, which could see them have a more promising year in 2022 if they can cut out the mental lapses that occurred all too often in 2021.
It was a no-brainer that Jack Steele is St Kilda's star player, as he's an absolute bull in the midfield with his ball-winning and tackling abilities on display every week.
In a season that was very inconsistent for the team, Steele was the exception and produced week-in week-out.
The star midfielder averaged a career-high 29.1 disposals and 8.4 tackles per game whilst sneaking forward to kick 13 goals throughout the year.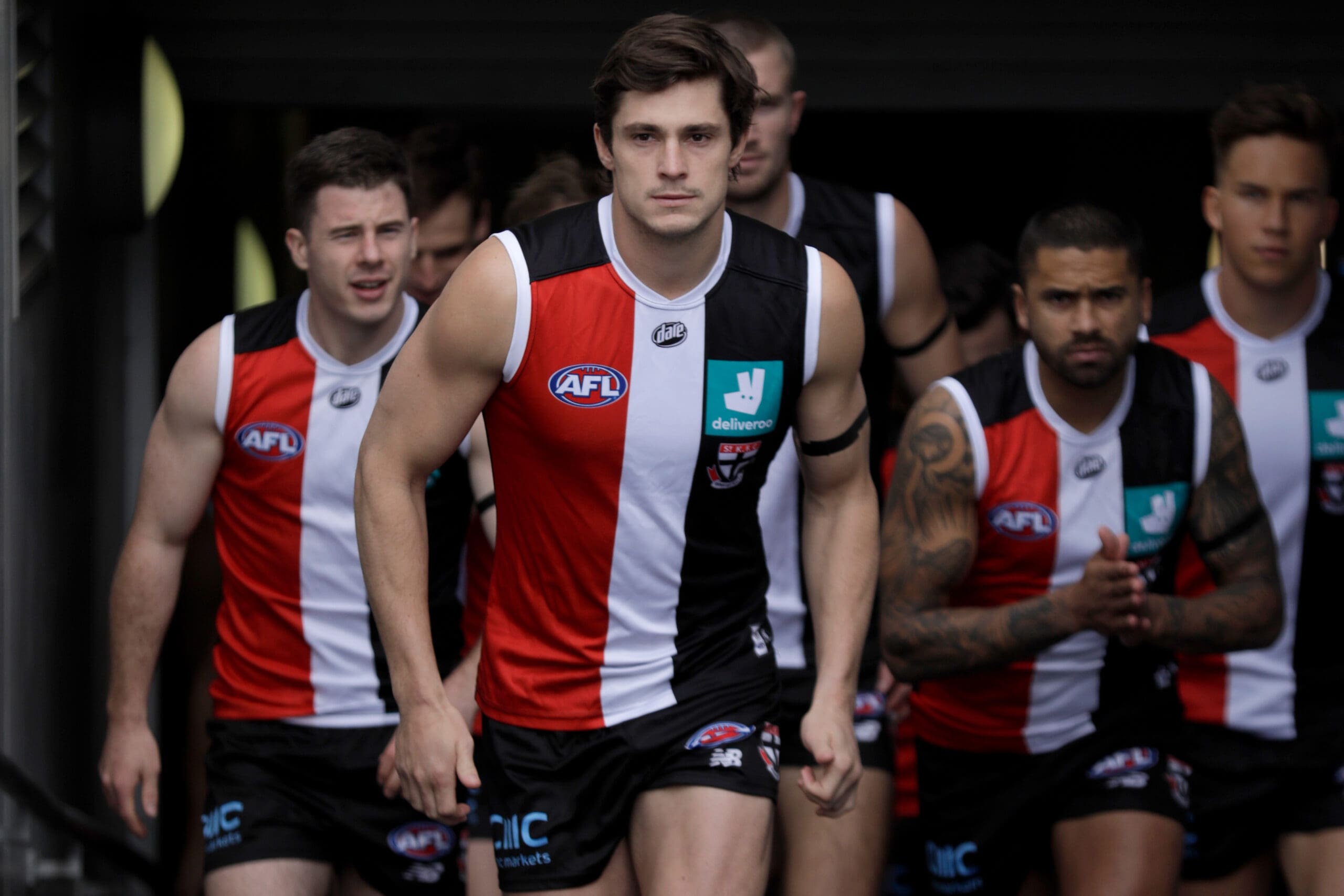 Dominated the club awards, winning the Trevor Barker award (best and fairest) by a whopping 79 votes, along with the Lenny Hayes Crest Player Award and the Sainter of the Year.
The Belconnen native also earned his second All-Australian jumper in as many years and finished fifth in the Brownlow Medal count with 26 votes.
Breakout player: Max King
The big key-forward enjoyed an impressive season, kicking 38 goals to be the Saints' leading goalkicker in 2021.
At just 21 years of age, King is primed to be the future of the Saints' forward-line with his 203cm frame and his high jumping ability proving to be a nightmare for opposition defenders.
RELATED: Every non-finalists' blueprint for success in 2022 - St Kilda
MAX KING
Forward

St Kilda

2021 SEASON AVG

9.7
Disposals

4.6
Marks

1.9
Goals
As he continues to build out his frame, he will continue to improve and develop into a marquee player not only for the Saints but in the entire league.
For the past two years, King has featured in the 22under22 team (best team of players aged 22 or under) in the forward line, and he was awarded the Best Emerging Player Award at the St Kilda Best and Fairest.
Positives
Leadership of Jack Steele: As mentioned before, Steele has been a revelation for the Saints in the past couple of seasons and has become one of the best players in the league.
Throughout a tough 2021 campaign, Steele was someone that the Saints could trust and look up to when needed.
The skipper's highlights through the past season included a 33-disposal, six-tackle and one-goal performance to drag his team over the line against West Coast in Round 4.
Also had an impressive 32 disposals, seven tackles and two goals in an upset win over Brisbane in Round 17.
JACK STEELE
Midfielder

St Kilda

2021 SEASON AVG

29
Disposals

8.4
Tackles

6.3
Clearances
These stat lines have become the norm for the inside midfielder for the better part of two seasons, with Steele emerging as a supreme ball winner, tackler and goal-kicking midfielder.
At 25 years of age, Steele is in his prime and is showing no signs of slowing down.
Emergence of young talent: Young players in Max King, Cooper Sharman and Tom Highmore have emerged for the Saints and have given supporters something to be excited about moving into the next season.
As mentioned before, Max King was the Saints' leading goalkicker with 38 goals and will continue to improve as he gets more experience.
Live-wire forward Cooper Sharman came into the side through the Mid-Season Rookie Draft and played in the last four games of the season, kicking 10 goals and looking like an exciting versatile forward to play alongside the likes of Jack Higgins, Tim Membrey and Dan Butler in the future.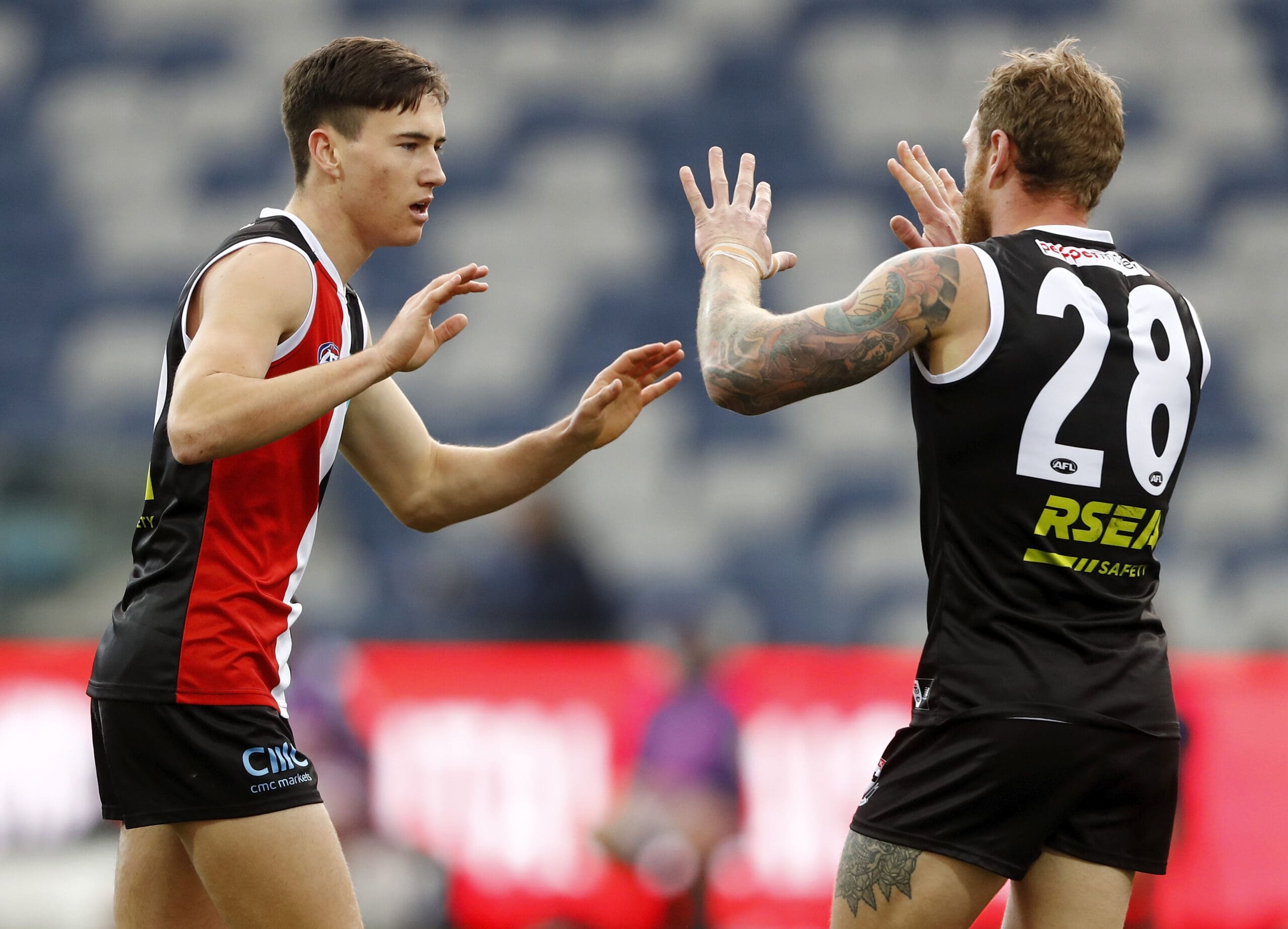 Highmore looks like a nice young defender for the Saints. Taken at Pick 45 in the 2020 draft, Highmore has shown positive signs in his first season at Moorabin, averaging 13.3 disposals and 2.4 tackles through 12 games this season.
With James Frawley and Jake Carlisle retiring, Highmore should get more opportunity to cement a spot in the St Kilda defence.
The young core is something positive to take out of a frustrating 2021 season for the playing group and supporters.
Negatives
Fadeouts in games: The biggest cons in St Kilda's game throughout 2021 were fadeouts.
The Saints were quite competitive in a fair few games, but too many times they were not able to hold a big lead, or would completely fall out of games to lose by a big margin.
A clear example of the Saints fades were when they had a big lead in Round 13 against the Crows in Cairns.
The Saints got off to a 36-0 start to the game and still led by 36 in the third quarter before conceding the last seven goals of the game to lose by six points.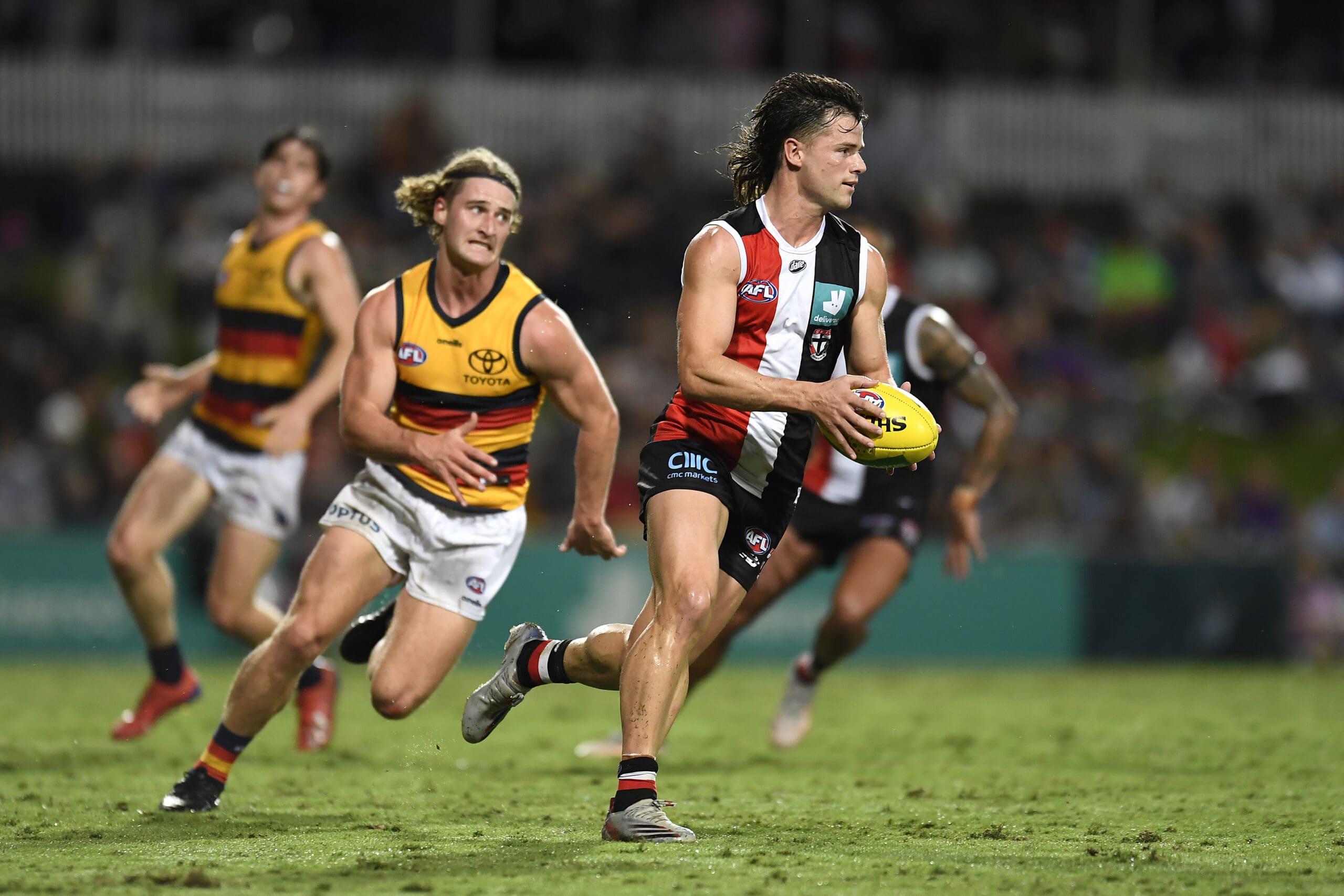 Other evidence of fading out of games came when they lost by large margins, including an 86-point defeat to Richmond and a 111-point loss to the Western Bulldogs.
These heavy defeats came after competitive performances the week before which proves that it can be a mental issue for the Saints.
It's something that they need to cut out if they want to bounce back into finals next season.
Inconsistency: The Saints were arguably the most inconsistent side throughout the season.
They would be competitive one week and then lose by 80 points the next.
It must have baffled supporters who would be flat after the Saints lost to the Bombers by 75 points, then bounce back for a strong win against West Coast the week after, only to lose by 86 points the week after to Richmond.
It was a rollercoaster year where they couldn't build any momentum.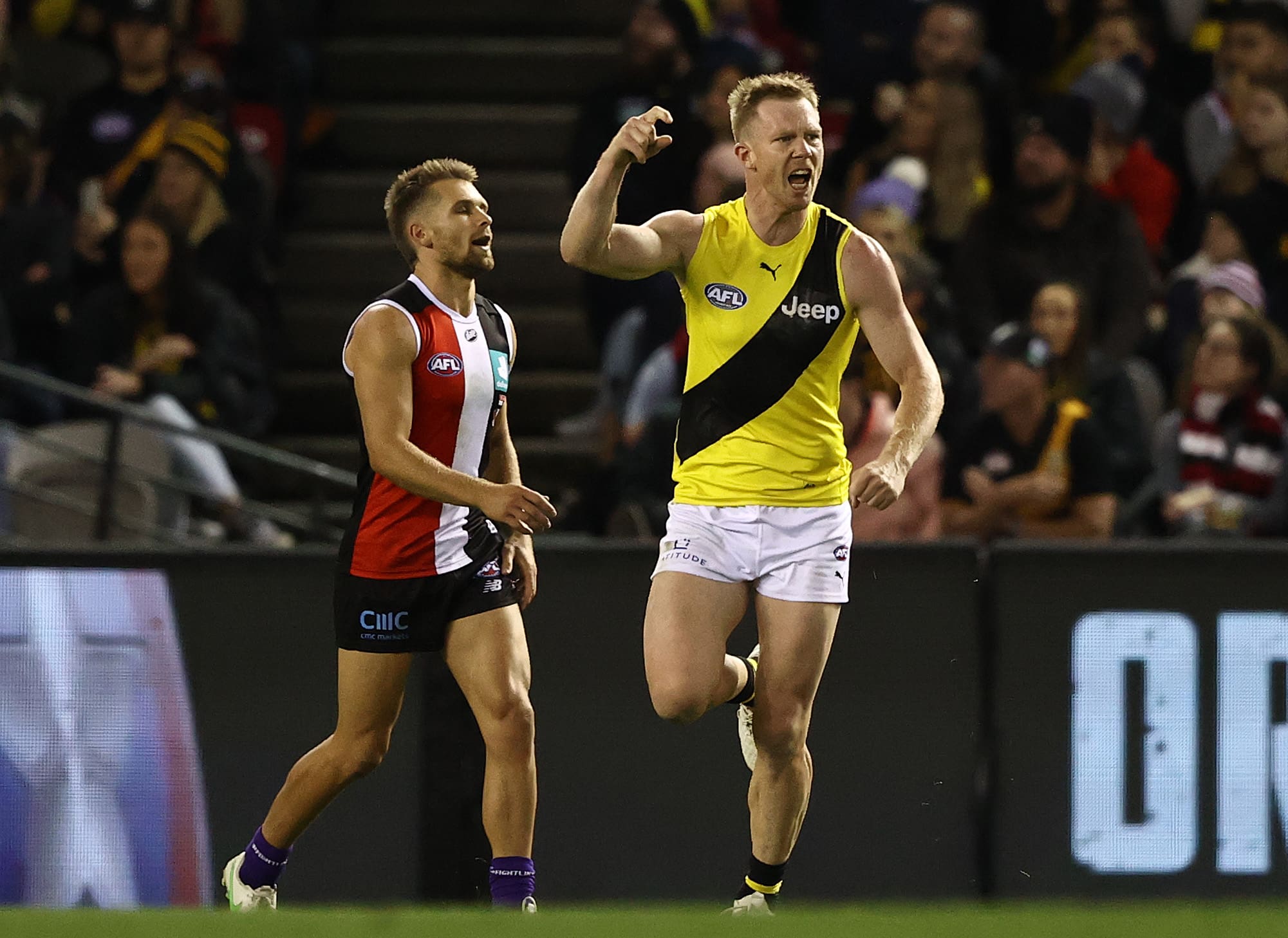 Even when they won three games in a row in rounds 15-17, they'd follow up with three straight losses in rounds 18-20.
Producing a more consistent effort every week will be key for the Saints improving in 2022.
Pressure mounting on the club: After a successful 2020 campaign finishing sixth and winning an elimination final against the Western Bulldogs, the pressure mounts on the club after a disappointing 2021.
Given how well the team played in 2020, fans, the club and the general public have higher expectations of the club than the performances they dished out throughout the past season.
Another poor season from the Saints could spell the end for Brett Ratten, but they'll look to bounce back in 2022.
Season grade: D+ 
A D+ seems to be the most accurate grade for St Kilda as they moved backwards from their impressive 2020 campaign. Went from 10 wins in a condensed season to 10 wins in a full season.
Inconsistency and fade-outs were their main issue but aren't unfixable heading into 2022.
10 wins isn't a bad result for some teams, but St Kilda and their supporters would've been hoping for more in 2021.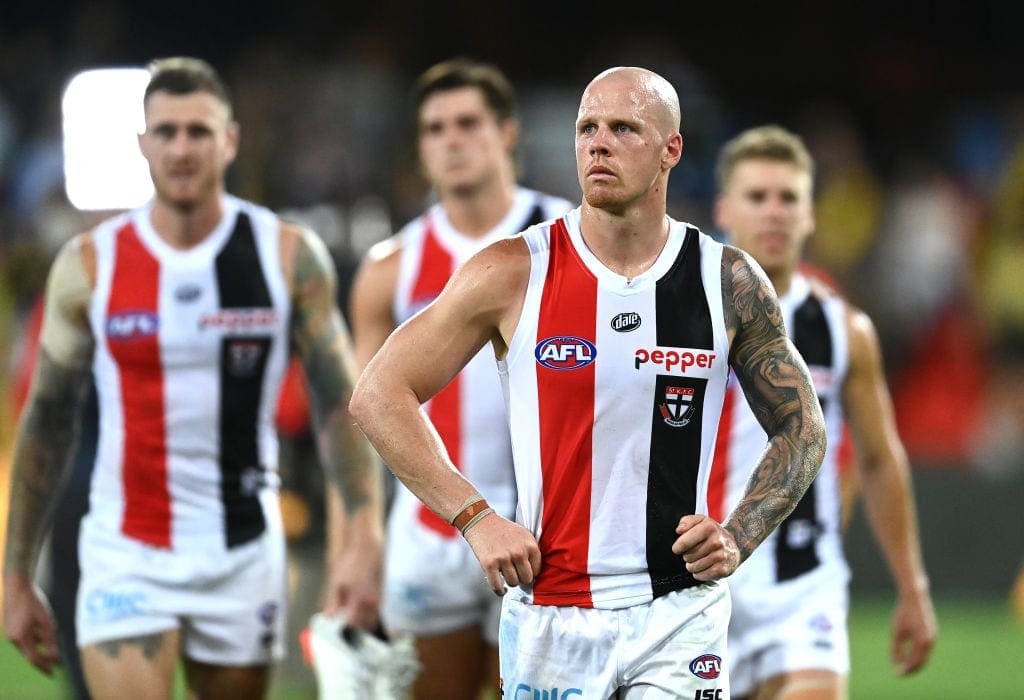 Having Jack Steele as your captain, young talent with the likes of Max King, Cooper Sharman and Tom Highmore mixed through and the senior talent of Brad Crouch and Brad Hill gives the saints some hope heading into next season.
Despite a disappointing season, they only finished one win outside of the eight, so with a few adjustments made, don't be surprised if they bounce back into finals in 2022.