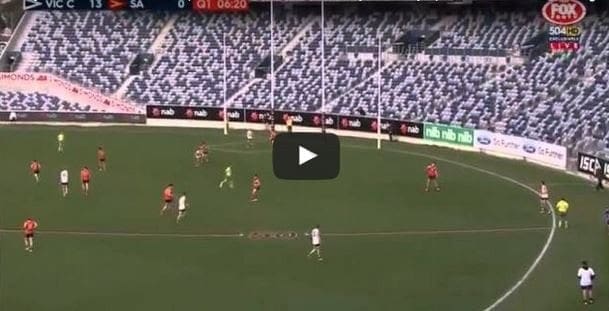 Name: Rhys Mathieson
Position: Midfielder
DOB: 10/01/1997
Height: 185cm
Weight: 79kg
Draft range: 5-15
Pub summary: Consistent competitive inside midfielder
Strengths
Endurance
Workrate
Leadership
Kicks goals
Weaknesses
Doesn't always take the time he should with his disposal
Overall
Rhys Mathieson is another inside midfielder who does not have any particularly eye catching traits, despite being one of the best midfielders in this draft.
Mathieson is a footballer's footballer. His work rate and commitment to the contest has made him one of the strongest performers in his age bracket over the last two years and he should be rewarded by being selected in the first round of the draft.
Mathieson is one of the more talented players in the draft. His ability to win the football inside the contest is elite, his hands are extremely clean and he picks the right time to go win the football, importantly he does use the ball well once he has won it, even if occasionally he rushes his disposal.
As an inside footballer it is important you have other strings to your bow if you are to get drafted early. Mathieson has this in his ability to go forward and kick goals. If he doesn't he is still valuable as a forward due to the defensive pressure he provides, something which coaches and teammates will love.
Expect Mathieson to get drafted around pick 10, anything after pick 15 would be an absolute steal. I'm very confident he will make it at AFL level.
Highlights: