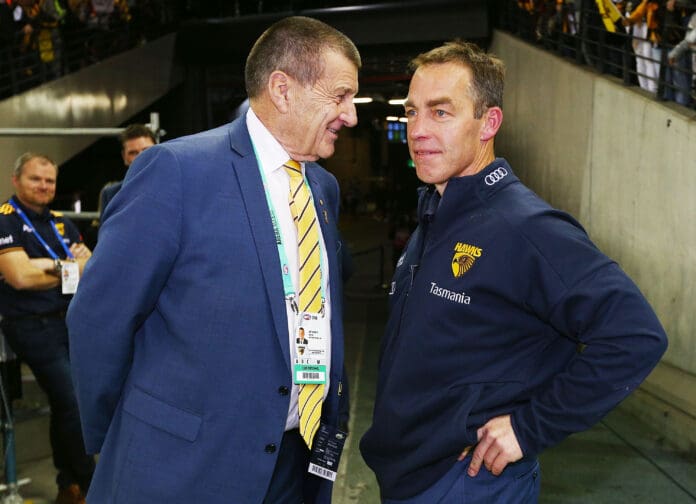 Outgoing Hawthorn president Jeff Kennett has claimed that the club isn't in crisis despite harrowing allegations aimed at the Hawks' practices and job site regulators WorkSafe commencing their own investigation into recently surfacing claims levelled against the oft-described 'Family Club'.
Kennett, 74, spoke to Hawthorn players, staff, members and benefactors at the club's best and fairest presentation on Saturday night, claiming the choice of anonymous parties to speak with the press was "unfair" on parties currently under fire.
As reported by Russell Jackson of ABC Sports, three anonymous former members of Hawthorn's roster allege that staff members - including Alastair Clarkson and Chris Fagan - played active roles in displacing them from their families, fraying their relationships, cruelling their mental health and/or hindering pregnancies, including requests for termination.
Players were also said to have been coerced into replacing the SIM cards on their phones once removed from their partners in an effort to stifle contact.
Each of these players was said to have been listed by the Hawks during their golden premiership era of 2013-2015.
Speaking during Hawthorn's Peter Crimmins Medal count at Crown Casino, Kennett stressed that while there remained a desire for collective healing at Bungil Bagora, the practices employed by aggrieved parties had produced less than ideal results.
"We wanted them to tell their stories about their time at Hawthorn and since," Kennett was quoted by News Corp.
"But it wasn't an inquiry in that sense. It was to make sure, as we always do, we put the welfare of our people first.
"It was a storytelling where those telling the stories asked for confidentiality. We respected that. Sadly they made a decision to talk to the press and sadly they named people with whom they had very real issues. That was unfair to those people, so therefore we need to have this resolved."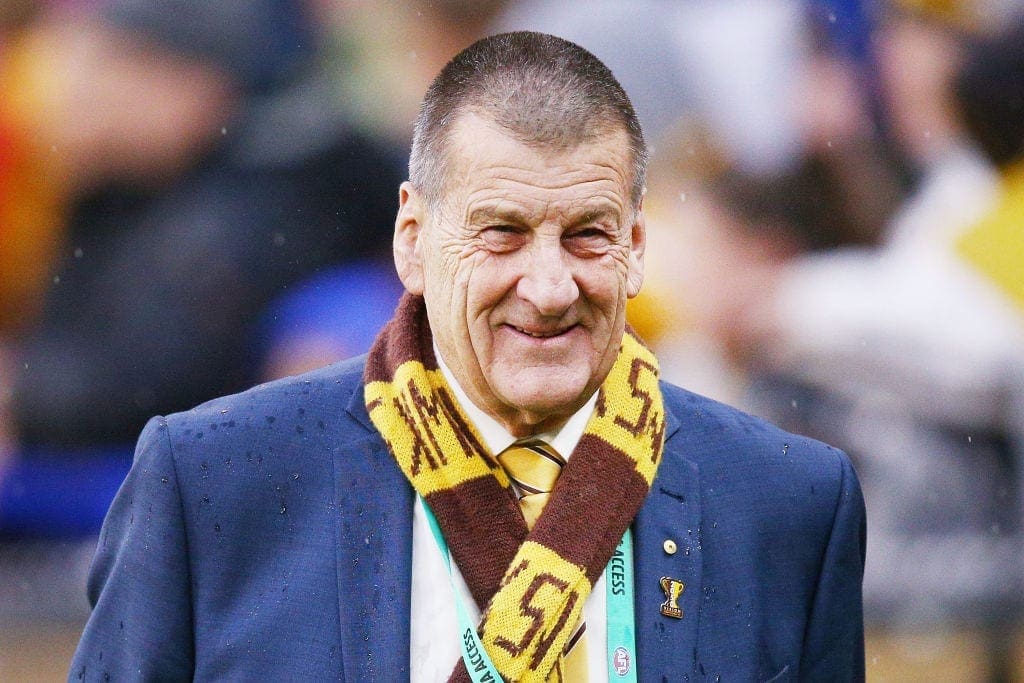 The two-term chief went on to state that while he remained uncertain as to when the AFL's investigation into said allegations of racism and sexism would be completed, he held a hope all parties could meet sooner rather than later.
"I don't know how long it will take to resolve," Kennett said.
"I hope that all parties can come together in some form of mediation and it could be resolved before the end of the year so that people can get on with their lives and our players and our coaches can all focus on the thing we salute them for."
While the league will conduct its own investigation into all alleged matters, further reports from News Corp claim that WorkSafe Victoria has already commenced a secondary inquest.
As stated by Sam Landsberger of The Herald Sun, the professional regulators have already seized documents from Hawthorn relating to these specific allegations.
WorkSafe and the Hawthorn Football Club are expected to meet again on Monday.
"WorkSafe has commenced investigating the recent allegations relating to the Hawthorn Football Club," WorkSafe's executive director of health and safety Dr. Narelle Beer expressed to Landsberger.
"WorkSafe is urging anyone who experienced or witnessed health and safety concerns at Hawthorn Football Club to contact WorkSafe to make a statement.
"Every Victorian worker, no matter their cultural background, has the right to a healthy and safe workplace.
"WorkSafe takes allegations of workplace bullying and discrimination very seriously and can take enforcement action when employers fail to protect the mental health of those in their workplace."
It is understood that Hawthorn's confidential, internal report into alleged misdeeds within their own walls was not seized by WorkSafe.
Both Alastair Clarkson and Chris Fagan continue to profess their innocence in the matter.