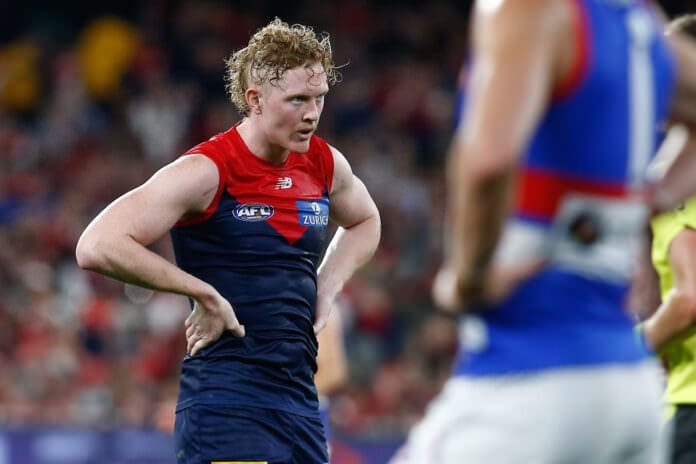 Superstar Demons midfielder Clayton Oliver has revealed the unpleasant details of a traumatic pre-draft combine meeting in 2015 with the Sydney Swans and list boss Kinnear Beatson, where the then-18-year-old was tormented about his weight.
Oliver and North Melbourne co-captain Simpkin appeared on ex-footballer Tommy Sheridan's podcast, Ausmerican Aces, with Oliver's pre-draft experience an eye-opening topic.
The now-25-year-old, who played for Mooroopna's seniors in the Goulburn Valley Football League as a 16-year-old before venturing to the Murray Bushrangers, first shared that he initially thought he was headed to Richmond after partaking in VFL action with the club.
"I [thought I was] going to the rookie draft," began Oliver. "I played Richmond VFL for, like, two, three weeks, did that, and then came back to [the Murray Bushrangers].
"I got told I was going to get rookie-picked [by] Richmond, I was like 'yes, so good, best day ever', I was stoked [about] it."
However, a few wrong turns at the combine meant that plan didn't eventuate.
"[I] went to the (pre-draft) combine, said I had a sore hammy, [I] didn't, I just didn't want to do the beep test," laughed Oliver.
"I knew I was going to run a shocking beep (test score), so I was like 'I don't think I can do a beep test and a two (kilometre trial) or a three (kilometre trial)', so I'm [thinking] I'm just going to say I have a sore hammy.
"Then, I didn't do the repeat sprint, either ... If I ran under an 11 (minute time in the three-kilometre trial), they'd (Richmond) pick me up.
"I remember, I said to [people at the combine] 'look, I'm going to be honest, I ran [the three-kilometre] the other day, I ran a 14:40 (time), so I don't think I'm going to beat 11.
"I got my (skinfolds test) done, [they] said 'mate, I just don't know how you're going to go at this combine', and I'm like, 'yeah, it's not looking good'."
Then, Oliver proceeded to detail his experience with the Swans and Beatson.
"Mate, I've never been more nervous about anything in my life," Oliver said of the pre-draft combine.
"I didn't want to go, I think I cried after one of the (club) meetings, too. Sydney sprayed me ... It was a bloody weird set-up."
Asked about his pre-draft combine experience with the Swans, Oliver detailed a meeting with Sydney list strategist Kinnear Beatson.
"His name's (Kinnear Beatson), if I ever ... " Oliver trailed off, as Sheridan and Simpkin chuckled surprisingly in the background.
"Beatson's one of the nicest blokes in the world!" exclaimed Sheridan.
"Nah," began Oliver. "Walked in there, sat down, he's looked me dead in the eyes and [he said] 'why are you so fat for?'
"First thing he said (was that), and I was like 'oh, I've lost, like, five kilos', he's like 'you probably need to lose a bit more, mate', and then he just kept teeing off.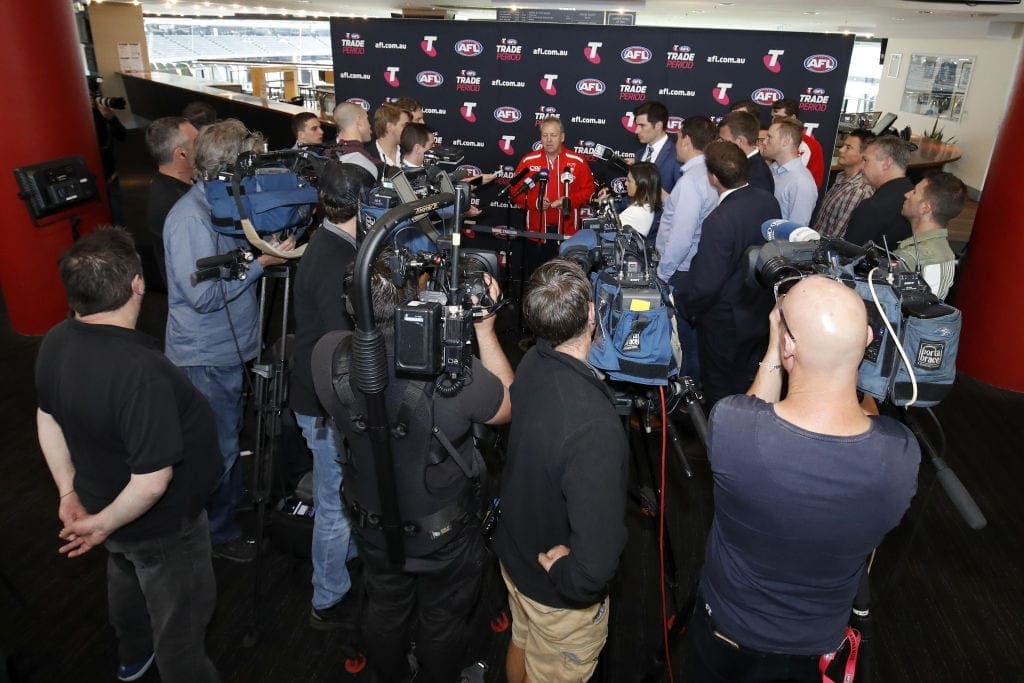 "[Beatson] said I can't kick, I can't run, couldn't handball [with] my left hand, couldn't handball with my right hand. I literally just started crying. [I was] honestly, like, 'why am I even here? You're obviously not going to draft me'.
"He's just like, 'we just wanted to quiz you, see how tough you are', and I was like 'well I'm not, mate', and I just started crying. I'm getting up and walking off ... I thought I was pretty mentally tough and he just broke me in about three minutes."
Oliver, now a perennial Brownlow Medal candidate, would eventually be picked at No.4 overall by Melbourne in the 2015 National Draft.
"I went Pick 4 [in the draft]. Melbourne bid on (Sydney's) Callum Mills over me (at No. 3), so, I bring that up a fair bit to the recruitment managers and all that," finished Oliver.
"It worked out well."
Oliver and Simpkin's full chat on Ausmerican Aces can be found HERE.