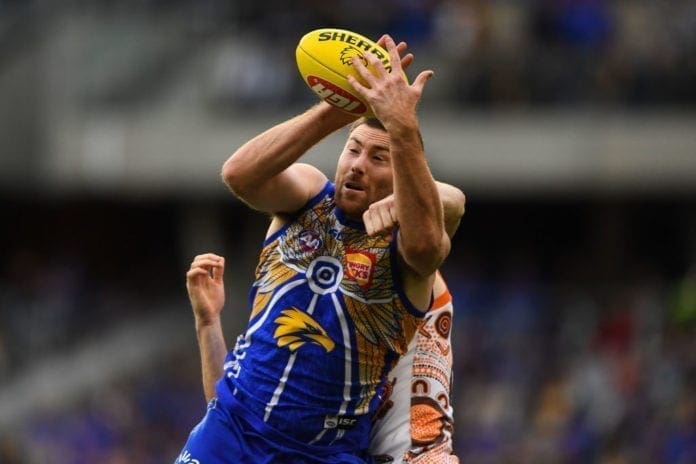 The West Coast Eagles have ruled out crucial defenders Jeremy McGovern and Shannon Hurn for this weekend's bout with the Sydney Swans at the SCG, while they will welcome back critical pair Tom Barrass and Liam Duggan.
McGovern and key-defending teammates Barrass and Shannon Hurn were potentially in line for a return against the Swans on Saturday afternoon; however, only Barrass will take the field, as Hurn remains at least a week away.
Addressing the media on Thursday, senior coach Adam Simpson announced McGovern wouldn't make his return this weekend and will instead likely need to wait another two weeks to put his hand up at selection.
"McGovern won't be playing this week, but Barrass will come in and a couple of others (will too)," said Simpson.
"[McGovern's is] a 14-week injury, he's been (out for) 12 weeks, and he fully trained yesterday, but he just pulled up a bit tight, so we've just got to be careful.
"He'll be another week or two, we were really pushing for this week, our expectation was [that] he was going to play, but [it's] probably a sign he wasn't fully ready, the way he pulled up yesterday.
Simpson talked up Barrass upon his return and revealed his excitement at seeing his optimal mix of senior defenders back at Eagles training during the week.
"Barrass coming back, vice-captain, should've been All-Australian last year, that'll help support some of the younger players coming through," the premiership coach continued.
"Really exciting seeing McGovern, Barrass, Duggan, Hurn training yesterday, all those guys together, with some younger players, (Brady) Hough and those type of players, that's what we're looking for, so getting that mixture right, it was probably Round 3 the last time we had that look, that's what we're aiming for, but we haven't got it."
Simpson said the Eagles are disappointed to not be welcoming McGovern back this weekend, however, noted that Duggan is a certainty for selection on Thursday night.
"(McGovern) was disappointed, we're all a little bit disappointed, but there's also [the] reality that (that is) the extent of the injury ... he's probably two weeks [away]," Simpson said.
"I can't remember why Duggan went out of the side, he got suspended too, didn't he? He's right to go (for Saturday)."
Simpson also addressed the circumstances surrounding forward Jake Waterman, who was hospitalised in recent days as a result of an infection.
"I haven't heard too much from Jake but he's out of the hospital, and now he's recovering, so that'll take care of itself but it will be weeks (that he's sidelined for)," said Simpson.
"I don't know (the extent of Waterman's situation), he's in the recovery process at the moment so I think football's the last thing on his mind, I actually don't know the extent of the seriousness of it either, I haven't been debriefed to that point yet, because he's still pretty raw, so when he's comfortable expressing what happened and how he's going then we can talk about it."
The Eagles' bout with the Swans is fixtured for 4:35 PM AEST on Saturday, with Simpson's selected side set to be announced on Thursday evening.