AFLW Adelaide Crows star Ebony Marinoff has been handed a massive three-week suspension – the longest in AFLW history – for her hit on Giant Brid Stack.
Stack was taken to hospital immediately after the incident during Sunday's practice match but escaped with a minor neck break.
After being found guilty on by the tribunal on Tuesday night it means Marinoff would miss one-third of the nine-week 2021 AFLW season.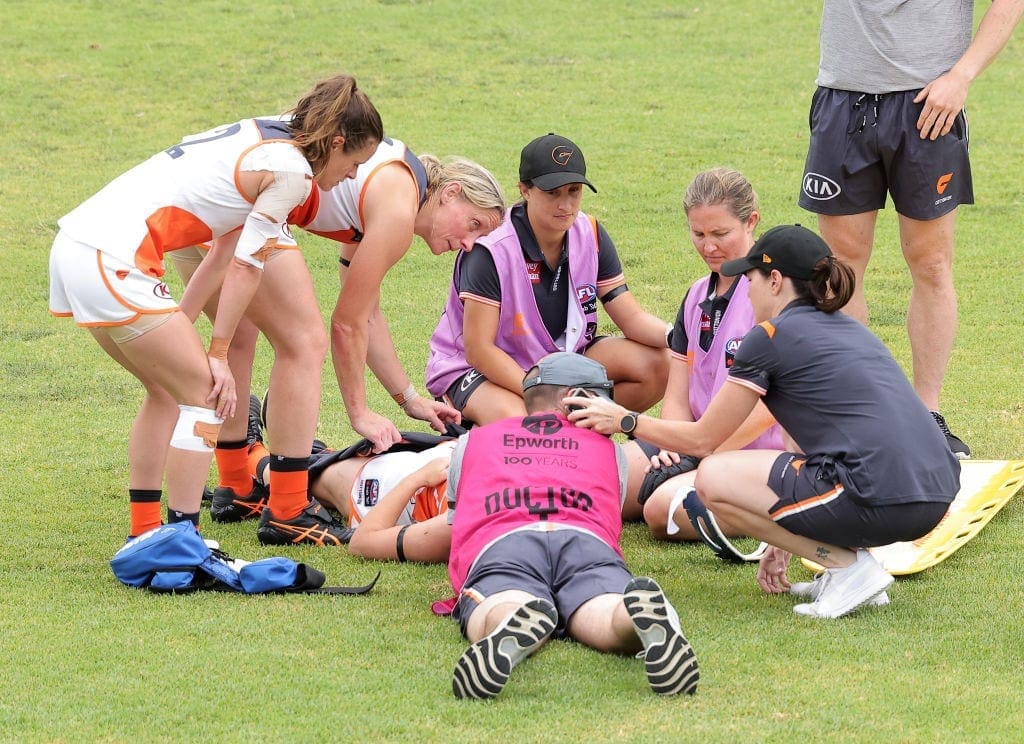 The Crows will now ponder challenging the outcome, with Marinoff declaring in a statement it was not her intention to hurt Stack.
"I'm really disappointed with this outcome, it was never my intention to hurt Brid," Marinoff said.
"Every time I go onto the footy field I want to play hard but fair football and I believe that's what I did on Sunday.
"I reached out to Brid to send her my best and I wish her a fast recovery."
Crows head of women's football Phil Harper revealed that the club would up an appeal.
"The club is really disappointed with this outcome and we'll be considering our options going forward," Harper said.
Marinoff's suspension was met with criticism from the football community on social media.
Suspended for 3 games of a 9 game season for this. The injury was horrific, the action that caused it was not. Crows must appeal https://t.co/j5VyVFiVCL

— Kane Cornes (@kanecornes) January 19, 2021
Sometimes accidents/unfortunate injuries happen. This was not an intentional, malicious action. That's a third of the season. #appeal https://t.co/JqqAIcV9KW

— Graham Cornes (@Cornesy12) January 19, 2021
Harsh? Awkward accident. Both arrived at ball virtually same time, Ebony watching it whole way & about to gather til last split-second when it bounces by. Brid enters head-first. Ebony nowhere to go. Good reminder for junior coaches: teach players to turn & protect themselves. https://t.co/6z1PgNIFd9

— Jason Bennett (@JasonBennettTV) January 19, 2021
There is absolutely no way Ebony Marinoff can miss a game of football for this. Not a reportable offence whatsoever. #AFLW https://t.co/78MyLy1tzr

— Nic Negrepontis (@NicNegrepontis) January 19, 2021
Carlton and Collingwood kick off the 2021 AFLW season on Thursday, January 28 at Ikon Park AEDT.