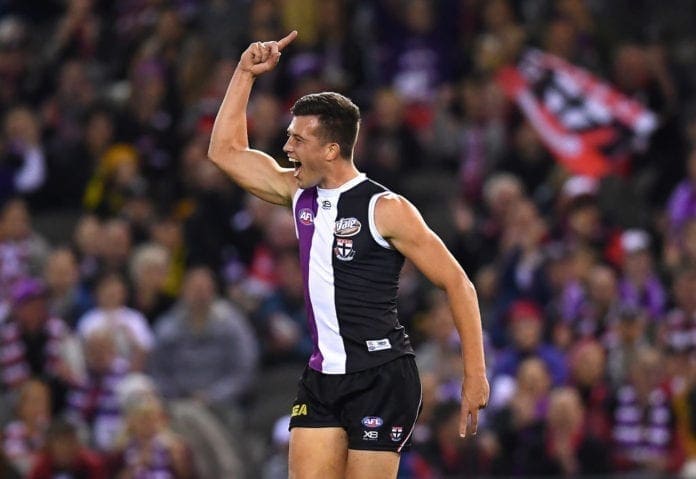 Former AFL great Terry Wallace has named St Kilda's Rowan Marshall and Adelaide's Reilly O'Brien as the two ruckman set to make major strides in in 2020.
Marshall enjoyed a breakout year for the Saints to establish himself as the club's no. 1 big man and arguably their most promising youngster, averaging 17.8 disposals and 28.4 hitouts per contest.
O'Brien emerged for the Crows to take over their first-choice ruckman mantle after Sam Jacobs was struck down by injury early in the season, averaging 15.3 disposals and 33.3 hitouts.
"I went for the two improvers from this year to keep on improving," Wallace told SEN Drive last week.
"That was Reilly O'Brien in Adelaide and Rowan Marshall for St Kilda.
"Marshall is the one that really fascinates me in that Paddy Ryder comes into the mix.
"Does that help Marshall, does that hinder Rowan Marshall. I'm sure it will help his ruck work and the way that he goes about his trade because having Ryder, who is such a good ruckman and has been brilliant at the ruck trade over the years, is only going to assist him to get better.
"Ryder is going to take ruck time off him and does that freshen Marshall up to be better when he goes into the ruck, can he make it as a forward as well, it'll be interesting to see how that plays out.
"There's some (ruckmen) that need to be the main man."
Wallace left the Western Bulldogs' Tim English out of the discussion, believing he needs another year of development.
"I still think he might be another season or two away," he said.
"I'm saying quantum leap. I don't know whether it will come this year or whether it is still another 12 months away.
"He has got all the potential in the world."