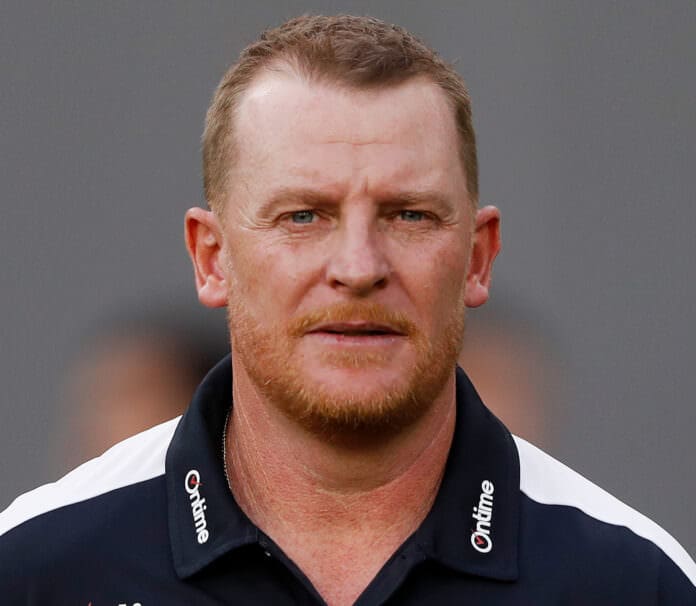 Carlton coach Michael Voss says the AFL needs to stick to the precedent set last weekend if and when Covid runs through another club.
The West Coast Eagles were forced to make 14 changes on the weekend with 13 of those players missing through AFL Health and Safety Protocols.
Their game against the Kangaroos went ahead despite the clear disadvantage the Eagles were playing with.
The AFL has made it clear they want games to go ahead even if teams are required to heavily rely upon their Covid top-up lists.
Speaking to media on Tuesday, Voss said he wasn't a fan of the Eagles being forced to play with such a diminished squad.
"No, I didn't like it I must admit," Voss said.
"I sort of felt like there's maybe a different way. I don't know if that's the only way we've got right now. That just felt like it was too much and too far a disadvantage for one team.
"I really admire West Coast and their response, they just got on with it. I think if we look at that with a clean set of eyes that didn't feel right."
Voss went on to say that while he didn't agree with the game going ahead, it's a precedent the AFL must now stick to all season.
"A position has been taken so (the AFL) have no choice but to follow through on that standard that's been set," said Voss.
Carlton suffered a Covid hit of its own ahead of its Round 2 clash with Jack Martin and Adam Cerra missing their win over the Bulldogs after entering the AFL Health and Safety Protocols.
Voss was also absent as he also had tested positive after Round 1. However, Voss said the club wasn't expecting players to lie under any guidelines further than what is already expected of everyone in Victoria.
"We follow the guidelines from the government," said Voss.
"They're the guidelines we've been given, we just ask them (players) to play the percentages. I felt like I was playing the percentages pretty well and I still got it.
"We understand there's a component where they've to go and live their life and then we get a well-balanced individual."
Voss will be back in the hot seat as Carlton take on fellow undefeated side Hawthorn on Sunday at 1:10pm at the MCG.