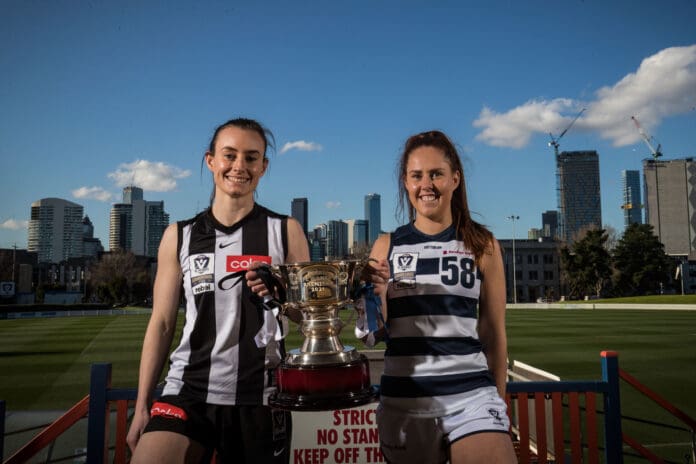 The AFL has confirmed that the 2021 VFLW Grand Final won't go ahead following a number of setbacks due to the current COVID-19 pandemic and directions of the Victorian Government.
The match between Collingwood and Geelong had been rescheduled on four occasions following a string of fixturing complications, with the league also confirming no premier will be named despite the Magpies' undefeated campaign.
Collingwood will be recognised as minor premiers following their dominant season however.
Despite ongoing discussions with the Victorian Government to plan the season-decider, the league has been forced to call off the match.
Speaking on the AFL's announcement, AFL Head of Talent Pathways and State League Competitions Tristan Salter expressed his disappointment in having to conclude the VFLW finals series prematurely.
"The rebel VFLW Competition has been a foundation league in Victoria for many years and an exciting pathway for young girls. The 2021 season has been a challenge to everyone connected to football. The AFL is very proud of how all VFLW clubs, players, officials, supporters and corporate partners managed through a difficult year and kept their communities connected," Salter said.
"To play 90 VFLW games during a COVID-interrupted season is a testament to the resilience and commitment of the whole industry – all clubs, players, coaches, umpires and officials.
"Our clubs and the League have made a difficult decision and we sympathise with their players and coaches and their legion of fans and supporters. Everyone is aligned and united in this decision and we will come through this together.
"In 2021 we celebrate 40 years of women's football in Victoria and we reflect on the contribution of all women to our great game. Participation for women and girls has exploded and the VFLW has added a vibrancy and excitement to our game that we have sorely needed in these challenging times.
"We congratulate all clubs on a successful year of football and look forward to returning for the 2022 season."
Despite the outcome, Magpies captain Caitlin Bunker stated the challenges have left her side saddened, however she is proud of what they have been able to achieve given the circumstances.
"Our whole group is absolutely devastated that we won't be able to play the VFLW Grand Final this year and have the opportunity to play for the Premiership in front of our Collingwood fans, but we understand and are supportive of the decision," she said.
"The decision was best to ensure for the health and safety of our players, coaches, staff and the broader community.
"Having missed last year's season and having to adapt with further lockdowns this year has been hard for our players, coaches, staff and fans who have all shown immense dedication and commitment to our program and the competition.
"For the third season in a row, Collingwood were crowned minor premiers and remained undefeated throughout the season and finals series. While our group is disappointed that we won't have the opportunity to play the Grand Final, I'm still extremely proud of what our group has been able to achieve in 2021."
The AFL has stated that the 2022 VFLW season is likely to being early next year, with the league working to confirm details key details for the 2022 campaign.