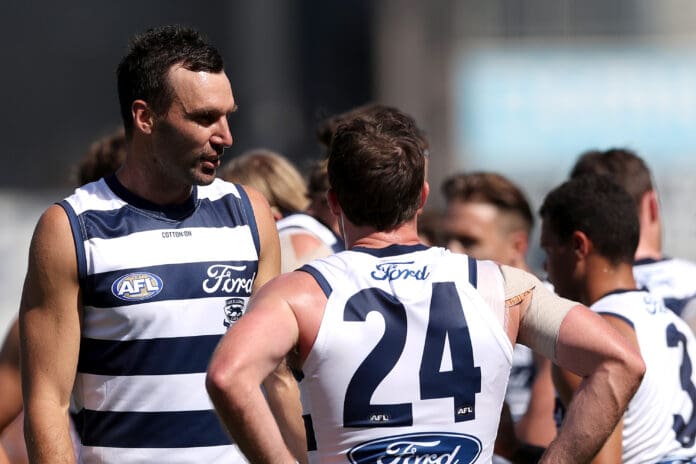 Geelong ruckman Jonathon Ceglar has announced his AFL retirement after a storied career.
The 32-year-old Ceglar played 110 league games throughout stints at Hawthorn and the Cats, calling it quits after 13 AFL seasons.
Ceglar plied his rucking trade at the Hawks from 2013-21 before being traded to Kardinia Park to play nine games across two seasons for Chris Scott's Cats.
Ceglar's back has hindered his 2023 season, managing just six senior games this year before announcing his retirement on Tuesday afternoon.
"I have loved every minute of my career and feel fortunate to have represented three great clubs. I'm grateful to have played the game for as long as I have and while I would have loved to have played on, my body hasn't allowed me to continue," said Ceglar on Tuesday afternoon as part of a club release.
"Playing footy for 13 years has been a significant part of my life, I can't thank Hawthorn Football Club enough and the people I met there, and then to be able to come to Geelong later in my footy career has been one of the best decisions I've made.
"There are a lot of people to thank who have supported me over the journey, most importantly I'd like to thank my wife Charlotte for her unconditional support, my parents and family for the role they have played over my career at times putting their own lives on hold while they encouraged me and my career.
"I feel most grateful for the lifetime memories and relationships I've made. I'm looking forward to the next chapter and excited for what the future holds."
Geelong football boss Simon Lloyd expressed his thanks to Ceglar, wishing him the very best with whatever the future holds.
"We have really cherished our time with 'Cegs' over the last two seasons and we will all miss the daily chats on football and life," Lloyd said.
"Ceg's character is the epitome of hard work, dedication, and perseverance. On behalf of the Geelong Football Club, we take this opportunity to thank Cegs, his wife Charlotte, and his son William and wish them all the best for the next phase of their lives together."