We're back for Round 19 of Zero Hanger's weekly 'five useless stats' series.
Every week Aaron Delaporte from Useless AFL Stats will take a look at the most useless statistics from the weekend just gone, the absurd, the ridiculous and just the plain outrageous.
Round 19 did not disappoint with a plethora of Useless Stats to choose from however these are the most captivatingly Useless Stats from the round just gone.
Want more Useless Stat content? The team at Useless AFL Stats have just released a Podcast you can check it out now via the Unnecessary Statness Podcast.
Past premiership winners fail to fire
Round 19 2021 was a big one for anyone with a distinct dislike for the traditional big Melbourne clubs who have collected the lions share of Premiership Cups across the 124 year history of the AFL.
A record for most premierships won by the losing teams in a round was broken which previously stood at 84 in Rd 6 2015. Losses to Carlton and Essendon both with 16 flags, Collingwood 15 flags, Hawthorn and Richmond 13 flags, Melbourne 12 flags plus let's not leave out St Kilda's one flag is a total representation of 86 premierships amongst the losing teams for the round and a new record.
The winning teams in Round 19 have 30 flags with Geelong's 9 the most of them.
Quick fire five things

The AFL website generally does a nine things we have learnt story after every round so we thought we would get in on it and have a crack at a five things we learnt, but naturally with a Useless AFL Stats spin on it, so here they are:
1. Max Gawn is the ultimate platform for Mark of the Year. Having already gotten Liam Ryan the award in 2019 he has been the jumping bag for Mitch Georgiades at Port and now young Bulldog Cody Weightman has taken a 'speccy' over him.
"I was watching gymnastics this arvo."

Cody Weightman got inspired by the #Olympics 😂@7olympics pic.twitter.com/nSjahDin85

— 7AFL (@7AFL) July 24, 2021
2. Liam Stocker wears Bubblegum Rainbow jocks. Given the ultimate wedgy by Ben Cunnington, Stocker's choice of underwear was revealed on the weekend and it took us all by surprise.
3. Atu Bosenavulagi is the only AFL player with every vowel in the alphabet in his surname - thanks to Maddie who asked us that question on Facebook. Over 100 other players have all five vowels across both names but Atu is on his own with surname only.
4. Nick Larkey has an aunt called Susan with the middle initial V - Sue V Larkey as revealed on Garry and Tim SEN Breakfast Monday morning.
5. Lots of AFL players have opened Bunnings stores. In what started as a tribute to Alex Rance who returned to the VFL with a one-off appearance for Essendon, Rance having opened the Oakleigh Bunnings in June 2019 we quickly learnt plenty of other players have done the same all around Australia - this includes legends such as Kevin Sheedy, Leigh Matthews, Dermott Brereton, Gavin Wanganeen and Chris Grant.
Numerology - Papley's elevenism
Tom Papley, who is part of the annoying small forwards union, provided us with this week's piece of numerology.
The Swans entered the match against Fremantle with eleven wins when late in the third quarter Papley who wears jumper No.11 took a mark and snapped for goal with his 11th disposal to kick a behind and bring the Swans' score to 11.11.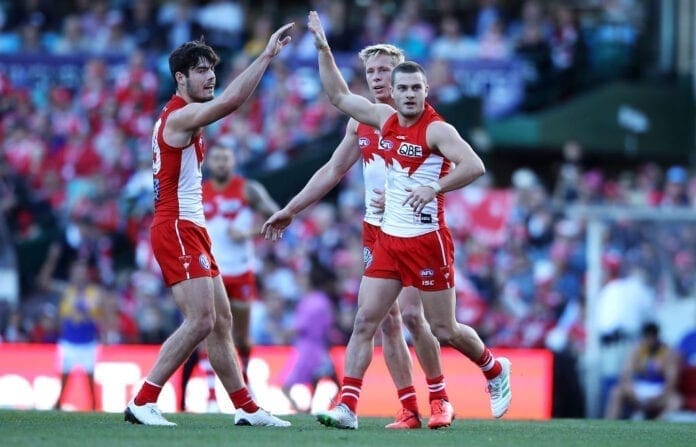 Papley would go on to have a couple more shots but finished the game with 1 goal 5 behinds, which of course equals a score of 11.
Cats revenge
Geelong, who were the 2020 Premiership victims of Richmond, have now had two convincing wins against the reigning Premier. The Cats' two wins by 63pts in Round 9 and 38pts in Round 19 over the Tigers for a combined total of 101pts, is the third biggest combined Grand final revenge in V/AFL history.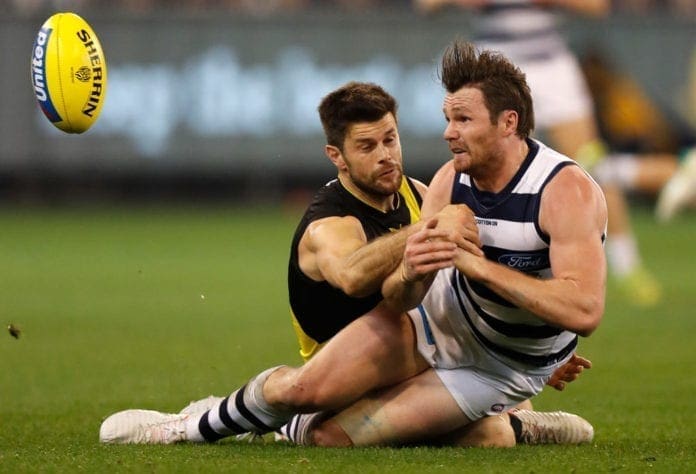 The record for Grand Final revenge belongs to North Melbourne, who inflicted wins of 56pts and 76pts for a total of 132pts over Adelaide in 1999 after losing the 1998 Grand Final. The Kangaroos went on to win the flag in 1999, could this be an omen for the Cats winning the ultimate in 2021?
Bulldogs opponents odd scoring
The Western Bulldogs have completed thirteen consecutive games in which their opponents have finished on an odd number of total points.
The streak began in Round 6 against GWS when they kicked 9.11.65 with scores of 77, 91, 77, 33, 87, 65, 83, 43, 79, 79, 79 and finally 65 by Melbourne on the weekend. If they can leave their Round 20 opponents Adelaide on an odd score this will equal the AFL record set by Essendon from Round 2 to 15 in the 1962 season.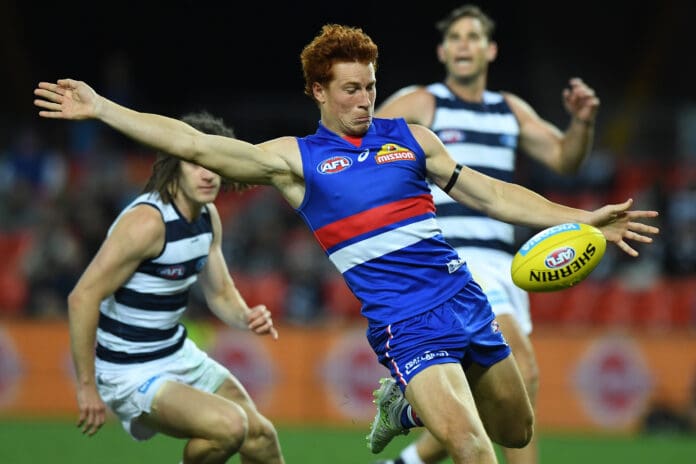 Incidentally the AFL record for a player for most recorded team scores odd or even is held by former Eagles captain Darren Glass who had 17 odd scored games with West Coast from Round 20 2001 to Round 8 2003.
Glass missed several even scored games by West Coast with injury throughout the run. The odds of 17 consecutive odds scores is over 130,000-1.