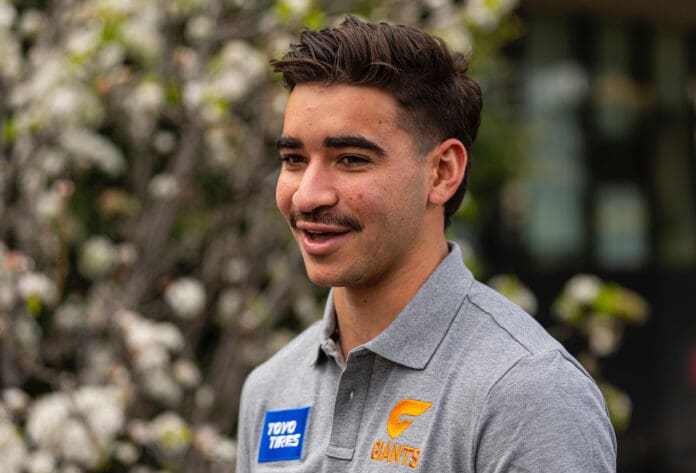 Toby Bedford has reportedly suffered an injury blow ahead of his first season as a Giant, suffering a hamstring tendon injury with a little over three weeks until Round 1.
Reports from the Herald Sun indicate that the former Demon will miss up to the first month of the season after suffering the injury last week during an intra-club practice match.
Bedford, who moved from Melbourne at the end of 2022, has played 18 games since his 2020 debut and was enjoying a strong pre-season at the Giants, with head coach Adam Kingsley confirming that the 22-year-old will be facing time on the sidelines.
Brent Daniels meanwhile, who is dealing with a similar hamstring issue, is tracking well to be fit for Round 1.
"Toby has really hurt his hamstring," Kingsley said to the Herald Sun.
"So he's going to be out for probably a month at the start of the season. Brent's hamstring is a really minor one and a different area to the issues he had last year. He is pushing for round 1, so we will just assess that."
Elsewhere at the club, Nick Haynes is expected to bounce back after an injury hampered 2022 season, with Kingsley saying the club has high aspirations for the 30-year-old this season.
"He had some issues as I understand it last year with his body. He couldn't quite get up and going, which he feels like he's got on top of now," Kingsley said.
""And his summer has been really good. He's been really pleased with how he's going based on his previous years, he thinks he's had the best preseason he has had for a long, long time and clearly reads the game well."
"Hopefully he can get back to being the player he was a couple of years ago as one of the most dominant half backs being able to intercept-mark the ball. He was wonderful and that's what we are aspiring for him to become again."
GWS' season gets underway on Sunday, March 19, against the Adelaide Crows at GIANTS Stadium.