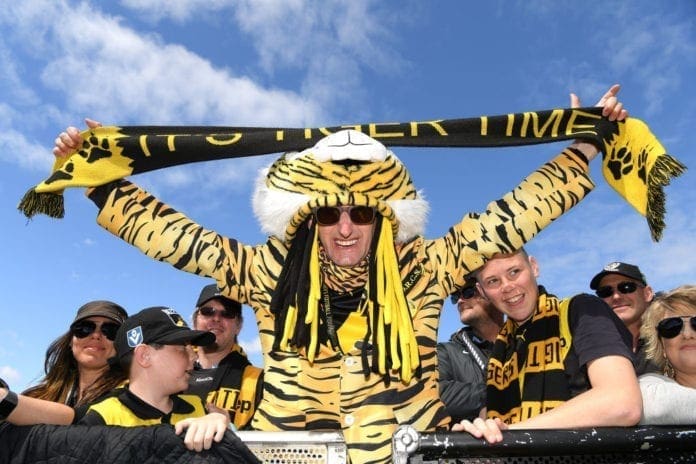 Whilst we'll keep bringing you the latest footy news in trades, de-listings, appointments, rumours, injuries and general footy content over the coming months, the attentions of footy fans and players also now shift to broader horizons.
Got a jetski? Get on it, you cashed-up bogan!
For the rest of us, here are a few more basic suggestions.
Watch or play other sports:
CRICKET - As footy fields become cricket fields, the crease becomes perhaps the most accessible alternative focal point for footy fans over the summer period. For local viewers, first-class home fixtures commence this Sunday, October 27th with the T20 series of Australia vs Sri Lanka. Grab a tinnie, some zinc cream and catch all the "marvellous" cricket news at zerowicket.
TENNIS - If we were to have a drink every time the commentators announced the on-court temperature, we'd pass out before the fifth set - but not from heatstroke. Hopefully, we'll see (or maybe hit) some searing forehand winners over summer, as professional tournaments ramp up to the early-February climax of the Australian Open final. Get tennis updates at zerotennis, the website more imaginatively named than a Sampras game plan.
BASKETBALL - The NBL season's only just started and runs all the way through summer. Or, make it rain in streetball (preferably in a drought-affected area).
GOLF - Love it or hate it, or both at the same time, golf is one way to at least capture that freshly cut grassy smell of footy finals. Especially if you're in the rough. For viewers, the Australian Open tees off in early December and the Australian PGA Championship just before Christmas.
SQUASH is an Olympic sport and a serious cardio workout. Compared to other sports, players also report very low incidences of sunburn. There is the occasional eye injury though. Play at your own will and/or peril.
BOWLING comes in two versions - indoor and outdoor. The indoor tenpin variety requires the wearing of clown shoes but comes with lights, music and air conditioning. The outdoor version can be done barefoot and comes with beer, sun and old people.
RACING also comes in two main versions - horse and motor. The Spring Carnival is almost upon us, culminating in the Melbourne Cup - a race deemed so impressive it requires a public holiday. Just be sure to dress up and don't use any four-letter words, like 'meat'. Meanwhile, the Australian Motorcycle Grand Prix and historic Sandown events both start their engines this week, preceding the Sandown Supercars in early November and of course, the Australian Formula 1 GP in March.
Get out:
Whether you're a pro, amateur, junior, or slob, now's a great time to practice your skills, like goal-kicking, passing, tackling or sneaky side door gambling.
Let's go to the beach. You can take a frisbee, tennis ball, volleyball, beach ball or various forms of the good ol' footy. Or just lie down and cook yourself.
Walk the dog. Or someone else's... just make sure you've asked them first. We don't want to be responsible for a spate of dognappings.
Go 4WD-ing. A lot of those big mud pits will be starting to dry up a fair bit, reducing the chance of you getting bogged... er... 'parked'.
Try something different and slightly stupid and ridiculous, like skydiving or bungee jumping.
Travel and/or camping/glamping. Just don't go to Queensland, I hear it rains a lot in summer. Also, I'm going there and need space in the pool.
Stay in:
Eat and drink. It's gonna be heating up, not just on the summer sports fields but also around the kitchen and barbie. Make room at the table for Santa, for 'tis the season of overindulgence. Then aim to burn the fat with a New Year's Resolution to 'never do that again'. Then do it all again on Australia Day.
In association with the above, this footy off-season might be the one to learn to cook. I'm talking something more than toast, noodles, or a microwave pie. I'd also suggest cleaning that barbecue that's been covered in grit all winter.
Go to the gym - Let's face it. We're gonna need this after the above.
Catch up on US sports - NBA and NHL for the next six months, NFL for the next three. For many sports fans, our local footy off-season signals our international sports on-season. Why go out and play, when you can stay in and watch someone else do it?
Catch up on Netflix
Do your Xmas shopping. Right now. You'll thank us in two months. Otherwise, wait two months, do it on Christmas Eve and call it extreme sports.
Check out your local pub trivia - you might win something other than a wooden spoon.
[polldaddy poll=10440389]