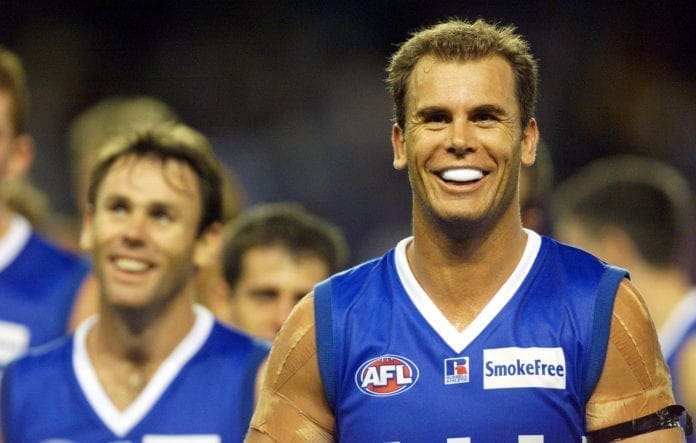 It is hard to picture Wayne Carey as a Bomber or Jason Akermanis donning the sash, but according to Essendon champion Matthew Lloyd, both were almost done deals.
Speaking on AFL Trade Radio on Monday, Lloyd communicated to listeners just how close the offensive weapons were to calling Windy Hill home.
Following Wayne Carey's acrimonious Arden Street exit in 2002, Lloyd explained that he was a member of the team tasked with pitching to Carey.
"I went to Wayne Carey's Port Melbourne apartment," Lloyd told AFL Trade Radio on Monday.
"Myself, James Hird, Kevin Sheedy and we tried to get him. He said he was interested in coming to Essendon so Kevin Sheedy said, 'Can you come with me?'.
"So we met secretly, we all drove separately. We got given car parks to go up to Wayne Carey's apartment.
"I remember sitting on Wayne Carey's couch and Kevin Sheedy walked in with the team, the team that was going to play round one of next year.
"The Carey magnet was at centre half-forward, I was at full-forward and James Hird was half-forward flank and said, 'What a forward line we could create'. The big sell … Wayne seemed keen, but we got a call a couple of days later saying, 'No, I need to get out of Melbourne, I'm going to the Crows'."
Lloyd claimed the offer tabled to Carey was in the vicinity of $500,000 a season. However, Carey was eventually dealt to Adelaide for a first and second round pick (2 and 18).
The Kangaroos used these selections on Daniel Wells and Kris Shore respectively.
Lloyd continued his jaunt down memory lane by stating he was tasked with the powerbroking role in luring Jason Akermanis to the club.
At the end of 2006, Lloyd was on holiday on the Gold Coast when he was contacted by Essendon list manager Adrian Dodoro.
"I was sitting on a sunbed at the Sheraton Mirage on the Gold Coast …
"I get call from Adrian Dodoro who says: 'We're close to landing Jason Akermanis so here's his phone number, can you just seal the deal for us with a call to Aker?'.
"So I gave Aker a call. We would have 15 minutes, great chat. Rang Adrian and said, 'I reckon we're going to be right … we had a great chat'.
"I was about to have my first child [and Aker] was giving me parenting advice on what's it like …  he was telling me all sorts of things. Two days later he's chosen the Western Bulldogs.
"So I'm zero from two … I've put the cue in the rack [and] I'm no longer part of the recruiting team for anyone."