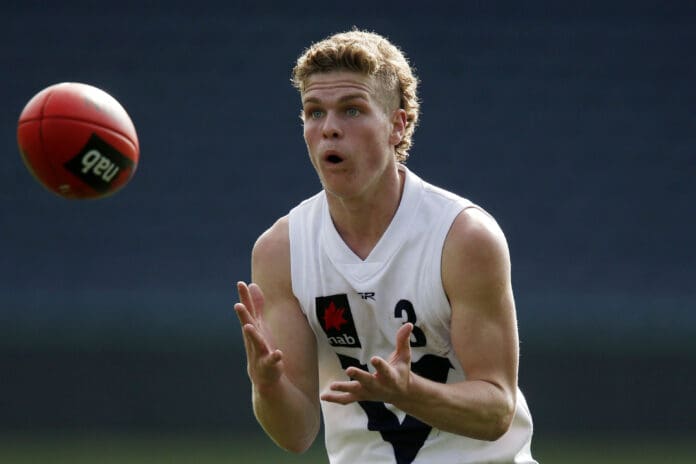 Regional Victoria continues to produce some of the more elite names in the AFL, with this year's pool of prospects looking to follow that line and dominate early selections in the upcoming National Draft.
Offering plenty of talented teenagers across all lines of the field, Vic Country's 2021 squad have shown great potential despite the limited sample size due to the limitations of the past two years.
With Vic Country set to add a plethora of new names to the top flight for next year, we take a look at the top prospects who have culminated their young careers from the outer areas of football's most populated state.
Mac Andrew (Dandenong Stingrays)
Height: 200cm
Weight: 70kg
The Demons Next Generation Academy (NGA) prospect has risen through the rankings across the past 12 months, emerging as a leading key-position player in this year's pool.
Capable of playing in the ruck and moving forward to impact the scoreboard, Andrew firms as a talent gaining great attention ahead of the National Draft given his ceiling and athletic ability.
Likely to fall within the first round of the AFL Draft, it is unlikely the Demons land their shining Academy graduate unless they get creative in dealing to advance their position in the queue.
MORE: Mac Andrew draft profile
Tom Brown (Murray Bushrangers)
Height: 186cm
Weight: 77kg
The son of former Cat Paul Brown, the medium-sized defender is another who has gained greater attention off the back of a scintillating run of form across a smaller sample size in 2021.
Ineligible to land at Kardinia Park via a father-son select, Brown is capable of moving further up the ground and can offer great attack from the backline with his intelligent decision making and poise on the ball.
Impressed at the recent Draft Combine and is likely to land as a late first-round/early second-round selection for a club looking to reinforce their defensive structure.
Campbell Chesser (Sandringham Dragons)
Height: 186cm
Weight: 83kg
A pacey prospect that is capable of doing damage on the outside of play with his speed and precision, Chesser firms as a top 30 selection and an electrifying prospect for any club looking to bid on the Sandringham Dragon.
Battled back and knee injuries have hindered his prospects after being touted as a top 10 selection ahead of this season, meaning Chesser could be a bargain selection should his setbacks be a thing of the past.
Toby Conway (Geelong Falcons)
Height: 204cm
Weight: 90kg
The premium full-time ruck selection in the draft, Conway is a dominant tall that is more than capable of having an impact with ball-in-hand as much as he does at stoppages, being named at ruck for the Nab League Team of the Year.
Touted as an intelligent talent that has a decent tank for a player of his size, the tall timber of Conway could slide up the draft order and into the top 20 selections should an early club look to add to their ruck stocks.
With tall duos becoming a key pillar of premiership contenders in 2021, Conway's value is sure to continue to rise as the National Draft nears.
Josh Gibcus (GWV Rebels)
Height: 195cm
Weight: 84kg
Seen as the best key-defender in his class, Gibcus firms as a top 10 selection at the draft and will have several suitors early given the smaller sample of tall defenders elsewhere in the draft.
A threat in defence given his ability in the air to lock down opposition forwards and quickly counter with his disposal, Gibcus is a cool, calm and collective operator and future leader for an AFL side.
A player clubs could look to strengthen their draft hand in order to acquire, with his athletic ability unapparelled in comparison to others in this year's pool.
MORE: Josh Gibcus draft profile
Ben Hobbs (GWV Rebels)
Height: 183cm
Weight: 80kg
Had a stellar 2021 campaign despite the early finish, proving to be one of the top midfielders in the draft and a potential top-five selection.
A Horsham product, Hobbs was named in the midfield in the 2021 Nab League team of the Year following his impressive campaign with the Rebels and showing for Vic Country.
The Tigers are understood to be keeping an eye on the inside midfielder, touted as a comparable prospect to Trent Cotchin.
MORE: Ben Hobbs draft profile
Joshua Rachele (Murray Bushrangers)
Height: 180cm
Weight: 78kg
Another member of the 2021 Nab League Team of the Year, Rachele slotted into the forward pocket position following his strong season as a forward/midfield utility.
A mercurial prospect as a smaller forward that can have a large impact on the scoreboard, Rachele is also capable of moving into the engine room given his strength and ability to win the ball.
His versatility in being able to take high grabs and also collect the hard-ball has Rachele tipped to land as a potential top 10 selection at the National Draft.
Josh Rentsch (GWV Rebels)
Height: 197cm
Weight: 100kg
A tall and muscular key-forward option, Rentcsch claimed the 2021 Morrish Medal alongside Calder Cannons midfielder Flynn Lakey following a dominant campaign with the Rebels.
Placed behind the aforementioned Mac Andrew and Bulldogs father-son prospect Sam Darcy in the favoured tall forward rankings, Rentsch polled among in six of his nine appearances on his way to booting 14 goals for the season.
Unlikely to slide into the early rounds of the Draft, however the potential is there for the young forward target to have a damaging career with an early impact at the elite level.