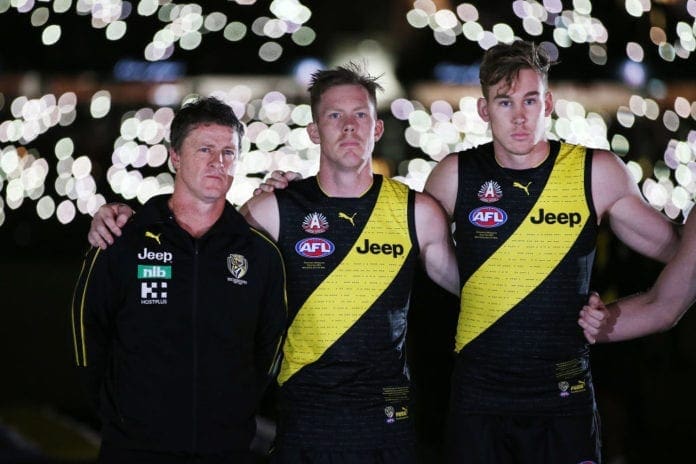 In an industry where being a coach is the hardest caper, many don't survive the intense scrutiny and still deliver.
Damien Hardwick is one of those who delivered, and by doing it his way.
The shock news of his resignation as Richmond's longest-serving coach after 14 seasons is still being felt. No one saw this coming.
He leaves behind a tremendous legacy, yielding three premierships, putting himself amongst club coaching legends Tom Hafey (four premierships), Dan Minogue (two) and Jack Dyer (one). His all-out desire and passion for the game stood out.
Before his start as coach at Punt Road, we first have to look at how the no-nonsense Hardwick made his mark. In a playing career spanning a decade from 1994 to 2004 for two clubs, Essendon and Port Adelaide, he was known for his hardness and combative playing style, not taking a backwards step to physical play. He immediately solidified his place in the red and black, winning the club's 1998 best and fairest, then being named in the All-Australian team in 2000. That same year he was part of the Bombers' dominant premiership side.
After 2001 Hardwick was traded to Port Adelaide. Not because he wanted out of Essendon, but instead due to the Bombers' tight salary cap. His playing style fit like a glove instantly at the Power.
Having tasted the ultimate success at Essendon, he soon was part of another premiership in 2004 - the Power's maiden flag. Hardwick announced his retirement after 207 games - 153 with Essendon and 54 with Port Adelaide.
A year after retiring, the next chapter in Hardwick's post-playing career was accepting an assistant coaching role at Hawthorn under the exuberant Alastair Clarkson. In four seasons at Waverley, Hardwick quickly climbed up the ranks as one of the top assistants, playing an integral role in the Hawks' 2008 flag - the club's first in 17 years. A year prior, Hardwick narrowly missed out on coaching positions at Melbourne and Essendon - losing out to the late Dean Bailey and Matthew Knights respectively.
However, his work alongside Clarkson made him a hot commodity.
On August 26, 2009, it became official, Damien Hardwick would be the 38th coach in Richmond's history.
For the then-37-year-old Hardwick, it was his opportunity to shine in the lead role. In his maiden official press conference as Richmond coach he laid out his vision to galvanise a downtrodden club that had been in the wilderness for three decades.
"Every club I've gone to has had a great 'team-first' culture and that's something I believe very strongly in," Hardwick said.
"I know it's easy to say, but it's not easy to deliver.
"I think I can deliver a blueprint for success that's going to take the Richmond Football Club to their 11th premiership in the not-too-distant future."
Delivering a premiership, however, would have its pains here and there.
In the lead-up to the opening of season 2010, new CEO Brendan Gale put forward his grand plans for the club in the next decade, including winning three flags, increasing membership to 75,000 fans, and shackling its debt down to zero. Despite the doubters circling, Gale defiantly kept his stance in an interview with Footy Classified.
"I make no apologies for the fact we want to be the best football club. We want to be the greatest. It starts with a vision. We're not just here to compete. No one is. We've got a vision to compete and to be the best. The best on-field and the best off-field. If we're not locked into that, we might as well pack and go home," Gale said.
Hardwick was taking over a Richmond outfit that was young and inexperienced, having not tasted finals football since 2001. His welcome to coaching got off to a wobbly start, losing his first nine games before registering his first coaching victory in treacherous conditions against Port Adelaide. Although his first season as coach only yielded six wins, there were plenty of promising young players coming through, with Trent Cotchin, Dustin Martin, Alex Rance, David Astbury, and Dylan Grimes all part of the Tigers' eventual dynasty.
Despite another non-finals appearance in 2011, an ascension into September wasn't far away, albeit not in 2012. Three narrow losses in consecutive games against Gold Coast, North Melbourne and Carlton by a combined 10 points ended the Tigers' September dreams. Near the conclusion of season 2012, Hardwick didn't mince words over another 12th straight non-finals appearance, despite improvements and the ascent of key talent.
"Every season's a fail when you don't make finals, that's the reality of it and that is what we and the media certainly gauge by the importance of the season," Hardwick said.
"We're disappointed. We certainly felt if we had played to be the best of our ability for a longer period of time, we had the capabilities of playing at the level (of finals).
"We just dropped some games we should have won and that's the reality of it. We've got no one else to blame but ourselves."
After 12 long years away from the post-season, Richmond finally had the chance to taste finals football. Seemingly, the Tiger train was heading for a first finals victory since 2001, when it led Carlton by 32 points early in the second half, only for a collapse to ensue.
At the club's best and fairest, Hardwick didn't relent in his and the club's pursuit to build upon their finals appearance. Richmond would be back, playing in back-to-back finals in 2014 and 2015, only to fall at the first hurdle.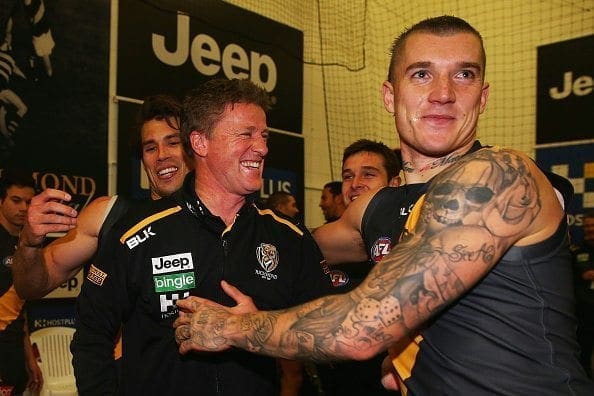 With ever-growing expectations at Punt Road, season 2016 delivered an almighty thud, putting Hardwick under the microscope. Two beltings late in the campaign against GWS (88 points) and Sydney (113) didn't help matters.
At the time, it would've been easy for Richmond to cut ties with Hardwick.
Instead, President Peggy O'Neal, Gale, and current President John O'Rourke kept faith in him.
Needing a chance to re-energise not only a downtrodden Tiger outfit, but himself, Hardwick went back to basics, finding his love for coaching by taking charge of his daughter's Under-13s basketball team. As he described in the AFL documentary "Don't Believe In Never", it was about having "no fear in the outcome."
It was the catalyst for his and the club's resurgence.
Hardwick's back-to-basics approach brought up a new theme at Tigerland; introducing a triple H's session amongst the group - standing for Hero, Hardship, and Highlight. All players and coaches had to come up with their Hero, Hardship, and Highlight and present it to everyone in the room. This itself bonded the group even closer.
Hardwick always had the successful culture ingrained at Essendon, Port Adelaide and Hawthorn, now it was beginning to transform at Richmond.
Playing with creative freedom by getting the ball in constant motion, and pressuring the opposition into a panic, the Tigers instilled a blueprint the other 17 clubs couldn't replicate. With Rance marshalling the backline, Cotchin and Martin leading the midfield, and spearhead Riewoldt working in-tandem with the mosquito fleet of Daniel Rioli, Dan Butler, and Jason Castagna, the Tigers became the envy.
After 37 long years in the abyss, Richmond would be the last one standing.
This success would lead to two more flags in the next three seasons, joining powerhouses Hawthorn, Brisbane and Geelong in winning multiple premierships in the 21st century.
As Hardwick's time at Punt Road ends, he leaves a stellar legacy, accumulating a winning percentage of 57.07, and finishing with the second most victories as Richmond coach (167 wins), behind only Hafey (173).
But more than the on-field successes, he has created an environment where players and coaches can be themselves without judgement.