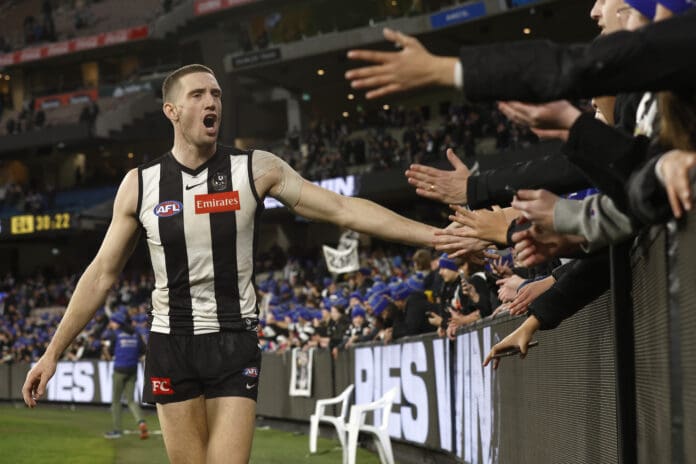 All Darcy Cameron needed was an opportunity to thrive in his primary position. Fortunately for him, that opportunity arose in Round 7 when Brodie Grundy went down with a PCL injury that would sideline him for many months.
What do we make of Darcy Cameron?
Firstly, it's clear over the last month and a half that Cameron's a ruckman first, forward second. But the latter had been his predominant position given the realities of Collingwood's ruck division That is no longer the case. Cameron has assumed the primary ruck position immediately after Grundy went down.
Collingwood are now 5-2 since the Grundy injury. Now, there's a myriad of reasons why Collingwood are surging towards an unexpected finals campaign under new coach Craig McRae. Some of those reasons were dissected earlier this year.
Yet, it's apparent that Cameron's emergence has provided significant value to this Collingwood group, as he has transformed into a top-line AFL ruckman. Much of his contribution is similar to Grundy's output, yet there are some clear differences in his game that has unlocked other aspects of Collingwood's game.
Let's dive deeper.
The ground level work
Much of what we came to love about Brodie Grundy has transferred onto Cameron. The desire and work rate to act as another midfielder at ground level, both when Collingwood don't have the ball and when it is in dispute, has been a hallmark of Cameron's last two months.
Cameron has averaged 5.14 tackles per game since the role change, which would rank him among the top 25 tacklers in the entire AFL!
To signify how impressive that is for a 204cm ruckman, the only other key position player inside the top 25 is the positionless Mark Blicavs. The rest are all midfielders.
His second and third efforts to either create a stoppage restart or cause a turnover has been so valuable for Collingwood, who have become lethal in transition on turnover this year. He effectively acts as an additional midfielder with his tackling pressure.
He is terrific below his knees for a big man, distributing handballs out to his midfielders and beginning offensive chains. Since Round 7, Cameron has averaged 5.42 scoring launches per game.
That would rank him as the best player in the AFL by a large margin.
It's because of his length to win advantageous hit outs and due to his ability to win clearances (3.4 since Round 7 ranked top 10) and generate intercept possessions (3.5 since Round 7 ranked top 5) that ranks him so highly in scoring launches.
FYI  - Score launches are scoring chains launched by an intercept possession, free kick, hitouts to advantage or clearance.
Effectively, Collingwood has hardly lost any of Grundy's groundwork grunt with Cameron, however, Cameron provides his own unique qualities that Collingwood have greatly benefitted from.
Aeriel threat 
Aerially, Cameron is an imposing figure for opposition teams to navigate around. He ranks 7th in the AFL for contested marks per game and has terrific positioning and running patterns that work hand in hand.
He places himself in impactful spots to be a bail-out option down the line AND can act as a safety net behind the ball when Collingwood have dominant field position, similar to a Max Gawn with Melbourne.
This is Cameron's biggest strength and it allows Collingwood to play more of a forward half game, knowing that they have Cameron patrolling a kick behind. When Collingwood's pressure is up, Cameron's intercept ability to rebound back into offense kills teams.
It isn't just from the forward half either, which gets back to my point about Cameron's running patterns. Here is a compilation from the same game of Cameron intercepting Hawthorn's forward advances from a range of different positions on the ground.
Cameron's a key part of the reason why Collingwood is currently ranked #1 for intercepts in the AFL.
Cameron's had games of 3, 4 and 5 intercept marks in his last 7 weeks, attesting to his ability to generate turnovers for Collingwood in the air.
It's a rare skill combination for a tall ruckman to possess. Collingwood is able to leverage Cameron in a variety of ways, both at ground level and in the air.
What this results in is a very high floor for Cameron's performances week to week. He has been uber consistent since taking over the sole ruck position, a kind of consistency that Grundy has struggled to maintain in recent years.
There has to be a correlation between Cameron's emergence and Collingwood's recent performances, even if considered minor.
Nevertheless, Cameron's impact doesn't stop there.
Goal-kicking threat 
Given Cameron's height, wing span and strength, it is incredibly difficult for opposition defenders to spoil him at the highest point in the air. Much like King for St Kilda, if Cameron is given a run and jump at the ball, he usually marks it.
What has been impressive about Cameron's improvement is that he's still impacting the scoreboard. He practically has the same goal-kicking average this year compared to his career, despite playing as a solo ruck for the last seven weeks (as opposed to his usual key position forward role).
Indeed, another factor in Collingwood's recent improved play is Cameron's versatility to rest and be effective as a forward. This provides important flexibility for Collingwood given their use of Mason Cox, who has noticeably played better with Cameron as opposed to Grundy (albeit a small sample size).
Because of Cameron is comfortable playing forward, it has allowed Cox to play more ruck minutes than he would under Grundy, which has been beneficial for his confidence in recent weeks (Melbourne, Carlton).
The most pleasing thing from a Collingwood perspective would be that even with Cox playing the game of his career last week (excluding the prelim performance), Cameron still had a solid game.
Cameron's emergence as a primary ruck raises some interesting questions for Collingwood moving forward.
Decision time for Collingwood
Collingwood has some difficult decisions to make regarding Cameron and Grundy both in the short and long term. To put it bluntly, Darcy's impressive development creates a dilemma for Collingwood when Grundy returns.
Do Grundy and Cameron share ruck responsibilities? Is Grundy forced to play forward and learn how to be effective in a different role? Where does Cox fit in all of this?
It's going to be hard for McRae to simply go back to the status quo. Cameron has been such a positive both with his own game but also with those around him. Collingwood's midfielders have seen a noticeable uptick in their production since Cameron took over.
This can be attributed to other factors, like an improved defensive system that has created turnovers in dangerous areas of the ground for Collingwood's midfielders to feast on.
But the stats don't lie. Cameron has ranked elite in a range of categories that assist Collingwood's midfielders mightily (Hit out's to advantage, tackling,
The purpose of this piece was not to put down Grundy. I hope that isn't the case. Grundy must still be considered as an elite ruckman of the AFL, even with his drop in form last year. It's worth mentioning that he was getting back to his best prior to the injury, evidenced by his superb ANZAC Day performance.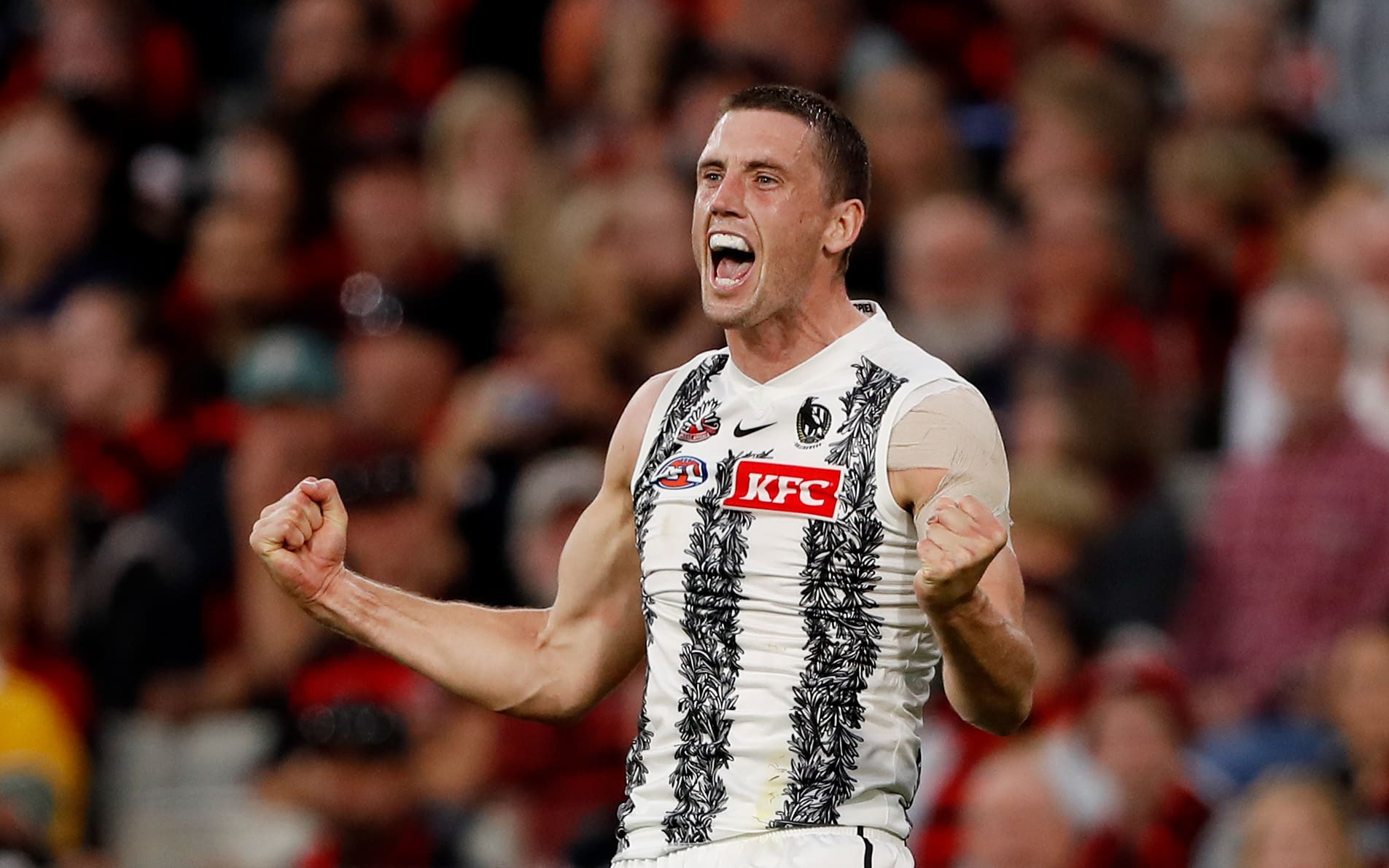 It's undeniable that Cameron provides a different look, but because of his own positional versatility and Grundy's seniority, I wouldn't be surprised if McRae goes with the status quo.
Yet, if things aren't working early on, who says McRae won't make the shift? We've already heard McRae make some interesting comments this year about Grundy regarding the improvements he needs to make.
And what about long term? It's been well publicised the 7 year contract Grundy is on and the significant impact this has on Collingwood's salary cap. A salary cap situation that we know landed them in hot water with some questionable off season moves.
If Cameron improvement continues, why shouldn't Collingwood entertain a trade for Grundy? It would be negligent of them not to, given the strong draft capital that Grundy would likely acquire and the easing of their salary cap concerns.
All things to consider for Collingwood's management.
‍