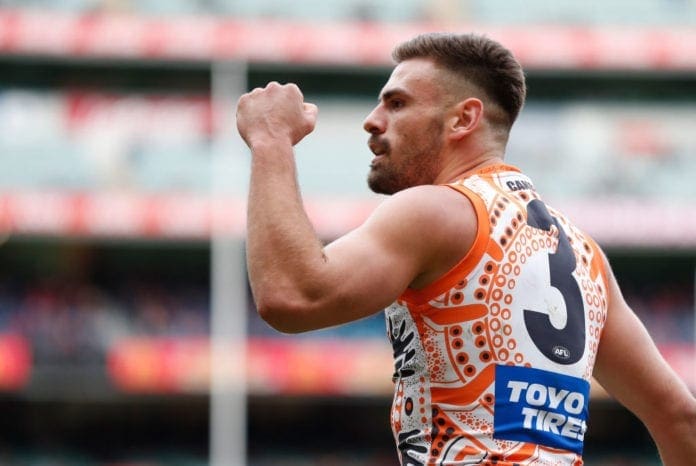 The Marsh Community Series wrapped up over the weekend, with teams putting their final preparations in place for round one.
Despite teams having little to play for in the pre-season, games were still won and it helped shape an unofficial ladder for fans to get buoyed by.
Finishing in first position is last year's runners-up GWS, with strong wins over Sydney and Richmond. Fellow expansion club Gold Coast came in second, defeating both Geelong an Adelaide with strong showings from their young crop.
Rounding out the top four is Melbourne and Fremantle - two teams many predict to fall out of favour this season - had a terrific percentage from the series. Port Adelaide, St Kilda and Essendon also remained undefeated, and they had the chance to flash some of their new arrivals.
Both Sydney and Carlton suffered two major defeats, while other teams to go without a win were Adelaide, Richmond, Hawthorn, West Coast and Geelong.
Four teams ranked in the middle tier, with one win and one loss. Collingwood looked active, they ranked second for points against with just 112 points conceded from two outings.
North Melbourne and Brisbane enjoyed wins during week two, while the Bulldogs won big in week one but fell to Port Adelaide by 10 points in Whyalla.
Marsh Community Series Ladder:
| Position | Club | Win | Loss | For | Against | % | Points |
| --- | --- | --- | --- | --- | --- | --- | --- |
| 1 | GWS Giants | 2 | 0 | 230 | 122 | 188.5 | 8 |
| 2 | Gold Coast | 2 | 0 | 193 | 118 | 163.5 | 8 |
| 3 | Melbourne | 2 | 0 | 184 | 119 | 154.6 | 8 |
| 4 | Fremantle | 2 | 0 | 145 | 97 | 149.4 | 8 |
| 5 | St Kilda | 2 | 0 | 179 | 147 | 121.7 | 8 |
| 6 | Port Adelaide | 2 | 0 | 193 | 162 | 119.1 | 8 |
| 7 | Essendon | 2 | 0 | 160 | 148 | 108.1 | 8 |
| 8 | Collingwood | 1 | 1 | 141 | 112 | 125.8 | 4 |
| 9 | Western Bulldogs | 1 | 1 | 186 | 152 | 122.3 | 4 |
| 10 | Brisbane | 1 | 1 | 188 | 164 | 114.6 | 4 |
| 11 | North Melbourne | 1 | 1 | 147 | 180 | 81.6 | 4 |
| 12 | West Coast | 0 | 2 | 141 | 150 | 94. 0 | 0 |
| 13 | Adelaide | 0 | 2 | 134 | 174 | 77.1 | 0 |
| 14 | Hawthorn | 0 | 2 | 139 | 192 | 72.3 | 0 |
| 15 | Richmond | 0 | 2 | 138 | 193 | 71.5 | 0 |
| 16 | Geelong | 0 | 2 | 115 | 187 | 61.4 | 0 |
| 17 | Carlton | 0 | 2 | 109 | 201 | 54.2 | 0 |
| 18 | Sydney | 0 | 2 | 106 | 211 | 50.2 | 0 |