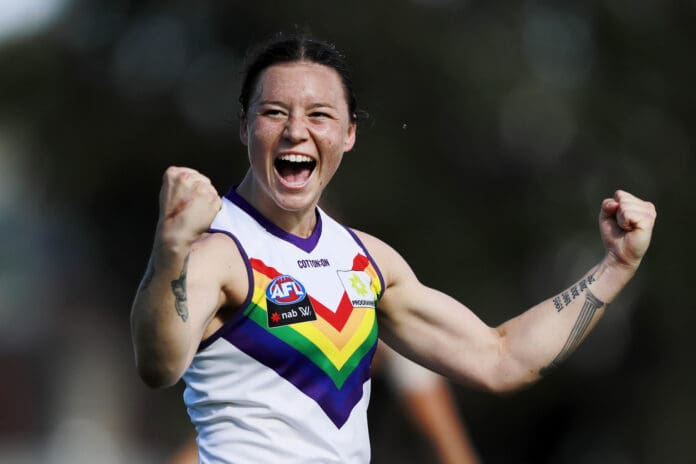 With season seven of AFLW beginning on August 25, fans are waiting excitedly to see which players are ready to take the competition by storm or prove themselves as they return from layoffs.
We cast our eye over five players to watch in season seven…
Roxanne Roux (Fremantle)
At last, the stage is clear for fan favourite Fremantle forward Roxanne Roux.
In her three seasons, the 20-year-old with the WWE name has played 24 games and kicked 14 goals. She has offered plenty of sizzle with her powerful marking and strength at contests and, were she at a club with a less formidable forward line, her body of work could be anything.
However, the superb tall and small pairing of Gemma Houghton and Sabreena Duffy (58 goals combined across the 2019-21 period, a competition-high total for two goal-kickers at any club) has frustrated Roux's output in the Dockers' forward line and limited her to the role of an (overqualified) understudy.
She doesn't have the acceleration of Houghton or the elusiveness of Duffy, so patience has been a virtue for the Dongara native.
And here comes her chance...
Fremantle lost both Houghton (Port Adelaide) and Duffy (Melbourne, following a season six where injury and work commitments prevented her from playing) in the trade period. Throw in the loss of goalkicking veteran Ebony Antonio with a PCL injury suffered in a practice match against West Coast and the spotlight now falls on the not inconsiderable shoulders of Roxy.
There is a world where she channels all her raw talent into a consistent on-field position and season seven is marked by the emergence of Roux – a fast-leading, clean-marking, goal-roosting powerhouse - as one of the most influential key forwards in the game. 
Lauren Butler (Collingwood)
The adjustment of Collingwood's catalogue of midfield injuries from season six was always going to be a thorny dilemma for coach Steve Symonds.
Co-captain Brianna Davey and foundation star Brittany Bonnici are both in rehabilitation for ACL injuries that have ruled them out of season seven. Filling their spaces will not be easy, particularly as Symonds would be loath to make pure onballers out of senior players Jaimee Lambert and Steph Chiocci, whose impact up forward and on the wing respectively has been a key to the Magpies' resurgence in his tenure.
Fans in attendance at Collingwood's practice match against North Melbourne at the Holden Centre blinked at the sight of Ruby Schleicher playing in the guts. It was an unexpected shuffling of the magnets to say the least – the 24-year-old from East Fremantle has been as influential a defender as any in the last two seasons, intercepting attacks and providing tremendous rebound on the way to consecutive All-Australian blazers.
If Symonds does indeed roll the dice on moving his general upfield to capitalise on her run and carry, then Lauren Butler can expect to become a more focal point of the backline.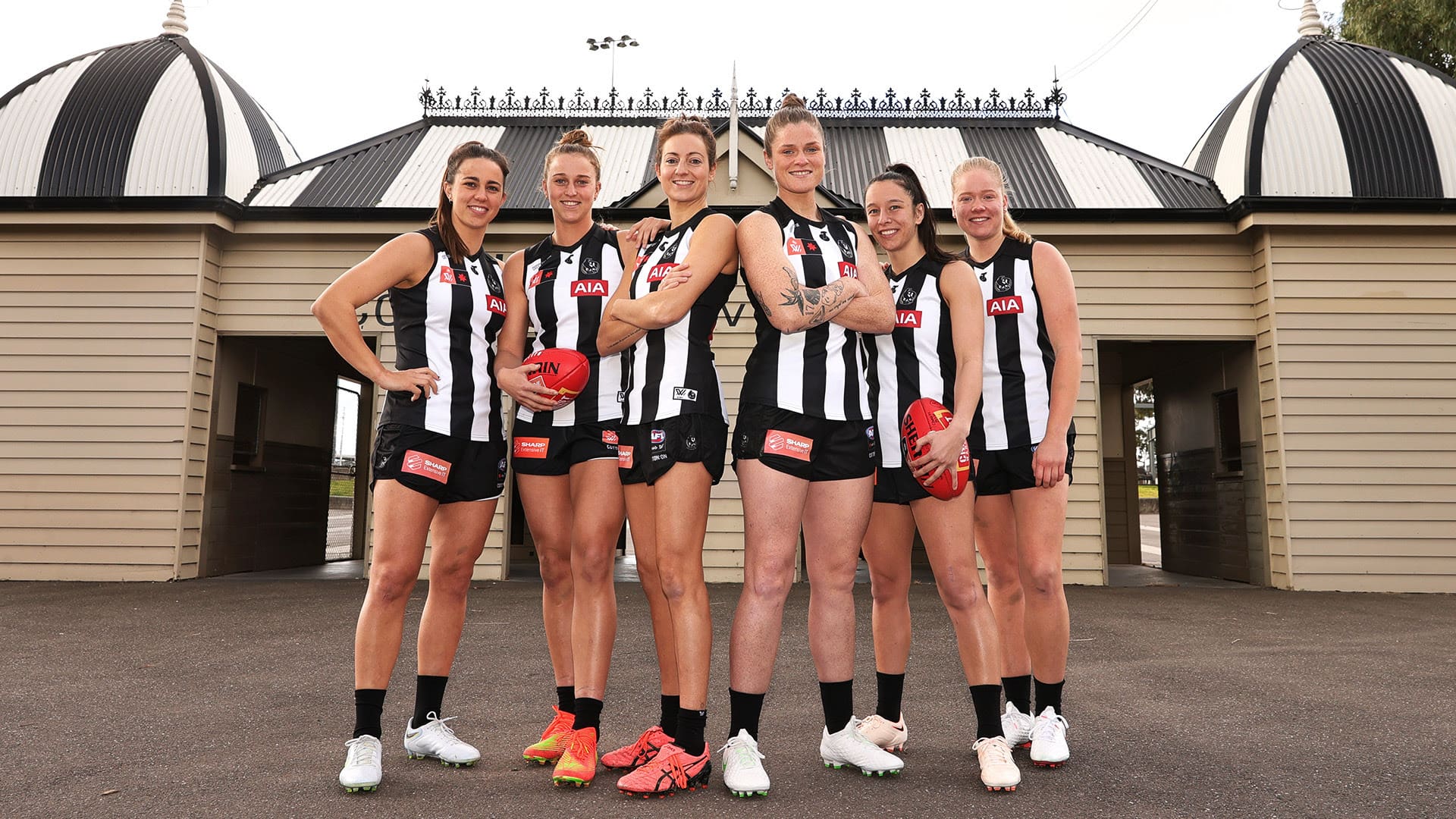 The 24-year-old GWV Rebels draftee has flown under the radar as an integral part of the Collingwood backline alongside Schleicher, Stacey Livingstone and Jordyn Allen. Ash Brazill is also deserving a mention here although the Australian netballer's return date following the Commonwealth Games is uncertain.
In 2021, the Pies conceded an average of 21 points with Butler in the team and 33 in the four matches when she suffered a hamstring injury and in season six she averaged 13 disposals, three tackles and three rebound 50s a game. If she steps up to the role of backline general, her club would not be surprised - Butler was promoted to the leadership group for the first time ahead of season seven.
Tahlia Randall (North Melbourne)
There weren't too many positional changes more surprising and successful in season six than the move of North Melbourne key defender Tahlia Randall to the forward line.
Looking to inject some energy and dash into his forward line, Kangaroos' coach Darren Crocker swung the 24-year-old ex-Lion up to the other big sticks and the results were often electric. Randall proved a headache to opposition defenders; she unveiled a hitherto hidden knack for high-leaping and strong marking, winning the Mark of the Year Award for crashing over the top of the pack against GWS, prompting the Channel 7 commentary team to draw parallels between Randall and none other than Melbourne goal-kicking star Tayla Harris, who was compiling an All-Australian season.
Whenever she was in the contest, be it in the air or at ground level, Randall made herself dangerous through her pace and manic work-rate. Her sometimes wayward goalkicking limited her output to 9.9 across 11 games but come season's end she was clearly the equal of Emma King and Sophie Abbatangelo in the North forward line. She also contributed 2.6 tackles a game, using her defensive skill set to ensure that her hard work was not whisked away out of the forward line.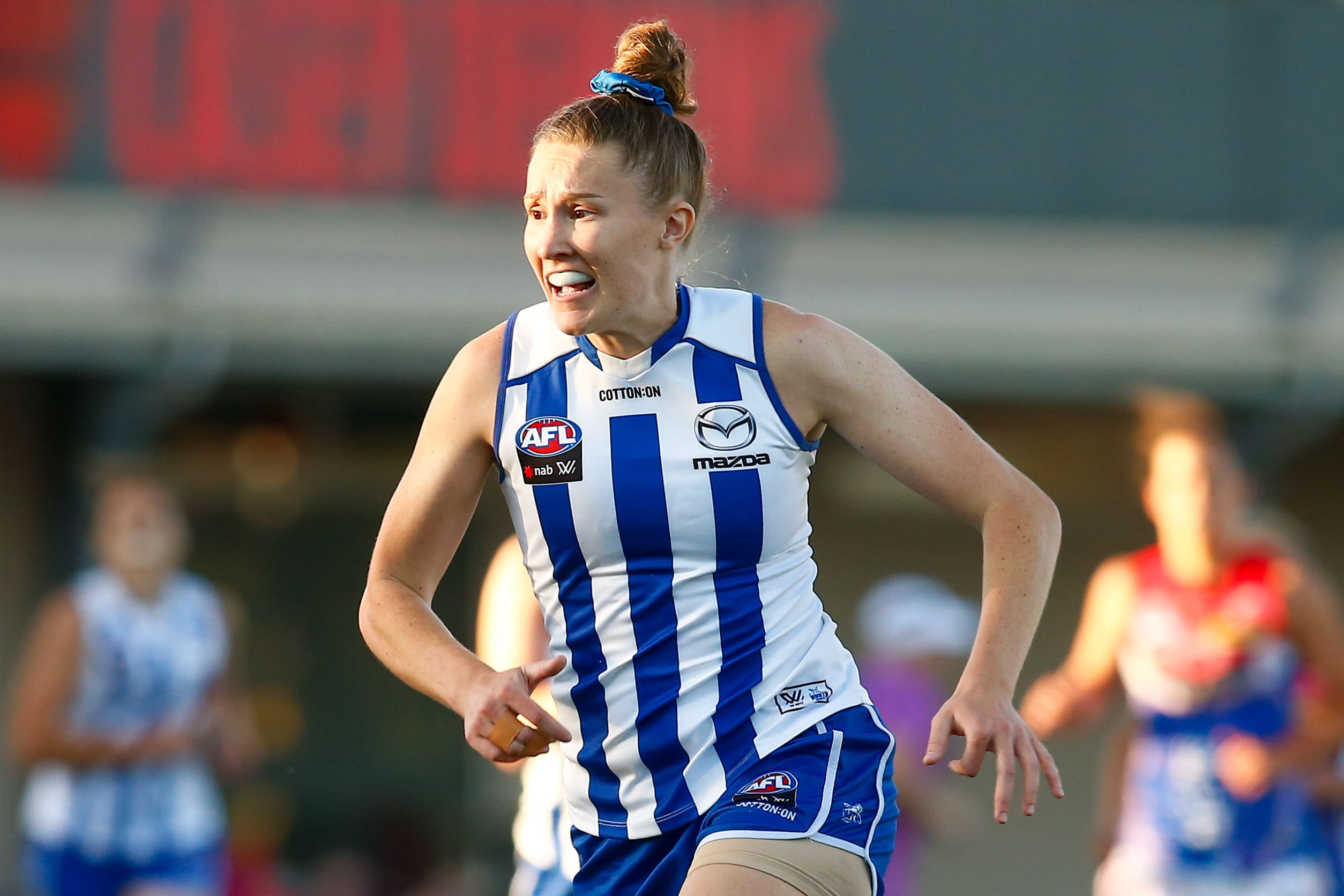 A weakness of North Melbourne's has been the inconsistency of their forwards in hitting the scoreboard, with the load too often left to midfielders like Jasmine Garner and now-Hawthorn player Kaitlyn Ashmore. If Randall can improve on her first season as a forward, the Kangaroos may finally have the match-winning goalkicker to ignite their push up the ladder.
Chloe Dalton (GWS)
On her podcast Credit to the Girls, AFL.com.au reporter Sarah Black succinctly surmised Chloe Dalton's diamonds-and-dirt maiden campaign with GWS to co-host Lucy Watkin:
"[It's] not that she was a mess, but it was a mess of a season," Black said.
After moving from Carlton to the Giants, Dalton missed six matches through suspension, COVID-19 and shoulder and calf injuries. When the 29-year-old was able to play, her versatility and line-breaking run made her absences all the more frustrating to a side that scrounged together just four victories en route to a ninth-placed finish. 
Dalton's raw numbers were solid across the board: 11.5 disposals, 3.5 tackles, 2.5 marks and 2.2 Inside 50s were her averages per game but it was her style of play that made her such a sharp breath of fresh air at her new club: she had an attacking mindset that GWS sorely lacked in Alan McConnell's final year as coach, as if she was unburdened and undaunted by the trials her club was enduring on-field. 
Her promotion to the leadership group ahead of season seven is an indication of the importance she holds to the Giants' hopes in new coach Cam Bernasconi's flagship campaign.
With an expanded top eight and a favourable draw ahead of her side, GWS has the chance to make a rare push for finals and Chloe Dalton will be integral to capitalising on that chance.
Georgia Patrikios (St Kilda)
Oh, come on. You knew this was coming.
From her Rising Star-nomination-worthy performance on debut in Round 1, 2020 to the end of the 2021 season, Georgia Patrikios could do no wrong. 
The Saints' 2019 first-round draft pick dove into a midfield position without the slightest impression of someone surprised at the demands of the highest standard of football.
In her maiden season, she was one of four winners in a tied club champion count but she made sure that she didn't have to share the following season; Patrikios averaged a competition high 23.9 possessions a game, was named on the wing in the All-Australian side and stamped her name as St Kilda's best player.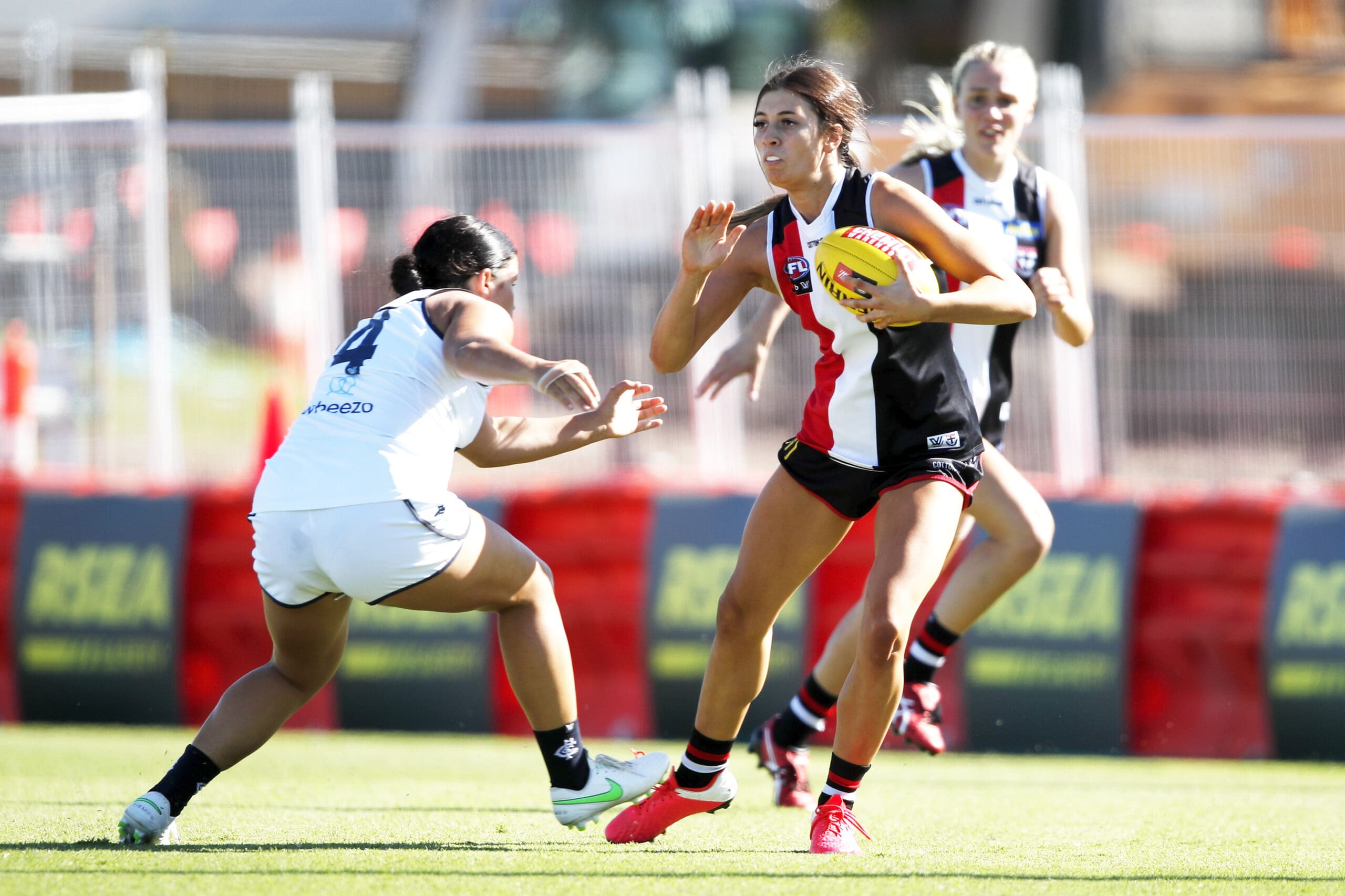 And then… well, you know.
The AFL implemented the COVID-19 vaccination mandate for all AFLW players prior to the 2022 season and Patrikios was one of just two players (along with Adelaide defender Deni Varnhagen) to refuse the vaccine. She missed season six and dealt a blow to the hopes of a still-formative team. The Saints won just two matches for the season and finished second-last in 13th place.
Now, the league has lifted the mandate for AFLW players. Patrikios returned to the club on July 16 to a predictably rapturous reception from her teammates but many questions will be answered in season seven: will she be able to fit back into the fold? Has she lost any of her touch? And will St Kilda rely too much on their reintroduced two-time club champion on-baller?