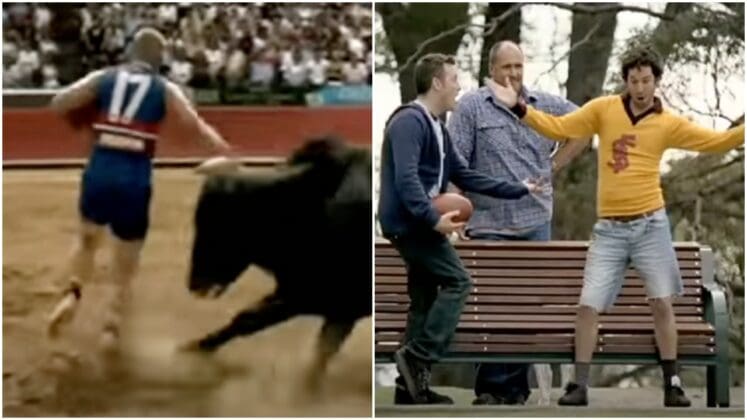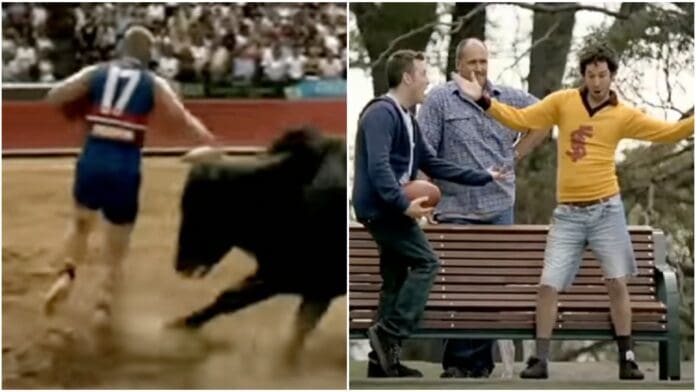 With the price of running a TV ad during prime-time AFL matches so high, the quality of production by companies wanting to create a memorable commercial has too increased.
Over the years of broadcast television, there have been some famous ads produced that stick in the mind for either the right or the wrong reason.
Now that footy has cooled down for the year, it's time to go through the archives and pluck out the top ten best footy-related ads of all time.
Although there have been ads that have been broadcast during the footy that are legendary (pretty much any Carlton Draught ad ever), they will be in an honourable mentions list due to them not being specifically football-related.
Honourable mentions 
It's a Big Ad (Carlton Draught, 2005)
Slow-Mo Pub Night (Carlton Draught, 2010)
Baby Come Back (Toyota, 2011)
Carlton Mid "Michael Jamieson?!" (Carlton Draught, 2013)
And without further ado, let's countdown the top 10 best footy ads ever made...
10. Tony Lockett Advanced Hair ad (Advanced Hair Studios, circa 1990)
There's nothing quite like seeing Plugger on the small screen, whether he was kicking snags or fronting for a hair-loss company.
This ad for Advanced Hair Studios back in the '90s was gold, with Lockett's typical hardman style reflected in his final quote.
A peach of an ad from a legend of the game.
9. Four'N Twenty Pie ad (Four N Twenty, 1964)
A star-studded commercial that is by far the oldest one on this list is this vintage Four'N Twenty ad from way back in 1964.
A bus ride through the bush with footy immortals such as Jack Dyer, Ted Whitten and Bob Skilton is all that is needed to coax customers into grabbing a Four'N Twenty pie (or pastie, if that's your thing).
The ad was recreated in 2008 for The Biggest Aussie Pie Night with modern-day stars, however nothing beats the original and its nostalgia-evoking feeling.
8. Gimme That (NAB, 2008) 
The NAB AFL Auskick campaign for 2008 was one that stuck in the memory of many footy fans, mainly because of the initially funny but eventually snappy soundtrack.
'Gimme That' showed the diversity of the Auskick community with kids booting a Sherrin from one frame to another, each one representing a different area of the country.
It was a comical piece from NAB, highlighting the attempt of aspiring footy stars to impersonate their idols - some admittedly doing a better job than others.
7. Chris Hemsworth 'I'd like to see that' (AFL, 2017)
In the wake of his beloved Bulldogs breaking their six-decade-long premiership drought, Aussie Hollywood star Chris Hemsworth was brought in for the 2017 season launch commercial.
The Thor actor pitches the game of footy to a room full of Hollywood studio executives, describing the Dogs 2016 flag win before impersonating 'The Bont' himself.
Harking back to the 1994 advertisement, EMF's 'Unbelievable' plays over a highlight reel of spectacular goals and marks - a true advertisement for Australia's game.
6. I'd like to see that (AFL, 1994)
The original to the aforementioned 2017 advert, the 1994 edition of the AFL's promotional campaign saw the game go to new heights.
Featuring global superstars such as Arsenal legend Ian Wright, tennis hothead John McEnroe and sprinter Carl Lewis, each star described the facets of our game that makes it so loveable.
This was a groundbreaking ad for the AFL, signifying a shift in scope for Australia's game.
5. Mini Legends (NAB, 2016 - present)
NAB's Mini Legends campaign has run for the best part of five years now, with each edition of the promotion introducing more and more miniature versions of footy's best.
The likes of Dustin Martin, Max Gawn, Anthony McDonald-Tipungwuti and Bailey Smith have all had their own small-sized doppelgangers created over the years - even retired Tiger Bachar Houli has his own with an impressive beard.
The only person not enjoying the release seems to be Patrick Dangerfield, who was beaten to having his own mini legend in 2021 by Cats teammate Zach Tuohy.
4. There's Nothing Like Australia's Game (AFL, 2013)
Another globally-themed ad put forward by the AFL is this belter of a commercial from 2013.
With footy fans from South America to Europe reacting to some of the best moments of this century, the piece highlights the unique nature of our game.
It could only be AC/DC's 'It's a Long Way to the Top (If You Wanna Rock 'N' Roll)' that soundtracked the ad, with the song's vibe perfectly encapsulating the message the league was going for.
3. Helping you help them (Google, 2021)
Easily the most wholesome ad on this list, Google's latest foray into the world of AFL proved to be one of its most memorable.
Showcasing the ability of the game to pull together many cultures, a father and his daughter are seen taking their first steps into the world of local footy.
The commercial displays the hardship of getting to grips with the game, before ending on a high with the daughter playing, in her dad's word, "a blinder".
A memorable ad with a fantastic message.
2. Toyota Legendary Moments (Toyota, 2008)
A close runner-up is the Toyota Legendary Moments campaign from 2008, celebrating the 150th birthday of Australian rules football.
Starring Stephen Curry and Dave Lawson, the series featured 14 different moments that are etched into footy folklore, each providing some seriously hilarious viewing.
Arguably, the best one is Tony Lockett's, featuring the pig who was at full forward and a crowd of people running onto the field as he recreates his 1300th goal from 1999.
If you have a spare 20 minutes, getting through all editions will have you creasing with laughter, with Lawson in particular never failing to humour.
1. 2009 season launch ad (AFL, 2009)
There never really was another winner in mind, with the 2009 season launch ad unrivalled for production value and sheer greatness.
The promotion showed the true greats of the modern game dropped into almost every major sport imaginable and running the gauntlet.
Rugby, NFL, Spanish bullfighting, soccer, even four-wheel-driving - footy's best are shown side-stepping and outclassing all that come before them.
Add in Dropkick Murphys' 'I'm Shipping Up to Boston' and suddenly you have the best footy ad ever conceived.