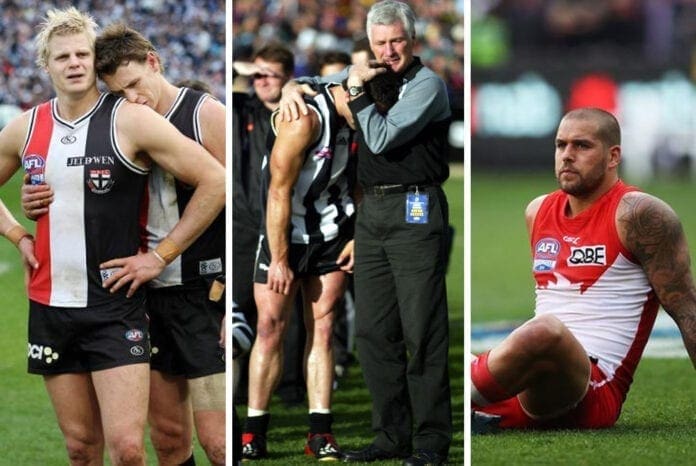 Throughout the history of the AFL, there have been champions and then there have been the unfortunate teams who never quite climbed to the top of the mountain.
The Zero Hanger team have identified and ranked the best 10 teams to never win a flag since 2000.
Two important factors made up our criteria – each club could only be represented once and was ineligible if they won a premiership the season before or after.
Without further ado, here are our 10 best AFL teams to never win a premiership since 2000.
10. 2010 Western Bulldogs
You can make a case for the 2009 team considering how agonisingly close they were to toppling the Saints that year, but the addition of Barry Hall in the 2009 off-season made the Bulldogs one of the more feared sides heading into the 2010 season and after two consecutive preliminary final defeats, looked like premiership favourites.
It was a side that was littered with quality talent – Matthew Boyd, Daniel Cross, Ryan Griffen, Adam Cooney and a young Callan Ward in the middle. Brian Lake, Dale Morris the key pillars in defence, whilst they had the run and rebound of Lindsay Gilbee and Ryan Hargrave.
The addition of Barry Hall was supposed to be the final piece of the puzzle, and with 80 goals in 2010, he played his role of the team. They had Daniel Giansiracusa, who managed to slot 35 goals for the season. They also had Jason Akermanis and Brad Johnson, albeit in the twilight of their careers.
However, the Dogs managed to scrape into the top four at the end of 2010, but still worked hard to make it to the preliminary final, before the Saints made it three consecutive preliminary final defeats.
B: Ryan Hargrave, Brian Lake, Dale Morris
HB: Robert Murphy, Tom Williams, Jarrod Harbrow
C: Lindsay Gilbee, Adam Cooney, Nathan Eagleton
HF: Shaun Higgins, Mitch Hahn, Ryan Griffen
F: Brad Johnson, Barry Hall, Daniel Giansiracusa
FOL: Ben Hudson, Matthew Boyd, Daniel Cross
INT: Liam Picken, Will Minson, Jason Akermanis, Easton Wood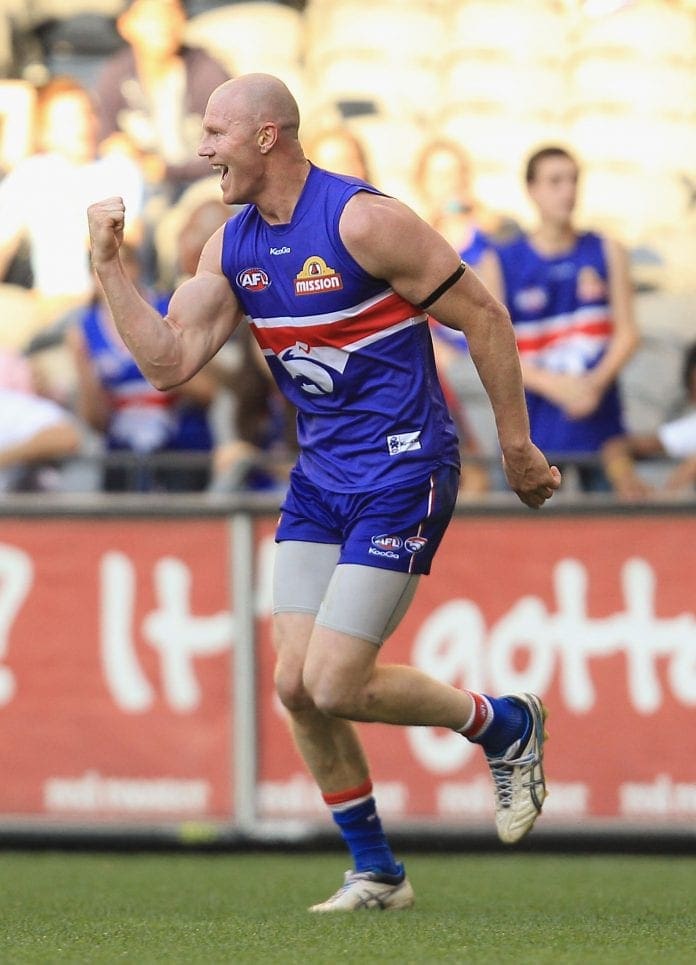 MELBOURNE
, AUSTRALIA – SEPTEMBER 03: Barry Hall (L) of the Bulldogs celebrates a goal during the round 24 AFL match between the
Western Bulldogs
and the
Fremantle
Dockers at Etihad Stadium on September 3, 2011 in Melbourne, Australia. (Photo by Hamish Blair/Getty Images)